As I am writing this post on Thursday, all I am doing is thinking of the weather. It is supposed to get really nasty here which I am not looking forward to! I am supposed to see Bon Jovi front row on Saturday night, so pray for me, I could still go:)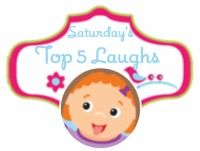 I also wanted to give a special shout out to two bloggers who have linked up with me every single week for the last 18 months! I started this blog hop 18 months ago (I did it on my own a few months before that) and two girls have linked up since the first day I started and every week since. I see so many regulars and so many new faces this week, and I am just appreciative that you allow me to take a few minutes of my day each week to really laugh. Every post is just so funny and puts a huge smile on my face. So without further ado, the 2 bloggers who have been with me every week for the last 18 months and who I adore are Candice from the The New Modern Momma and Jamie from 4 Love of Cupcakes. Thank you EVERYONE for making this blog hop successful and your continued support to spread it around to friends and other bloggers. All I really want out of this hop, is for all of us to take a minute, and just smile! So to do that, be sure to check out each other posts, as you will SMILE!
My top five laughs:
5. So the weather… First is 3 inches of snow… Next is 6 inches of snow.. And today 24 inches of snow! I want to see which weatherman was telling the truth and which ones were fibbing with us!
4. Zane was so tired one night and actually turned to me and proceeded to try to climb into his crib. The boy loves his crib. He is a wild man all day but the sweet boy will give me 12 hours of quiet time a night.
3. Hayley had a great day yesterday skiing and swimming. She swam the full length of the pool and skied most of the bunny slope. She after turned to me and said, "Mom.. I am great!" Conceded much Hayls…LOL!
2. Zane HATES messes. If he is eating spaghetti and it spills, he starts crying and saying mess. If anything gets on his hands, he will say mess.. and then tissue. Where does he get that.. Oh that is right, his lovely father is a complete neat freak.
1. Hayley and I were doing our dance moves this week to her dance recital song. She turns to me and say, "Raise the Roof". I looked at her with four heads and then she replied, "Mommy, you don't know that move." That girl cracks me up!
Now your turn: