I am not sure where to begin with my review because when I saw Zero Dark Thirty at an advanced screening this past week, I had so many feelings and thoughts throughout the entire movie, and well into the few days after. Some adjectives I would use to describe Zero Dark Thirty is incredible, sad, frustrating, powerful, moving, fantastic, and most of all stressful. While some of these adjectives could have a negative connotation, I can assure you that this is not how it is intended. Yes, I was on the edge of my seat the whole time, stressed with how the ultimate movie would turn out (although we obviously know the ending), but ultimately I feel it is one of the best movies I have seen in 2012. I will classify it as 2012, as it is an  5 time Oscar contender for the 2012 award season.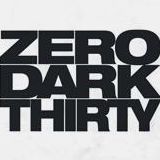 For those who are unfamiliar with this movie, this is the movie that showcases how Osama bin Laden was found and killed by our American arm forces and involving some fantastic work done by our own CIA. It shows how for a decade, an elite team of intelligence and military operatives, working in secret across the globe, devote themselves to the single goal of eliminating and destroying Osama bin Laden.
Zero Dark Thirty reunites the Oscar winning team of director-producer Kathryn Bigelow and writer-producer Mark Boal (The Hurt Locker) for the story of history's greatest manhunt for the world's most dangerous man. In the opening scenes of the movie, the screen is black for a good five minutes where they play actual audible tapes from the World Trade Center and the Flight 93 black box. You hear a women saying that she was going to die and a telephone operator telling her everything was going to be O'kay. Then all voices stop and the movie starts. From that point on, it takes you through the events that transpire to capture the world's hated man.
To say this movie is a good, is an incredible understatement. This movie is fantastic and leaves you wondering just how brilliant the CIA was in finding Osama, as well as how incredible and brave our arm forces are  in risking their lives to find him.
I feel everyone should go see this movie. If you have seen the Hurt Locker, you know what an fierce winning combination Kathryn Bigelow and Mark Boal are, and in this movie, they even take it up a notch- if that is at all possible!  The ending which is a good 20-30 minutes of the movie shows the actual capture of Osama, and will leave you on your edge of your seat the entire time. I know I was completely stressed but more so, intrigued how it was all going to come together. It truly was a picture perfect movie from the start to the end.
I will warn you the movie is long- coming close to 3 hours, but honestly, I don't see a way for it to be any less. They had so many bases to cover and they really delved deep to let the audience know the true story of what happened these past 10 years. I will also warn you that their are torture scenes that were very hard to watch, but again, this was what was happening to try to get people speak at the time.
Zero Dark Thirty gets an A+ for me and I can easily see why it is up for  Best Picture  for the Oscars. It opens worldwide on January 11, 2013.
Here is the official Zero Dark Thirty Trailer:

* I attended an advanced screening. All my opinions are my own and not swayed by outside sources.