The moment has officially begun where Zane wants to eat by himself. I was completely dreading this, as I am what you would classify as a neat freak! Truth be told, my husband and I fed Zane and Hayley all their meals until around 22 months. We knew that they made messes when they tried to self feed and we just didn't want that at the time. If this is our worse parenting mistake, I will take it though.
However, we realized that self feeding is an important part of transitioning children from the baby to toddler stage. Zane is no longer interested in us feeding him- he wants to do it himself. We go near him with a spoon, he responds, "No..Me." He is very adamant about self feeding and I realized that we will have to roll with it and realize that he is growing up.
Since we were allowing him to start to self feed, we allowed him to have a bowl with spaghetti (yes, we go right in with the messy foods) and the new 360 degree spoon from Beaba. If you have not heard of Beaba, they are the innovative makers of the BabyCook and other great toddler feeding accessories.
The 360 degree spoon is designed specifically for children to learn to self feed. It has a innovative, rotating handle, ensuring  that the spoon stays horizontal which prevents spills from occurring, when the spoon is held incorrectly. This is truly a great feature for a child who is learning to self feed, and it makes parents happy that they don't need to deal with all the messes that could ensue by using a regular toddler spoon.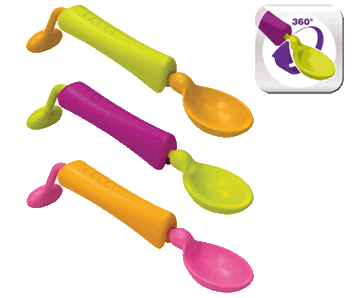 The rotating handle can be locked into place for use by older children or to help with the transition to a traditional spoon. It is available in bright, vibrant colors (orange/pink, purple/green, green/orange)  that will appeal to your children's eyes. I consider it a baby must have for all new moms out there or moms of young one who are entering the self feeding world. The 360 spoon is BPA and phthalate free.
Be sure to check out the Beaba 360 degree spoon today to make the transistion to self feeding easy and seemless.
*I received the above product for review purposes. As always, all my opinions are my own and not swayed by outside sources.