Hayley is obsessed with the Littlest Pet Shop brand! For the holidays, she gathered almost everything from their collection and it is to her, her prized possession! She and I were both excited when we heard that on January 15, 2013, Shout! Factory Kids, in collaboration with Hasbro Studios, will release Littlest Pet Shop: Little Pets, Big Adventure. This is the first DVD collection based on Hasbro's popular Littlest Pet Shop brand and animated series. It delivers five fun-filled episodes and entertainment that the whole family will enjoy! Along  with the episodes, it includes feature bonus content including coloring sheets and the all new-featurette "A Look Behind The Pet Shop Doors." It also includes an offer for a virtual Collectable Pet on the Littlest Pet Shop App.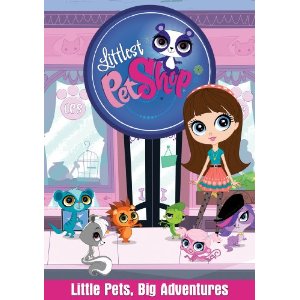 Littlest Pet Shop is an animated half-hour comedy series that follows Blythe Baxter and her father as they move into a Big City apartment above the Littlest Pet Shop store- an amazing day-camp for pets of all kinds including doggie diva, dancing gecko, a sweet, adorable panda and others. Her real adventures begin when she discovers that she alone can miraculously understand and talk to the pets. Blythe joins them on fantastical adventures that include uproarious song and dance sequences featuring all-new original music by Daytime Emmy Award nominee Daniel Ingram and the vocal talent of AshleighBall, Tabitha St. Germain, Nicole Oliver, and Peter New.
Episodes include: -Blythe's Big Adventure Parts 1 and 2 -Bad Hair Day -Gailbreak! -Penny For Your Laughs
Like I said before, Hayley loves the Littlest Pet Shop characters and this DVD did not fail to disappoint.  She loved seeing the animated characters of one of her favorite toy collection that she owns. The characters were vivid and bright, and really brought to life , from her figurines that are in her room. I love the values that these characters teach including learning to work together and be nice to one another, while helping one another out. It is a very catchy DVD that will leave your kids wanting more! After we finish watching, she usually needs to watch again- it has quickly become one of her favorite DVDs!
Littlest Pet Shop: Little Pets, Big Adventures is available for pre-order at Amazon today for $12.98.
Here are some activities you can do with your children while prepping for the release of Littlest Pet Shop:

*I received the above DVD for review purposes. As always, all my opinions are my own and not swayed by outside sources.