This week flew by- probably because it was a 3 day work week for most! Anyway, Happy 2013!! I hope you all have a blessed, happy, healthy, and prosperous New Year!
As always, please link up any cute or funny post. Feel free to take my button or share on social media sites although this is definitely not mandatory. Also check out the other blogs who link up as they are always so funny!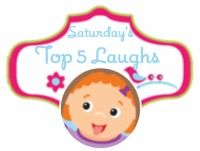 Now onto my laughs:
5. Hayley started skiing yesterday. She did lessons last year and this is year 2 for her. She absolutely loves it! There are about 12 kids in the class and it is just too cute to watch as they are all 3-5 years of age. Anyway, Hayley put on her skis and they were practicing walking around with the boots on when Hayley says, " I am ready to go down the hill." She is so adventurous but honestly I think she is ready to go down the bunny slop.
4. Zane woke up about 2 days back 3 times in the middle of night. All I heard was "Mommy..Mommy." The minute I went in, he was said "Hi Mommy. How u.." He was not sick at all but just sad not to see mommy. So, I cuddled with him which is the best feeling in the world. I don't care if it was 2 Am- I loved every second of it.
3. Hayley needs to pick out her own clothes in the am. She will not let me do it under any circumstances. So she always ends up picking out mismatching outfits and saying, "Don't I look beautiful." LOL- The top is bright red and the pants are bright orange but yes Hayley, you look beautiful!
2. Zane is all about talking these days. Another thing he says all the time is "Yo Dada Dada Baby" which translates to I want to watch Yo  Gabba Gabba baby episode on repeat all day,lol! I hate that show but my kids both love it.
1. Hayley said to me yesterday morning, "Mommy, you should color your hair like mine." This came out of the blue and I asked her why and she told me, "Then we could match." I was thinking for a while to color my hair back to its original color anyway. So, I did it…. But I will leave you till Tuesday until I do the reveal on my site of how I look! Happy weekend everyone!
Now onto your laughs: