Welcome to the weekend!  I hope everyone had a great week, and an even better weekend! As always, link up any cute or funny post. Feel free to take my button or share my hop on social media sites, although this is not necessary. Also, be sure to check out other people posts as they are always so funny!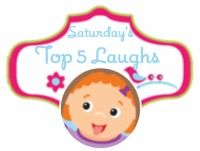 My top five laughs:
5. This week was my birthday and my husband gave me a card from each of the kids. Hayley and Zane both spent time coloring in a card individually to me and catering it to what I would like. It was such a thoughtful gesture. Those gifts mean more to me than any other gifts I could receive.
4. Zane is obsessed with saying "I lub you" which translates to "I love you" in Zane dialect. He says it all day long and it is just the cutest thing.
3. It is so funny because in our household, Hayley wants Daddy for everything. I used to laugh because he was the one who had to get up in the middle of the night because she wanted him. Well now, pay back is in for me, because Zane only calls Mommy in the middle of the night. Such a Mommy's Boy…
2. Zane likes to tell me when he poops. 90 percent of the time, he did poop if he said it. But every morning, he tells me Mommy…Poop. He does it because he thinks it will make me come and get him out of his crib. Smart boy because it works every time!
1. I talked about this one before but I can't help but laugh with it. Hayley loves to give Zane hugs. She does it all the time. His response everytime is to push her on the ground. I tell him that is not nice but without fail, he still does it. One day he will like those fantastic hugs from Hayley…Just not now!
Now onto your laughs: