Zane is at the age where he is ready to start learning his letters and numbers. I always am stumped by the best ways to "teach" him and usually end up resorting to informative DVDs to help him learn. Recently we were sent the Let's Learn 123s and Let's Learn ABCs, which have been a great source of knowledge for him to learn in a fun way!
These two DVDs pack two hours of entertainment into each. Part of an all-new Let's Learn line of DVDs, Let's Learn: 123s and Let's Learn ABCs features episodes from Nickelodeon's hit preschool series Team Umizoomi, Dora the Explorer, Blue's Clues, and more! Kids will have a great time while learning with their favorite Nickelodeon friends; and as an added bonus included inside each release, there's a corresponding 123 or ABC worksheet to keep kids learning more about numbers and the alphabet! Created by Nickelodeon Home Entertainment and distributed by Paramount Home Media Distribution, Let's Learn 123s and Let's Learn ABCs are available on DVD on January 15, 2013, for the suggested retail price of $14.99 each.
Let's Learn 123s: Kids can count on Nick Jr. friends to make learning math as easy as 1,2,3 in these five play dates! Count comets with Team Umizoomi, journey through school with Dora, figure out Blue's favorite number, plus more! Included in the Let's Learn 123s includes features of Team Umizoomi: Counting Comet, Team Umizoomi: Super Soup!, Dora the Explorer: Pepe's School Day Adventure, Blue's Clues: Number's Everywhere!, Go Diego Go!: Three Little Condors, and Wonder Pets: Save the Old White Mouse.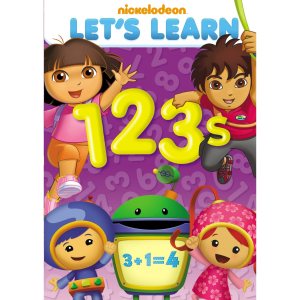 Let's Learn ABCs: A is for awesome in these five ABC play dates from Nick Jr! Kids learn about letters and reading as they visit libraries with Team Umizoomi and Diego, help Dora save ABC animals, and jump into classic stories with Blue's Clues and Wonder Pets! Features include Team Umizoomi: To the Library, Dora the Explorer: ABC Animals, Blue's Clues: Blue's ABC's, Go, Diego Go! Linda the Librarian, Ni Hao, Kai-Lan's Big Play, Wonder Pets: Save Humpty Dumpty, and Wonder Pets: Save the Itsy Bitsy Spider.
Both of these DVDs would make a wonderful addition to your DVD library. They feature all the favorite Nickelodeon characters in fun and exciting ways! I could seriously play these DVDs all day long for Zane! They help him learn while having fun seeing all his favorites.
*I received the following products for review. As always, all my opinions are my own and not swayed by outside sources.