What is happiness? What is your definition to  happiness?

To me, happiness is being surrounded by my beautiful family and friends, and being able to be surrounded by love. While I had my bouts of not being happy (one being when I had PPD after Hayley's birth), overall I consider myself a very happy person, and like to surround myself with positive energy. Sure, we all have days when we just want to come home and scream…Sure, we all have frustrating days… However, to me, the goal in my everyday life is to try to really be happy, and to be thankful for what I have in life.
With the New Year starting, I am trying to make myself better, as well as happier, spiritually and emotionally. That is why I decided, I was going to participate in the Gaiam TV's Connect 2 Happiness Program. What it entails is a 30 day challenge, where each day, they challenge you with various exercises to find your inner self, and what makes you happy, as a person.
By taking the Connect 2 Happiness challenge, you'll create vibrant happiness for your friends, family, community and yourself.  If you take the 30 day challenge, you will receive tips that will inspire happiness. For example when you log in (which by the way you get a 10 day free trial), you will be challenged to reflect on your happiness.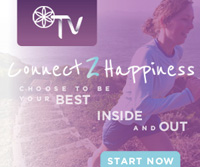 On day one, I was asked the following:
When we take a moment to listen to our inner guide, we get clues that can lead us down the path toward true happiness. Choosing what makes us feel happy over what makes us feel safe can take us out of our comfort zone; yet when we connect our passions with our actions, we stop seeking and start living. Find your joy: listen to yourself, and take action.
Start a conversation with your inner guide. Ask yourself these three questions, and listen closely to the answers.
1) What makes you happy?
2) What are you passionate about?
3) How can you bring more of that into your life?
How many times do you actually sit down with yourself and reflect on these questions. While I know most of us don't have much time in our lives to shower, let alone be spiritual, imagine the outcome if we did. Think about these questions and then guide yourself to a change! Start 2013 off right with a happier you.
If this sounds like something you are interested in, then I would definitely check out this initiative, along with the full Gaiam TV program. Gaiam TV is a full streaming video subscription that lets you delve further into your happiness and wellness. They have a full array of self help videos and videos to guide you in the right path in life. I was given a subscription and I have been watching the videos daily. I love the positive energy I receive by listening to the motivating speakers. I truly love Gaiam TV! If you have not heard of it, I suggest checking it out! It is $9.95 a month, to stream unlimited content,  and is commitment-free. They even offer a free 10 day trial to see if you like it.  If you are not happy, cancel anytime!  I promise you though, once you start watching Gaiam TV, there is no going back. There is over 2,000 streaming videos at any given time!
Here is to health, happiness, and love….
*This is a sponsored post for Gaiam TV. All my opinions are my own and not swayed by outside sources.