As most of you know, I lost about 50 pounds, 10 years back and I try very hard to maintain my weight loss. With the holidays, pretty much everyone sees a few pound gain between Thanksgiving and New Years. However, I am trying my hardest to conquer the weight by watching what I eat and exercising. I avidly like to track my weight during the holiday season, so I can be accountable. This year, I am using the EatSmart Precision Tracker Digital Bathroom Scale to keep me in check.
If you are not familiar with EatSmart, they are the premiere makers of bathroom, kitchen, and luggage scales. This holiday season I was sent the EatSmart Precision Scale to review and I am loving it so far! A lot of time with scales, the measurements and numbers are always incorrect. Luckily with the EatSmart scale, I have never had a problem with my weight wavering from one second to the next. Sure it wavers from one month to the next, but that is normal weight loss or weight gain.
The EatSmart Bathroom Scales are super accurate, easy to use, and uniquely designed to match the decor of your home. The scales are engineered to the highest precision standards to provide you with consistently reliable products.
The EatSmart Precision Tracker is an essential tool in weight loss management. It gives users the ability to track weight over time. After each use, the scale will display three readings: the current reading, weight change from the last weigh in, and a total change from the starting weight. This is great for me to see how much weight loss I had in a few weeks. It gives me the exact number so I know I am on the right tract to weight loss.
I love the touch screen interface. It makes reading the numbers so easy to do in the confines of my bathroom. With the touch screen interface and the automatic person identifier, it makes the Precision Scale Tracker one of the most unique and user-friendly bathroom scales. It helps me to readily track my progress and see fluctuations.
The EatSmart Precision Tracker is one of the easiest scales I have owned. There is no calibrations that need to be done, simply place the scale on your bathroom floor, and weigh yourself! So easy to do! I can't promise you that it will say the exact weight you want, but no matter what, it will be accurate! I love digital scales and this one, is certainly one of my favorites. I also love that with this scale, my husband and I, can each store independent information on our weight. It actually can hold up to 6 users which is fantastic.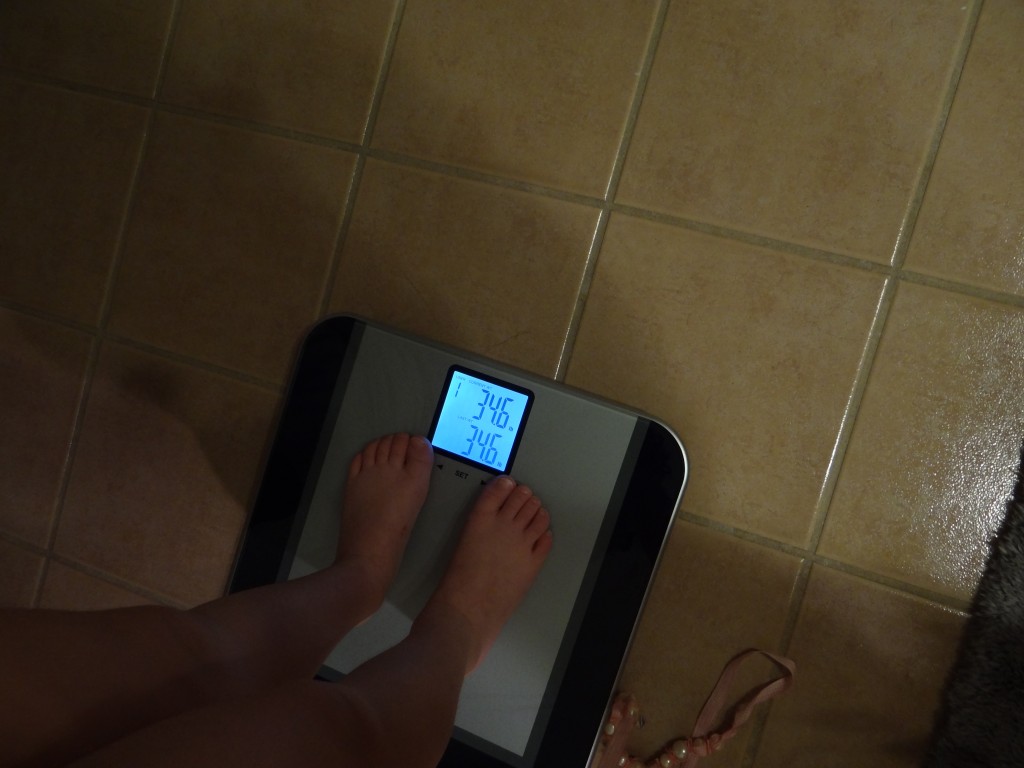 Some more information about the EatSmart Precision Tracker Digital Bathroom Scale:
Measuring Functions: Short Term and Long Term Weight Tracking Capabilities
Proprietary Automatic User Identification Technology; Stores personal data for up to 8 users
EatSmart "Step-On" Technology – Get instant readings!
Large, 3.5″ LCD display with white backlight – Easy to read.
4 High Precision Sensors – Consistent and accurate measurement
Measurement Modes: Pounds / Kilos
Graduation Increments of .2 lbs. / .1kg
Ultra thin, sleek design with high quality tempered glass platform
Max Weight: 400 lbs / 180 kgs
Auto Calibrated; Includes 4 AAA batteries
I highly recommend the EatSmart Precision Tracker Digital Bathroom Scale. You can purchase it on their website, EatSmart or on Amazon for $44.95.
*I received the above product for review purposes. As always, all my opinions are my own and not swayed by outside sources.