At the end of the day, I like to sit down with a nice meal and enjoy. However, I don't really have a lot of time these days. Most nights, I am just too tired to make a nice home cooked meal. I do cook at least three times a week but at other times, I like to turn to Contessa for some good, nutritious meals.
Contessa Convenience Meals are delicious, nutritious, and easy to prepare! They are a line of delicious skillet meals, ready in ten minutes and made with high quality and wholesome ingredients, with no msg, no trans-fat, and no artificial colors or flavors. There is also no preservatives and they even have some Gluten Free options. The meals come with individually packaged sauce packets to allow for freshness, recipe variation and special dietary needs.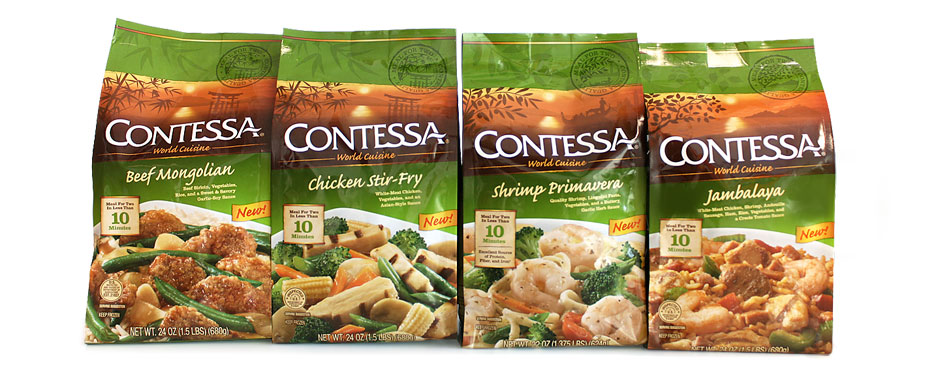 Contessa World Cuisine brings the flair of authentic flavors to 18 meal varieties representing cultures from around the world, including Asian, Italian, and Latin dishes. Also included is my favorite seafood. Some examples of dishes include Beef Mongolian, Broccoli Beef, Chicken Alfredo, Florentine, Chicken Fried Rice, Chicken Stir-Fry, Italian Sausage Rigatoni, Jambalaya, Orange Chicken, Paella, Sesame Chicken, Shrimp Alfredo, Shrimp Fried Rice, Shrimp Primavera, Shrimp Scampi and Linguini, Shrimp Stir-Fry, and Vodka Chicken Penne. They also recently introduced two new varieties of frozen skillet meals to their line up including Shrimp Alfredo and Shrimp Fried Rice. The brand also now features modified recipes for more flavorful sauces.
We had the chance to sample several Contessa skillets and they are DELICIOUS! My husband loves Italian food and he thought the Shrimp Scampi and Linguini Chicken was fantastic. It is as if it is a freshly made meal right in my house. They are filling, nutritious, and just plain yummy!
Contessa World Cuisine skillet meals for two are available in the frozen meal section at retailers including Walmart, Meijer, Publix, Food Lion, Giant Eagle, Schnuck's, Hannaford Bros, and more! They retail for $7.99- $8.99 depending on the retailer.
*I received the above products for review purposes. As always, all my opinions are my own and not swayed by outside sources.