We were recently sent the Magna Color 3D Art Board for review from Tech 4 Kids, a Canadian company that specializes in reinventing awesome concepts in today's world. Hayley loves creating art and loves doing crafts, so it combined her love of both in the Magna Color 3D Art Board.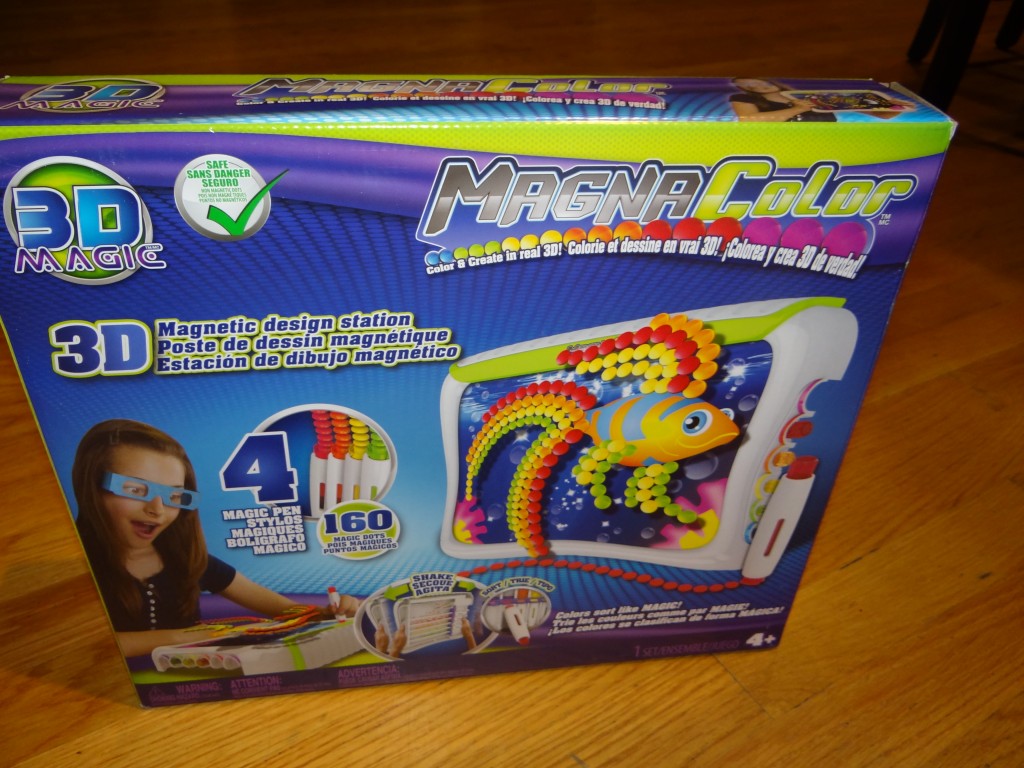 Magna Color 3D allows your to children to create their own art and be able to view it in 3D. The Magna Color 3D transforms designs into 3D by way of coloring pencils and colored dots, that your children use to create wonderful art. The set comes with four different color pens to choose from and stencils to make their own art. The way it works is you use the Magic Dot pens and fill them in with the color dots it comes with. This is all done via the art board and following the directions to make sure the dots go into the correct pens. It is quite simply done by reading the instructions. You can clear the dots with the screen swiper and then shake them to sort into the correct pens.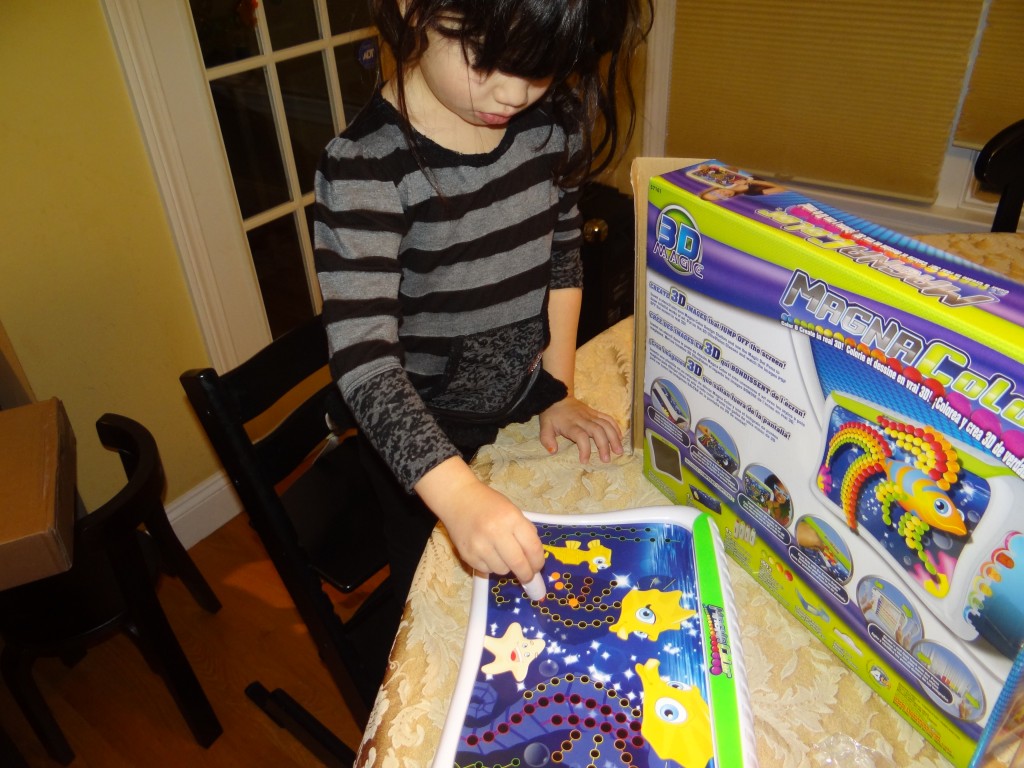 After this, you then put your stencils into your art board, and use your coloring dot pens to start drawing and creating masterpieces. Your child can use the unique magical dot pens to place the 3-D dots to color in the stencil design by either creating a single spot or making trails of multiple dots by running the pen across the screen. When they are finished, they sweep the dots into the sorter compartment and watch the dots magically return back into the pens with absolute no mess.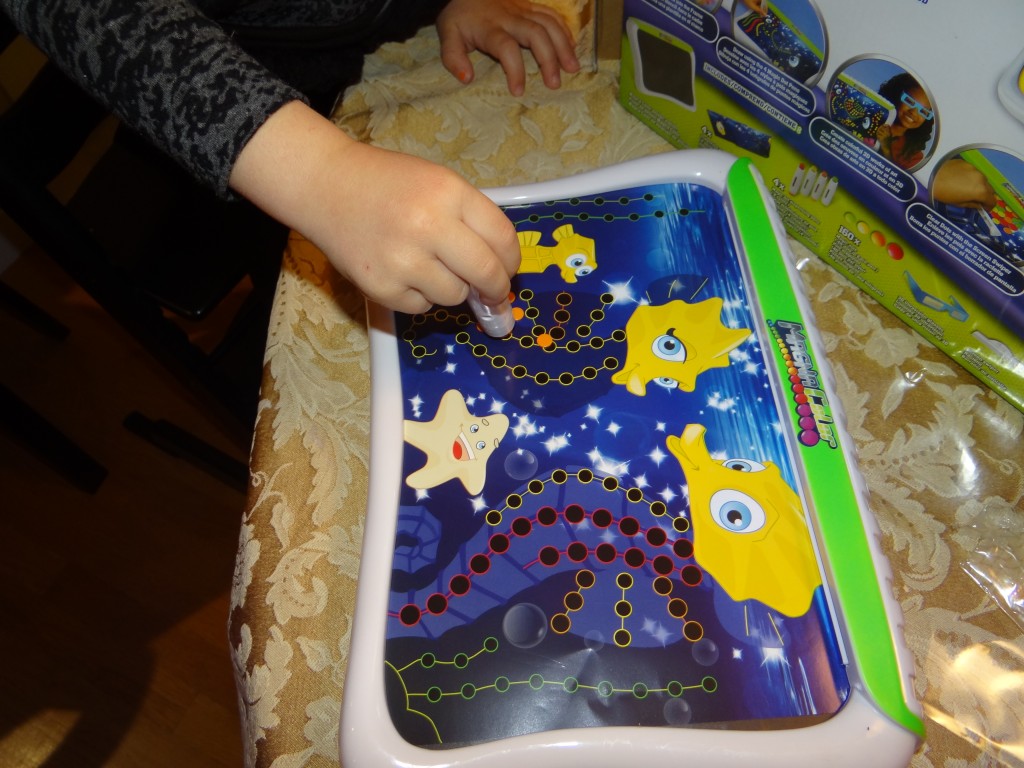 It is actually a little hard to explain just how cool the Magna Color 3D  Art Board is in words without getting the visual picture, so I included this video to get an idea how it works:

Hayley loves playing with her Magna Color 3D board. I can easily see why and so could Dr. Toy who named it one of her Top 10 Creative Toys for 2012. While the ages for this toy are 4+, I do want to warn you that a 4 year will need assistance figuring out how to put the dots out of the board and into the pens. I had no problem assisting her, but it definitely requires parent participation if you have children who are enjoying this toy on the younger age scale.
Like all coloring tools, the Magna Color captivates kids for as long or as short as their attention span or time allows. Since everything they need to draw is contained in a transportable case, young artists can draw in the kitchen, restaurant, or even the park. They design choices are truly endless.
Hayley and I play with this nightly and she loves creating new masterpieces every day. The best part is each day, she could use her imagination and color in different dots on the various stencils. It is fantastic for creativity and fun!
The Magna Color can be purchased from Toys R' Us, Walmart, Kohls, BJ's, Walgreens and more for a great holiday gift! It is a gift that will allow them to have fun for hours at a time! It retails for $24.99.  Additional themed stencils include Midnight Garden, Rainbow Sky, and Jungle Adventures and are sold separately.
Please note: A small quantity of product shipped this past summer including malfunctioning pens. As a company dedicated to high quality products, Tech 4 Kids, the manufacturers of Magna Color, would like anyone with malfunctioning pens to contact the following email: toys@tech4kids.com for a free replacement pens and dots.
*I received the above product for review purposes. As always, all my opinions are my own and not swayed by outside sources.