Now that Hayley is 4, one of Hayley's favorite toys to play with, are her Lalaloopsy dolls. If you have not seen them before, they are truly adorable, as well being fashionable. Hayley has asked us for some mini Lalaloopsy dolls and we already bought her a few for her stocking this holiday season.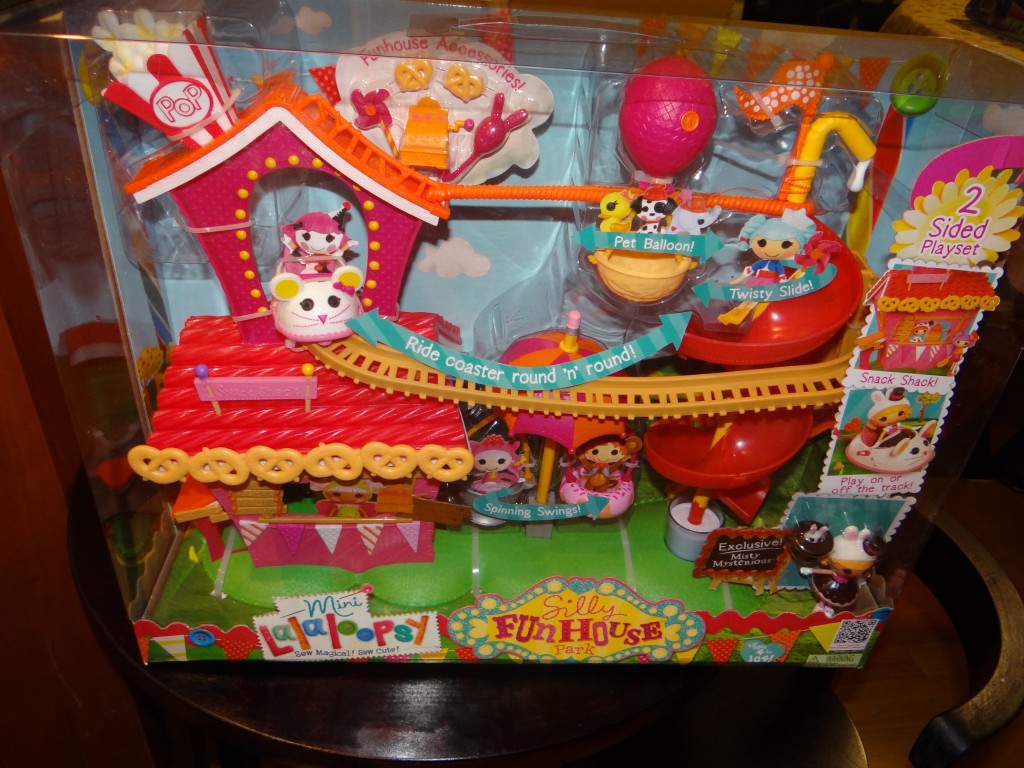 When we found out that they now have a Mini Lalaloopsy Silly Fun House, I knew Hayley would be extremely excited. I remember the day when we got the package and she said, "Mommy, look it is a Lalaloopsy set for all my Lalaloopsy dolls." If she sees anything remotely related to Lalaloopsy, she screams with delight.
With the Mini Lalaloopsy Silly Fun House Playset, it puts all the fun right in your child's hands. The Playset is HUGE and features a twisty slide, snack shack, bucket swing, zip line, and rollercoaster track. When we put the Mini Lalaloopsy Silly Fun House Playset together, it is as if, Hayley has a amusement park for her dolls right in her own home. I have to admit, this set is just adorable!
While she can play with the Lalaloopsy Silly Fun House herself, it is plenty big for her to have her friends over and they could all play with it. With this set, they all have a crazy, silly, and just sew fun for her and all her friends. As far as set up, it was actually really use it do. The base of the set is a cute pencil and while it holds up the set fine, I do recommend using the Silly Fun House on a flat surface.
If you ask me what Hayley favorite parts are with the Fun House, she will definitely say the roller coaster and zip line. She loves taking her little mouse car on a rollercoaster ride. The rollercoaster track comes with the mouse car that moves in both directions. She also likes putting her little pet (that is included) on the zip line, which ends at a twisty slide, that she could put her pet down.
After spending time on her rollercoaster, zip line, and slide- just likes to take her mini Lalaloopsy dolls to the Snack Shack where Hayley plays with the cash register and pretzels, that are included with the set. I love seeing her use her imagination ringing up "their order" in the Snack Shack.
The Lalaloopsy Silly Fun House features the complete playset, along with a Mini Lalaloopsy doll (Misty Mysterious) and her pet rabbit in a hat. The set retails for $42.99 and can be found on the Little Tikes website. This set is a huge hit in my household and I am sure if you have Lalaloopsy fans in your life, they will LOVE this set! Be sure to check out Little Tikes Lalaloopsy Silly Fun House for this upcoming holiday season.
Win it: One winner will receive the Lalaloopsy Silly Fun House. This giveaway is run via rafflecopter so click read more to see the actual giveaway. The only mandatory entry is to tell me what is your child's favorite Lalaloopsy doll from here: Little Tikes Lalaloopsy in the comment section proceeding this post. While the other entries are optional, I highly suggest you fill it out to increase your chances of winning. US only. Good luck!
a Rafflecopter giveaway

*I received the above product for review purposes. As always, all my opinions are my own and not swayed by outside sources.