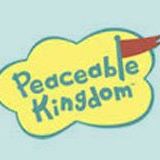 Hayley is at the age where most of her time is devoted to playing games. She is a huge board game fan and our collection is building incredibly these days. I always like to find good websites that allow me to find games that are appropriate to her age. I know many toy stores have games to buy, but not a lot cater to her age. Luckily, I found out about a great kids site that is geared to selling fun preschool and young kids games called Peaceable Kingdom.
Peaceable Kingdom has created fun and award-winning products that educate, inspire, and make them enjoy on a daily basis. Their company was started on a single product, which was a poster that featured beloved art from one of our favorite books, Goodnight Moon, and now 30 years later, has grown to over 5,000 products! They are a leading company for juvenile stickers, greeting cards, and cooperative games.
One reason we love Peaceable Kingdom cooperative games, is that you can actually play with your child, instead of playing against them. It is a nice bonding activity to be able to encourage play and be on the same side as your child when you are playing. Sometimes being competive is fun, but for a little child I prefer playing with them, not against them.
We recently received one of the their top preschool games called a Snug As A Bug In A Rug. This game is intended for kids ages 3-6 and featured three different levels depending on the age of your children. They have level 1 intended for kids ages 3-4, level 2 for ages 4-5, and level 3 for ages 5-6. This is a game that grows with the players age.

Included in the game, is 1 game board with spinner, 24 colorful bugs, 3 stink bugs, 1 die, and instruction manuel. The way it works is your child spins the spinner and finds the matching bug; once found they slip it under the rug! The goal is to get all the bugs under the rug before 3 stink bugs stink up the place, and then you all win!
Hayley and I played with level 2, for the ages 4-5. Each time, we rolled the dice and saw if it came up with a number or color. We then went to spin the wheel and went to pick the bugs to put under our board based on shape or color. It was fantastic for Hayley, because it made her count all the shapes on the bugs, and helped out with her math skills. She had a blast playing. She did not like when we put the stink bug on the game though, which indicated that the game was close to ending.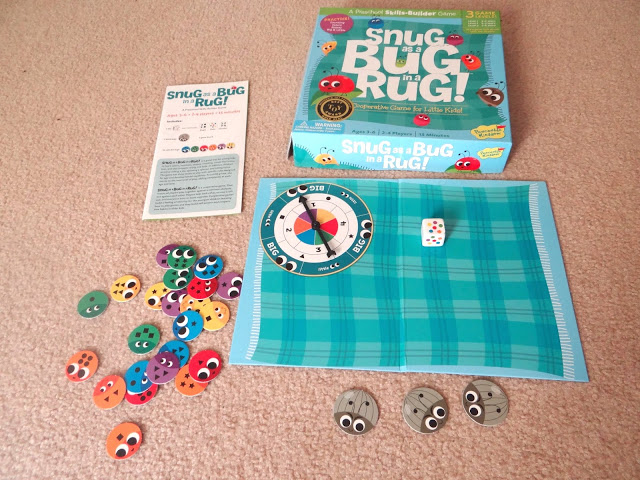 This game is great for preschoolers as they master visual discrimination, learning to take turns, rolling a die, recognizing colors and shapes, and distinguishing between big and little. I am a huge advocate of cooperative play and think that Peaceable Kingdom excels in creating some fantastic, educational, cooperative, and fun games!
For this holiday season, be sure to check out Peaceable Kingdom for their wide array of kids products including board games.
*I received the above game for review purposes. As always, all my opinions are my own and not swayed by outside sources.