It is the holiday season and that means, lots of shopping for the children. I recently found out about a site called Moolka.com where you can do shopping for every little one in your life. On their site, you can shop for traditional holiday gifts or stocking stuffers for the upcoming holidays. They have toys that range from 0 years of age up until 12 years plus. When you go shopping on their site, they have many various categories of toys that you can shop for including arts and crafts, baby toys, bath toys, books, building toys, creative play, developmental and learning, dollhouses, dolls, figures, play-sets, indoor active play, musical instruments, scooters, puzzles, plush toys, and so much more! They also have many of the most popular brands including Alex, Bilibo, Geo Toys, Green Toys, Haba, P'kolino, Plasma Car, Skip Hop, Sprout, and over 50 more!
At Moolka.com, you can do a complete shopping trip for your kids, or perhaps for friend's children for this holiday season. On their site, they have a 100 percent lowest price guarantee with free shipping over $60. They also have a a 360 Day Easy Return policy and worldwide shipping. Their toys are not made of plastic, but rather most are made of wood, or sturdier materials.
Since Hayley never had a scooter before, Moolka sent us a the Kiddi-O Scooter in pink. This scooter came with easy directions to set up and in about 10 minutes, the scooter was ready for Hayley to ride. It is for ages 2-5 years of age, so if fit perfectly with Hayley's age range. She was readily able to figure out the scooter with no problem at all and had a blast scooting along our driveway this fall. Now that it is cold, we have brought the scooter inside and she is still having so much fun riding it. It is the perfect gift for the 2-5 year old in your life!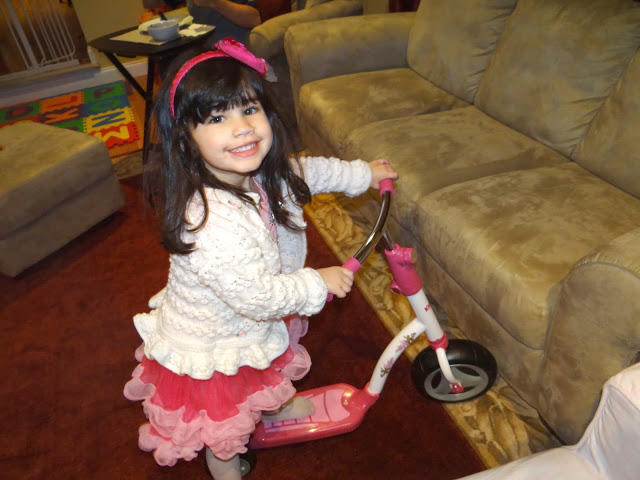 I have researched scooters before and some of the prices I have seen are quite ridiculous. At Moolka, this scooter is only $69 so it is very reasonable, and will last through the years. With the holiday season coming up, they are beginning to sell out of some of their products, so if you see something you like, make sure you order today!
Moolka.com is a great online site to buy some fantastic toys this holiday season. Be sure to check them out and Happy Shopping!
*I received the above product for review purposes. As always, all my opinions are my own and not swayed by outside sources.