I have talked about my love of Kidorable before. They have the cutest products for for young kids including backpacks, bookends, hanger sets, knit gloves, scarves, rain coats, rain boots, towels, umbrellas, and more! I can seriously spend everyday on there shopping for my children. We have received several products from Kidorable and I can tell you with 100 percent confidence that their clothes/accessories hold up unbelievably well and the cuteness is too much to even write down in words!
Since the weather is changing and more rain is coming our way, Kidorable sent me a Fireman Rain Coat with matching Fireman Rain First Boots for Zane. Just take a look at him and see how happy he is: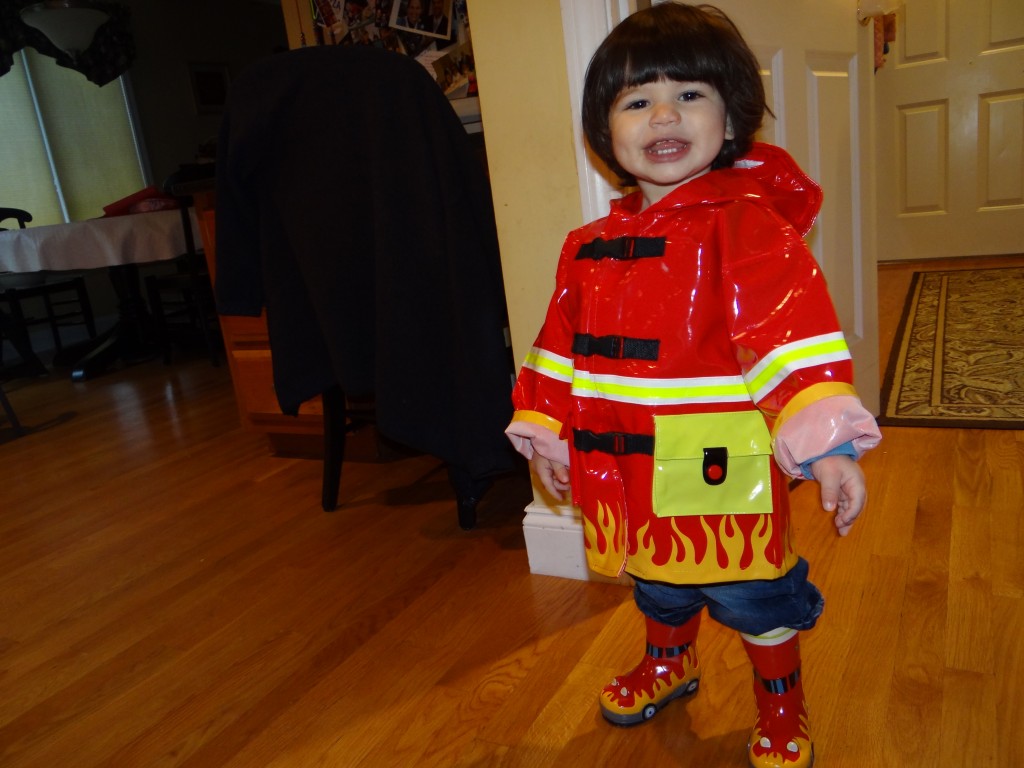 The Kidorable Fireman Rain Coat makes Zane look exactly like a real fireman! It is unbelievably eye-catching, sheek, stylish, and affordable! All the styles of the rain coats come with a comfortable polyester lining and is available in sizes 1T, 2T, 3T, 4T, 4/5, 5/6, and 6/6X.  Zane was sent the 2T which will leave plenty of room for at least the next year. The coat is made of sturdy fabrics and protects Zane through the worse rain storms. It also has buckles to close the jacket- virtually identical to a fireman's jacket that he uses everyday! This might be the cutest rain coat I have ever seen. You can find the Kidorable Fireman Rain Coat on Kidorable for $36.00.
Going along with the Kidorable Fireman theme, is the matching Fireman Rain boots. These playful puddle magnets will make a great addition to your children's wardrobe. They are made of natural rubber and are guaranteed to be the cutest boots in your neighborhood. The rain boots are available for the young ones (as their first boot in size 5) and goes on to sizes 6-13, as well as young adult, 1 and 2. The Kidorable Fireman Rain boots are $29.00 and can be found on the Kidorable site.
If Fireman themed rain boots/rain jackets is not your child's favorite, don't worry as they have so many different themes. Some of the additional themes are dragons, ballerina, butterfly, dinosaur, fairy, frog, ladybug, lotus flower, lucky cat, mermaid, pirate, and space hero! Be sure to make Kidorable a stop on your holiday shopping list.
Oh, and I must mention that as I was getting Zane ready for school, I was perusing my People Magazine. In the child picture section, I saw Amy Fuller's son, Archie, wearing the exact same Fireman set from Kidorable! It was exciting to see!
*I receive the above products for review purposes. As always, all my opinions are my own and not swayed by outside sources.