I was very excited to be sent RapidLash because I definitely need some help in the eyelash department. If you have not heard of RapidLash, it is a cosmetic product that is clinically proven to be safe and effective in enhancing the appearance of brittle, short, sparse, thin lashes into a healthier, fuller-looking lashes and brows in a a few short weeks.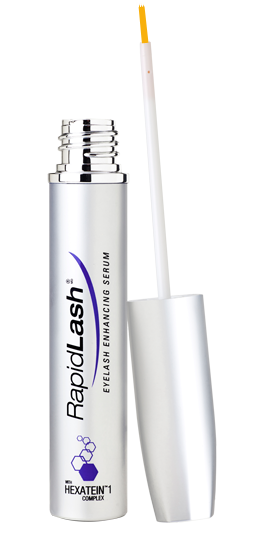 I have heard of RapidLash before but I was skeptical to try it. I heard some rumors that is could possibly hurt your your eyes or perhaps change your eye color. However, I had a friend who used it and swore by it, so I wanted to try it myself to see a. if it worked and b. to dispel any of the rumors I have heard.
Every night before bed, I put on RapidLash on my top eyelid directly over my brow line. It comes with a thin brush that makes applying the RapidLash, quite easy. On the packaging it says, in 4 weeks, you will notice a significant change in your eyelashes. I have to say that within 1 week of using it, my eyelashes already begun to see improvement. After 4 weeks, my eyelashes are much more filled in, longer, and fuller. I actually had someone ask me last week if I am wearing false eyelashes. I truly can't believe that this product worked such wonders.
As for the rumors, I have had no eye irritation at all and my eyes remained the same color. I have not had one adverse reaction from using RapidLash at all. All that has happened is I now have beautiful eyelashes.
RapidLash is clinically proven to boost the look of your lashes and brows. It is clinically proven for up to 62% of longer-looking, natural lashes, along with darker-looking lashes. It also is clincally proven to have up to 60% more curl to natural lashes. RapidLash is infused with a blend of paraben and fragrance-free potent polypeptides, vitamins, minerals, and botanicals that nourish and help strengthen your lashes and brows.
The best part of RapidLash, besides now having beautiful lashes is it is affordable. RapidLash sells for $49.95, which is significantly less than other products that cost upwards of $175.
You can buy RapidLash today at stores around the country, as well as on Rocasuba.com.
*I received the above product for review purposes. As always, all my opinions are my own and not swayed by outside sources.