My excitement is through the roof to present my next review, the LifeProof iPhone 4/4S Waterproof Case. I live on my iPhone and without it, in this world, I would be completely lost. However, in the past, I have had two phones where I had to completely replace them because of unfortunate water damage. The first time, the phone dropped out of my pocket as I was going to the bathroom and the second time, I accidentally left it in on the hood of my car overnight and alas, there was a downpour. In the past, when water got into my phone- I tried basically everything to get it to start up again. You know the tricks- put it on a bag of rice, take out the battery and let it dry, etc. Nothing worked except spending a small fortune on a new phone. Thankfully, LifeProof  has come up with a virtually indestructible case, that is fully water-proof!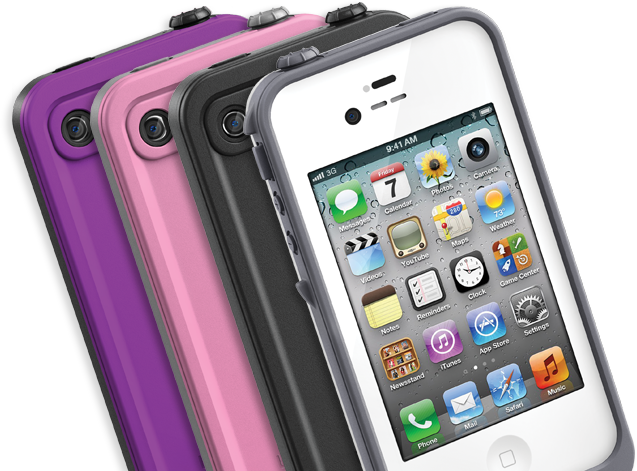 LifeProof is the first and only waterproof, shockproof, dustproof, and snowproof case for the iPhone 4/4S. They are also coming out with a case for the newly released iPhone 5. This case gives people freedom to use their iPhone in any wet, dry, or rough situation.
I will admit- I was skeptical at first. I just got my iPhone and I thought to myself, "Will this case really prevent me from the unfortunate water damage?" After I put on the case, I made sure I did the watertight seal test by placing the empty case in a bowl of water. After I saw it passed and the case was fully dry, I went on to putting my iPhone in the case. I then proceeded to put my iPhone with the LifeProof case in a bowl of water. I will admit- nerves were running up and down my spine but I am happy to report, it passed by flying colors. I then took the iPhone with the LifeProof case in the swimming pool and happy to report there was zero damage! It was AMAZING! Now if a rain storm hits, I no longer have to put away my iPhone. This product is like gold in my eyes! My iPhone is everything to me and knowing that it has an amazing case, makes me feel assured that it will last many years.
The LifeProof case is extremely lightweight and minimal in size. It is actually less bulky than my case that I had on previously. It easily slips in and out of my pocket without much effort at all.  I also thought it would be heavy because it provides so much protection, but it was actually the opposite. LifeProof gives individuals complete freedom to use their iPhone in any wet, dirty, or rough situation.
Here are some ideal uses for LifeProof:
Young Families
LifeProof is ideal for young families with all the
everyday 'disasters' that involve kids, dogs, pools,
drops and bumps. LifeProof allows for constant
communications in all environments without the
worry of the devise being damaged.
Outdoor Adventurers
Those that wish to use the device while engaging
in activities such as golf, recreational swimming,
walking, hiking, fishing, hunting, camping, boating,
cycling, Motorcycling, recreating at the beach, and
riding in recreational vehicles.
Fitness Enthusiasts
Fitness enthusiasts who are focused on body
performance and spending hours in training and
building endurance in the water, the gym,
endurance running, cycling often in environments
where mobile devices can be damaged.
Accident Prone
Users that have damaged their phone and are
looking for serious protection to prevent future
mishaps from damaging the device due to
exposure to water, sand, or from dropping.
Parents of young children fit into this category.
Road Warriors
People who's lifestyle and work is centered on the
mobile office such as reps, traveling executives and
support staff, advertising and marketing personnel
who need to be in 'the field', meeting with clients,
while being able to access office support and
network/on-line resources.
Dirty Job Workers: Occupational Hazards
People employed in the following industries would
welcome this type of protection for their devices
when in use: construction, farming, Industrial work,
service industries, police, rescue, fire, and military
The goal of LifeProof designs was to create the lightest, smallest, thinnest possible device with adequate protection against daily life and usual mishaps. Some of the amazing features include ability to film underwater movies, swim/surf, listen to music in the water, ability to use in the rain, and provide protection around food and drink when using the LifeProof case.
I know as a mom of two small children, food and drinks are constantly around my daughter. Now, I don't have to worry that my phone will be damaged! I also have heard so many stories of people who actually had their phone with the LifeProof case ran over by a car and the phone survived! This is amazing to me!
LifeProof also makes a variety of other waterproof accessories such as bike mounts, belt clips, armbands/swimbands, and floating lanyards. Once bicycling for me starts again, I can't wait to use my LifeProof bike mount to go riding over the dirty rodes, which could have otherwise damaged my phone. They also have a LifeProof life jacket which can be used over your phone so your phone does not sink when you go swimming. How awesome is that!
As you can tell, I am a huge LifeProof fan. LifeProof is available in a variety of colors and sells for $79.99. It is now on sale though for $69.99 for the holidays! It would make a truly fantastic gift! It is available in a wide range of colors and is available for sale at Best Buy, AT&T, Target, J&E Electronics, Radio Shack, and LifeProof online site.
Win it: One winner will receive their chose of a LifeProof iPhone cell phone case. For this giveaway, please follow the instructions below. If a comment says +(2,3,etc) comments, make sure you leave that many comments for you entry to count.  Please leave all comments in the comment section proceeding this post
Mandatory entry: Please tell me why you want to win the LifeProof iPhone cell case. (+1 Entry)
Optional entries:
Follow LifeProof  on Facebook (+2 entry)
Follow Mommyhood Chronicles on Facebook (+2 entry)
Follow LifeProof on Twitter (+2 entry)
Follow Mommyhood Chronicles on Twitter (+2 entry)
Follow Mommyhood Chronicles on Instagram (+2 entry)
Follow Mommyhood Chronicles on email (this will be only counted if you verify your email address) +3 entry
Tweet about the giveaway- make sure you mention @dentistmel and @lifeproof  and this giveaway  +4 entry- This can be done daily but please make sure you leave your comments daily if doing this.
This giveaway will end on December 5, 2012. Please make sure you have a valid email address. Winner will be choosen by random.org and will have 48 hours to respond. US only. Good luck!
*I received the above products for review purposes. As always, all my opinions are my own and not swayed by outside sources.