I was recently was given a screening of the movie, Heart of Christmas, which is a movie that is incredibly sad, but also a true inspirational movie that left me thinking of how lucky I am to have healthy children.
The movie starts with the story of Megan, Walt, and their children, and shows how little time mom anddad were taking time to spend with the kids. Between their jobs, it left little time to appreciate the children in their lives. Once Megan starts to read a blog created by Julie Locke, everything changes and changes for the better.
Julie and Austin Locke, are parents to little boy Dex and they find out one day at 15 months, he has a serious form of leukemia. Julie and Austin remain hopeful in the course of Dex's treatment, and try every possible way to find a "treatment" that will work for his cancer. Dex is an unbelievably strong boy who did not say boo to anything, and went along with his cancer surgeries, radiation, and chemotherapy like a real trooper.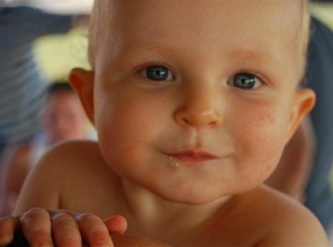 Unfortunately despite all efforts by Dax, his parents, and doctors, the leukemia would not leave Dax's body. The doctors told his parents to take him home so he could have his last few weeks at home doing the things Dax loved. Because they thought Dax would not live to see Christmas that year, the community rallied together and did a huge Christmas for him in November. It was truly a remarkable feat that they put together and showed the love of the whole community for baby boy Dax. Dax passed away on December 29, 2009, at 3 years of age.
While this movie is a real tear-jerker, it made me realize how life is short, and we really need to take each day as it is our last. It is remember to hug your kids every single day and tell them all the time how much you love them. With the holiday season coming up, please remember family is #1. Sure, gifts are nice, but the meaning of the holidays, is about family.
I wanted to present an insert of Dax's story that is presented on the Dax Locke Foundation website. If you want to watch the movie or would like to help donate to the Dax Locke Foundation, head over here: Dax's story.
* AML M7 leukemia is common in men over 65; Dax was only 15 months old when he was diagnosed. Dax began rounds of chemotherapy but it was not working; his body was so full of cancer by the time he was diagnosed the treatments could not stop the growth of the cancer. St. Jude and the wonderful staff of doctors and nurses never gave up on Dax. After the chemotherapy treatments failed and with no other options to try, Dax was enrolled in an experimental protocol where he would undergo a stem cell transplant. If Dax had not been taken to St. Jude Children's Research Hospital his story would have ended here. Given this new hope, Dax received his first transplant from his mother, Julie's stem cells. The cancer returned in Dax's small body even harder. Again, St. Jude offered another transplant and this time his dad, Austin's stem cells were used. Unfortunately Dax's little body just couldn't beat the disease and Julie and Austin returned home in mid October with Dax to "Cherish Every Moment" with him. The doctors thought he probably would not live through Christmas. Julie and Austin will forever remember the time and effort St. Jude put into saving Dax's life and most importantly for the gift of extra time they were able to spend with their precious son.
At home and with Dax, Julie and Austin decided to celebrate one last Christmas with Dax. Dax especially loved the Christmas lights on the tree and on the house and soon the neighborhood began asking why they had Christmas lights up before Halloween? As the story spread, within days the neighborhood and soon the town of Washington was lit for Dax. His story was a headline on CNN and Dax's story captured the hearts of literally thousands of people. Before they knew it, Christmas lights had actually gone up all around the world for Dax. Dax did live to see Christmas day. He passed away December 30th, 2009.
Despite their sadness, Julie and Austin knew that Dax's story, which had touched so many people, could be used to bring awareness to childhood cancer and the work of St. Jude and started a foundation called "Cherish Every Moment" the Dax Locke Foundation. The foundation's purpose is to raise $1.6 million dollars to run St. Jude Children's Research Hospital for one day in honor of Dax! They began chipping away at this goal by running fundraisers and spreading the word. Singer and songwriter, Matthew West reached out to help after hearing Dax's story. He wrote a song called One Last Christmas and the song went viral! Matthew donated all the money he made from the song to to the Dax Locke foundation! A producer heard the song, decided it would make a charming Christmas movie (One Last Christmas) telling how the neighborhood came together for Dax and put up their Christmas lights and filming began. The movie was aired December 4th, 2011 on GMC network and broke every record the network had ever set. Dax's story has moved the world. To this date over $580,000 has been raised to help Austin and Julie Locke meet their goal for their sweet boy, Dax.* Continue story here: Dax's foundation.
* I received the above product for review purposes. As always, all my opinions are my own and not swayed by outside sources.*