Hayley is now officially swimming. Actually she started officially swimming when she was 3.5 years old. She started to swim at 9 months and has been taking lessons every week since then. I am just so proud of her. When she swims though, she must wear goggles. She has had a few pairs where they have broken after one or two uses, and I just get tired of replacing them over and over. Thankfully, Aqua Sphere has sent us a couple of pairs of kids goggles to try out.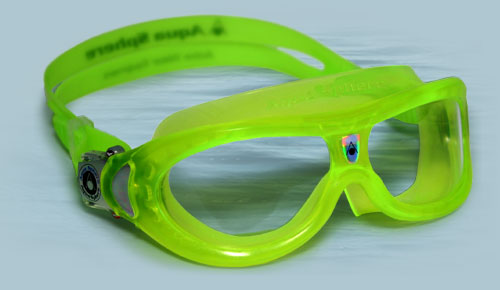 Aqua Sphere is the ultimate shop to head to, if you are a swimmer, or looking for products for the swimmer in your life. They are the premier swimming equipment manufacturer for swim training and workouts, fitness swimming, aquatic exercise, recreational swim, and more. Whether you are looking for products to swim in the pool or the ocean, Aqua Sphere has the right swim gear for fitness swimmers, beginner swimmers, triathletes, and kids alike to be able to swim in a safer, as well as fun, environment.
Hayley was sent a couple of pairs of  the Seal Kid children's swim mask. While her brother is waiting to swim, she has been using both pairs of the Aqua Sphere Seal Kid. This swim googles are just AMAZING. They provide Hayley with a 180 degree panoramic vision and are extremely kid friendly. They have easy adjustable buckles and an exclusive 100 percent Softeril skirt for comfort with a leak resistant seal. It provides 100 percent UVA/UVB protection and it completely anti fog, as well as, scratch resistant.

Hayley needs a good pair of swim googles and the Aqua Sphere Seal Kid children's swim mask does just that. No more are the days, where I have to stop, and fix her goggles because they were falling off. Once I put these goggles are, she is all set for the rest of the day. She also can easily remove them and put them on herself, when she is going in and out of the water. She says to me, that the goggles are also very comfortable, which is rare for her, because she complained about all her other goggles all the time.
When swimming, she says she sees beautifully and no longer has to deal with water getting in her goggles. Before, she would constantly have to fix her goggles because water kept coming in. The anti-fog feature is also very important to a young one because they don't want to have to be bothered with not being able to swim, when they are first learning how to!
The Aqua Sphere Seal Kid children's mask will last her for a very long time! I am so happy with the Aqua Sphere products and continue to use them for all the years of swimming ahead. If you are interested in purchasing these swim mask for $21.95, click here: Seal Kid Children's Mask.
*I was sent the above products for review. As always, all my opinions are my own and not swayed by outside sources.