I have a slight obsession with Alex toys since they keep Hayley busy for hours with some fun and entertaining crafts. At Alex, their mission is to provide children with quality creative products that foster personal expression and build self esteem. All of their childrens activities, provides hours of fun and allow children to develop new skills and new ideas.
Alex toys was started in 1986 with a line of high quality basic arts and crafts products for children. Today, they have over 1,000 items in different categories such as dramatic play, fashion, jewelry, whimsical children's furniture, bath toys, preschool items, and more! Alex toys has received over 300 awards from leading magazines and consumers nationwide. Alex toys are currently sold in over 80 countries worldwide.
Hayley is so into crafts these days and we are always buying her new Alex toys. For her birthday alone, people bought her, 4 different Alex crafts toys. It was amazing! She just loves to sit and do her projects as she likes to call them. Hayley was sent two different Alex kids crafts: Alex Picture Mosaic and Lace a Lei.
The Alex Picture Mosaic contains 5 different mosaics with photo stickers. It has 5, 9 inch pictures with over 984 stickers with easy picture instructions. The Alex Picture Mosaic was very easy for Hayley to do. Each Mosaic contains 5 different sets with one mosaic and stickers. Hayley then had to place all her stickers onto the board, to create a beautiful mosaic picture. I was worried that she might have had a hard time getting the stickers off with her little hands, but it was actually quite easy for her to do.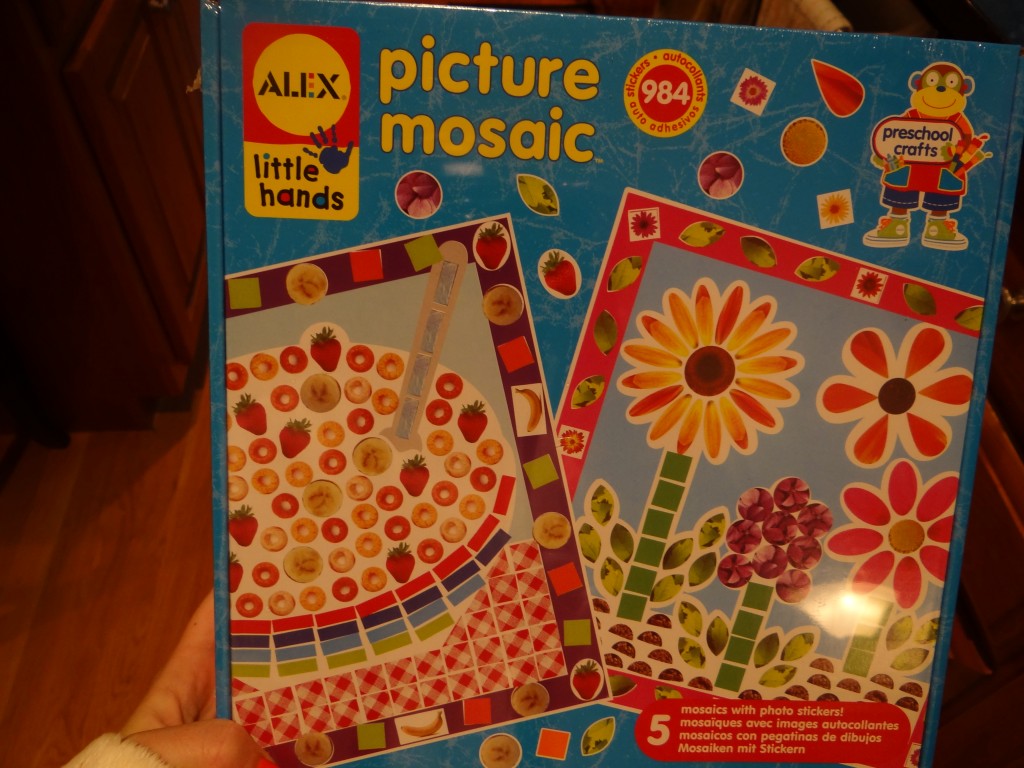 She spent at least an hour on each mosaic. She would do a little, watch some television, and come back to finish it. I was impressed because I thought there would be no way she would do one mosaic in full. I thought she would start and then get bored. However, it kept her entertained the whole time and she actually asks to do one each day. It helps her with confidence knowing she could do it, and her with her dexterity in getting the stickers in the correct locations. It is available on the Alex Toys site for $11.95.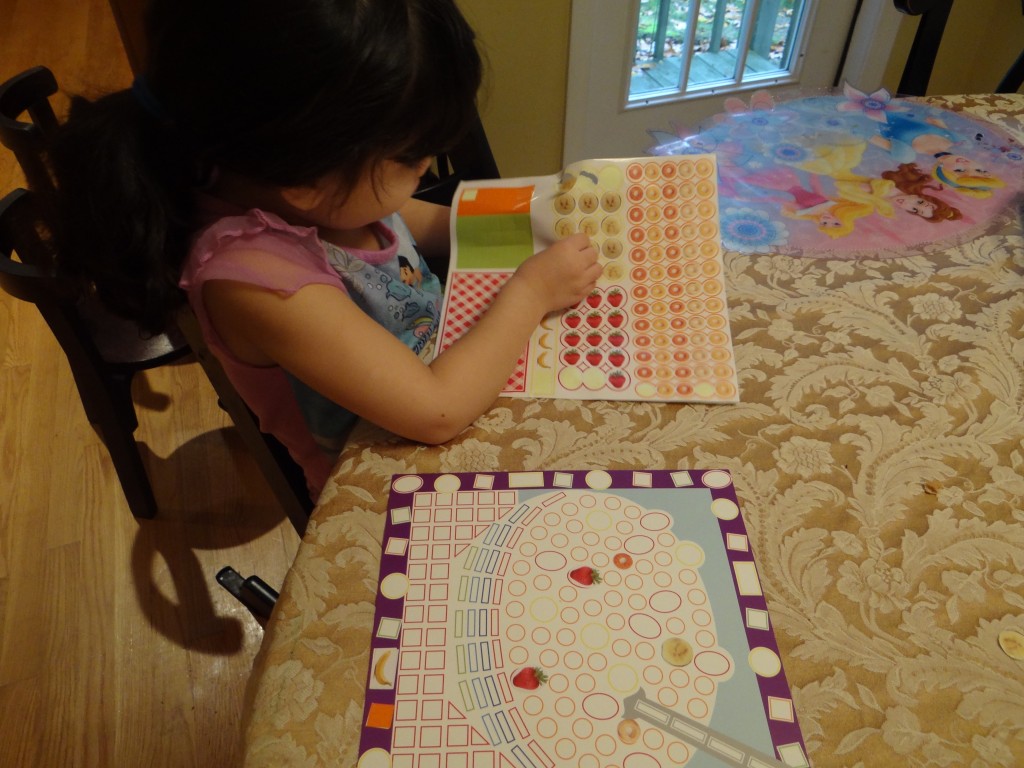 She also received the Lace a Lei which is also available for $11.95 on the Alex Toys website. Since we just went to Hawaii a few months back, she is obsessed with leis. With this kit, she was able to lace up 3 colorful necklaces with 80 different felt shapes. She would again spend a long time trying to get the perfect lei necklace. She was readily able to do it herself, but she enjoyed my help too! She loved making patterns in her own personal lei. It is a great craft to help build fine motor skills and help with hand-eye coordination.
Alex toys are not only adorable, but assist in helping children perfect their fine motor skills. They have so many wonderful products and are seen in many stores worldwide. You can also purchase all their products on their website: Alex toys.
Win it: One winner will receive their choice of the picture mosaic or Lace a Lei. This giveaway is run via rafflecopter, so click continue reading to see the actual giveaway. The only mandatory entry is to tell me which Alex toys you would like from here: Alex in the comment section proceeding this post. While the other entries are optional, I highly suggest you fill them out to increase your chances of winning. US only. Good luck!
a Rafflecopter giveaway

*I received the above products for review purposes. As always, all my opinions are my own and not swayed by outside sources.