I love finding new toy companies with unique products. That is why I was so excited to receive some Wee Believers toys to tell my readers all about. If you are not familiar with Wee Believers, it is a toy company with a mission to inspire children in their faith and they are committed to giving children opportunities to build character and virtue while they are having fun! Sounds like a great toy company, right? I truly think so!
All of their toys are designed to educate, entertain, and enrich faith in young children. Their goal in creating these toys is to bring purpose to playing and to make learning about faith FUN! Check out this video of how inspirational the Wee Believers Toy line is:

Wee Believers has a boatload of new games, gifts, and toys designed especially for those looking for high-quality, inspiring choices! With the recent success of their award-winning 2-sided Noah's Ark Floor Puzzle (released 2011), this expanded new line reaches into new categories! Boo+Boo BlessingsTM Adhesive Bandages, Noah's Ark Matching Game (with a package cleverly doubling as a kaleidoscope!), and a Noah's Ark Sticker Set with a handy fold-out scene are just few of the innovative items arriving soon at specialty toy and gift and Christian book stores.
What a love also about this company is it is mom and dad founded! Parents Joni and Steve Abdalla have been in the business of designing and delivering top-quality inspirational gifts, games and toys for over 5 years. Committed to bringing messages of faith and thoughtfulness into playtime, this parent-run company is thrilled to continue filling the niche for considerate children's products in the gift and toy industry while providing discerning gift-givers a bounty of options that exude mindfulness and engaging fun!
Hayley, Zane, and I had the chance to review two wonderful toys from their extensive line. The first toy we reviewed was the Noah's Ark Foam Tub Toys. This bath set is adorable as it contains 16 pieces of Noah's Ark Foam Tub Toys mimicking all the animals in Noah's Ark. The 16 pieces are all fun animal shapes for floating, stacking, and sticking to the bathroom wall.
Hayley has a blast playing with these tub toy pieces. She would put her little babies she had on Noah's boat and put the animals all over the walls of the bath. She loved that they stuck quite readily with absolutely no effort needed on her part. When we put Zane in the bath, he loved learning about all the animals and stacking them together. They both thought it was very neat to see the shapes floating on by them when they were bathing.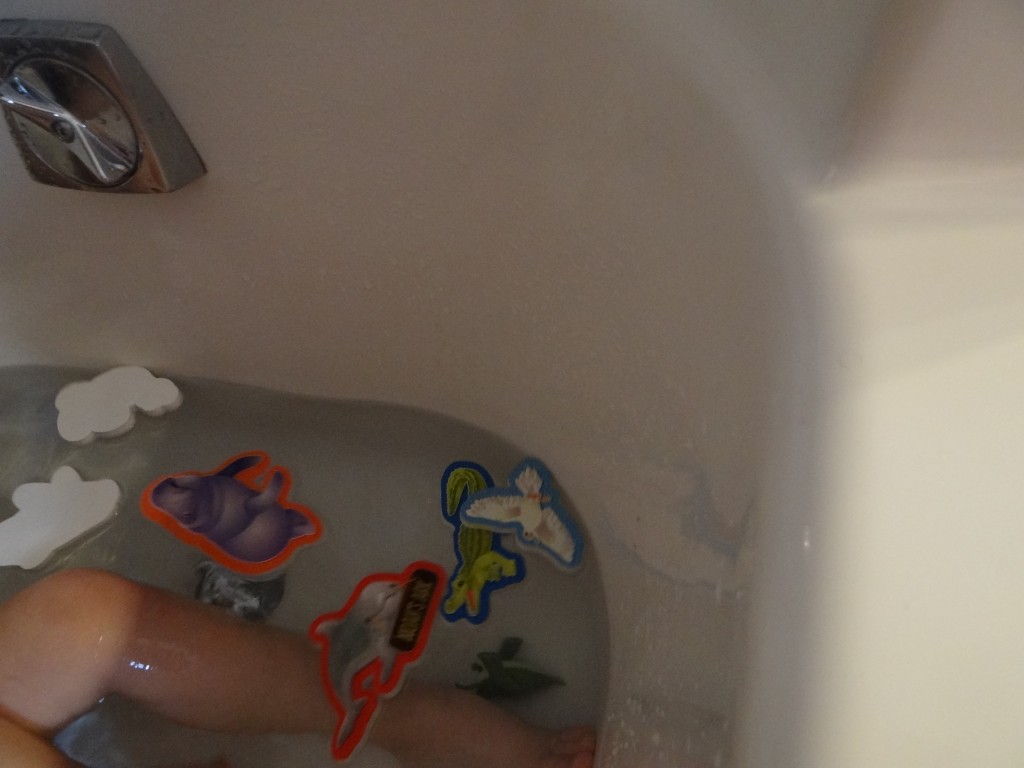 When we were done with the bath and it was time to cleanup, it was a breeze as it came with a mesh, easy-to -use suction-cup storage bag. They thought of everything when they developed this Wee Believers Toy! The set is non-toxic and washable, including pieces that won't absorb water to make a mess! You can purchase the Noah's Ark Foam Tub Toys Set to have some floods in the tub at the Wee Believers website for $14.99.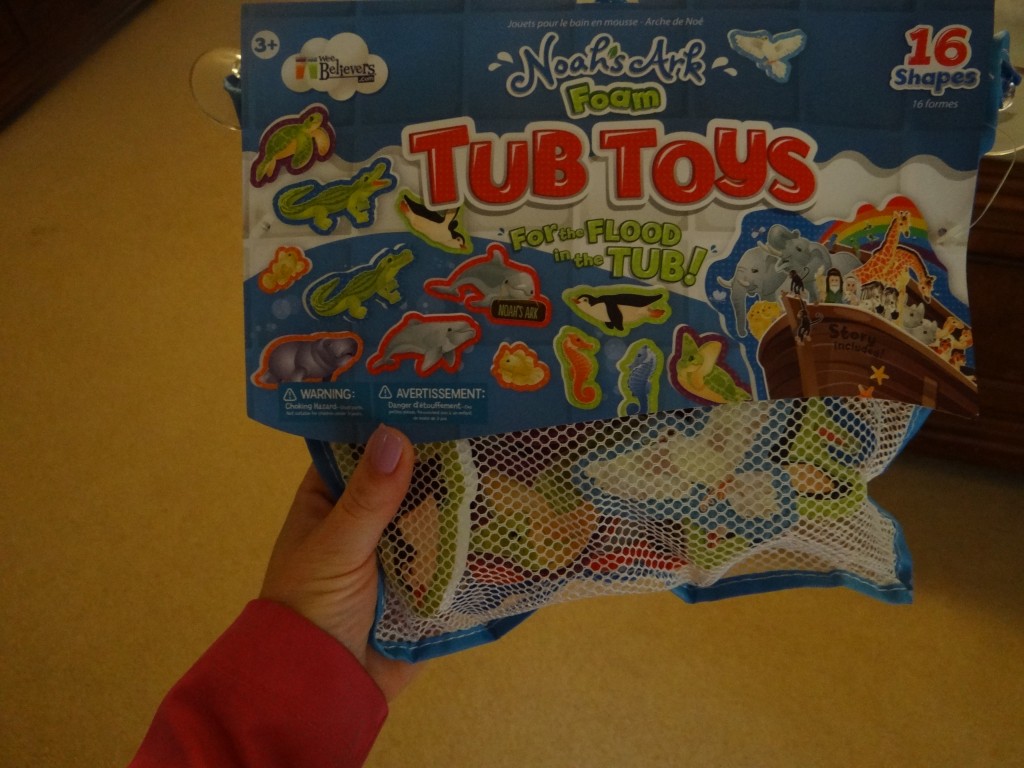 We were also sent the Noah's Ark Matching Game Set which features 24 pairs, of 48 Noah's Ark animals for your kids to play with and have fun. Hayley is addicted to matching games so she had an absolute blast with the Noah's Ark Matching Game Set. There are so many awesome features of this matching game that sets it apart from the "normal" matching game on the market.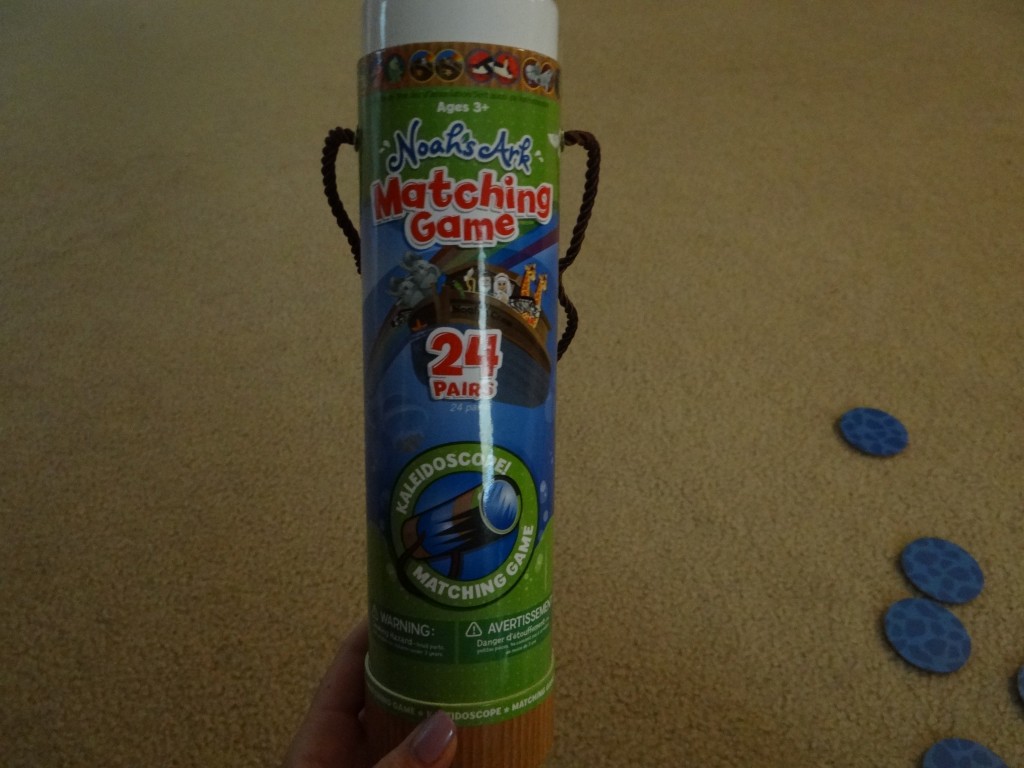 With the set, your kids can have fun matching the males to females animals. It provides a thick storage tube to store the matching pieces after your kids are done, which doubles as a kaleidoscope. Hayley has so much fun sorting and classifying the pieces when she plays. This game exemplifies improving concentration and exhibiting patience.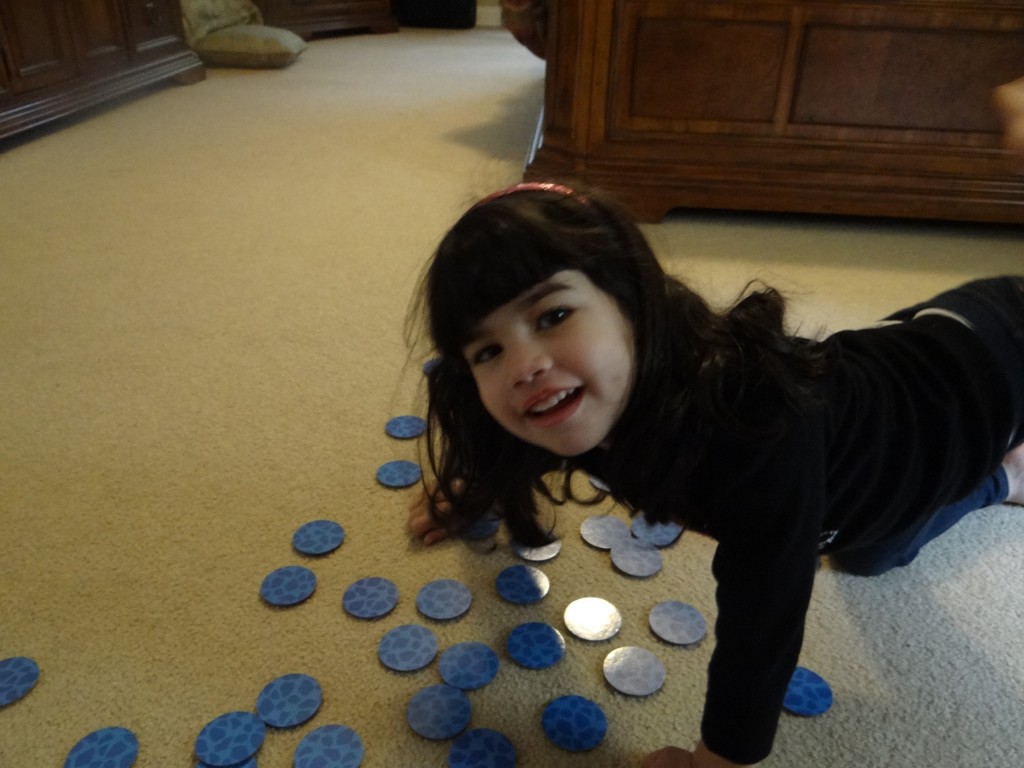 There were several ways to play the Noah's Ark Matching Game Set but Hayley likes to play it by putting all the pieces upside down. She then likes to match the pairs together and have me participate too! She loves that she has to find the male and female pair for it to be a complete match. She always seems to beat me! She has an incredible memory! The Noah's Ark Matching Game is available for $17.99 on the Wee Believers website. You can also learn about Wee Believers on their facebook page.
*We received the above products for review purposes. As always, all my opinions are my own and  not swayed by outside sources.