When I was a little girl, my mom instilled upon me the proper values of sharing and caring with others. Since she did such a good job with instilling these values upon me, I have grown up knowing to respect my elders, remembering to offer a helping hand to those in need, and to help others in any way possible. My husband and I also have made sure we have brought up our children with the same principles.
I always remind Hayley that sharing with others is vitally important. I tell her we do things in our lives to better others, to not expect anything in return, but to know we are doing something good in our hearts. She has seen me in the grocery store, letting a mom with an infant baby go before us in line to check out. When Hayley asked me why I did that, I reminded her that we are doing this to help out others. I want her to know that not everything is about Hayley and we need to offer our help in anyway we could. I am a firm believer that if we lead by example, our kids will emulate our behavior.
I have to share with everyone what Hayley and I did this weekend. We have many toys in our house, partly because I do some product reviews and partly because I have spoiled her (my own fault) as she was growing up. So, this weekend, I told her we need to help out other children that may not have what she has. I told her sharing and caring is  one of the most important lessons she will ever learn. She decided, along with me, that she will go through all her toys, and donate a large stack of toys to our local women's shelter for the upcoming holidays. She picked out 22 toys all by herself- coming from a 4 year old, I was mighty impressed. I was so glad to see her caring so much about others and offering her support. I have only my mom to thank for that, as she implemented the true definition of caring at an early age in me.
This year, Kleenex has come up with a really fun and rewarding initiative called the Kleenex's Softness Worth Sharing. At Kleenex, they realize that the moments of unexpected thoughtfulness makes all the difference. This fall season with the cold and flu season coming upon us, I know as a mom, how important carrying the world's softest tissue around is. I am a faithful Kleenex mom and have Kleenex all over my house. I am sure you all love Kleenex too so be sure to take advantage and participate in the Kleenex's Softness Worth Sharing Initiative.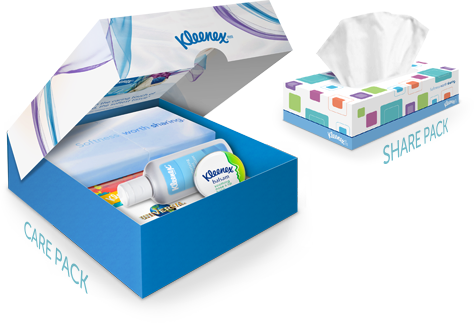 To participate in the Kleenex's Softness Worth Sharing Initiative, you simply buy a specialty marked bundle or boxes of Kleenex brand tissue. On the inside of the Kleenex box, you will find a code to redeem online at Kleenex.com. Once you redeem it, you can then send a special Kleenex Brand Care Package for a friend, family member, or even a stranger who might need a little extra care this fall season. How awesome does that sound… How great to give back to those who may need it!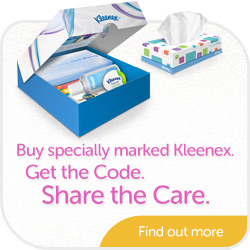 The Kleenex Brand Care Package will include  lip balm, 1 oz. hand sanitizer, coupon booklet, Kleenex® Brand Share Pack, Kleenex® Brand Slim Pack, and card redeemable to download four songs from up and coming Universal Music Artists:
Andy Grammer
Miloš Karadaglić
Avi Avital
Rebecca Pidgeon
I urge you to go out and participate in the Kleenex's Softness Worth Sharing Initiative.  I know I will definitely be participating and trying to help out this flu season to others who may be in need! You can also check out Kleenex on Facebook to learn more!
*I wrote this review while participating in an ambassador program by Mom Central Consulting on behalf of the Kleenex brand and received product samples and a promotional item to thank me for taking the time to participate.