I will tell you that with two small kids, it is always a constant state of running around, which inevitably leaves very little time for me. From the time I wake up in the morning, I have two adorable kids who need my full attention. Then once I put them to bed, I have about an hour, before I end up crashing into a heavy sleep myself. In an hour time, I like to read or watch television, but it really is not enough. I keep telling my friends we need to get together and do a spa day. Imagine the relaxation if we had one day, where we could just get pampered and not have to worry about anything at all, but relaxing!
Does that not sound nice? I know for me, I barely have time to take a shower, let alone go for a spa treatment. I keep telling myself, that I am going to call the spa and plan some treatments, but then a little one calls out for me, and my call is put on the back burner. I realize that I want to change this so I decided for my friend's birthday this year we would make a fun spa day. Hey, we might even do a full weekend dedicated to getting spa services done.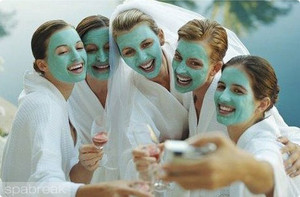 I was checking out the web and say some packages for spa hen weekends with spabreaks.com. The packages look incredible! Facials…Massages- I drooled reading these words. I just want to lie down on a massage bed and get a nice, relaxing massage and then follow up with a facial to soothe my skin. I have not had a facial in over two years, so this will be a nice treat and I know I will then be ready for the tough winter months that are ahead of us. Skin needs to be treated because the cold weather generally tends to exacerbate our skin.
I am so excited to get ready for our weekend of pampering. I need this so badly! I think my friends do too! I also have some spa gift vouchers  I could use to help us save some money for our upcoming weekend. I am so excited!
*This is a partnered post. As always, all my opinions are my own and not swayed by outside sources.