As most of you know, Zane has had very bad eczema since he was very little. We got introduced to Exederm skincare line for kids, and I never looked back. I use it on him religiously everyday for the past year. I see significant improvement when I use the lotion, cream, and shampoo when he bathes. It is actually the only baby shampoo that  I allow him to bathe with. I have noticed significantly less flare ups and overall less itching from Zane when we use these products.
Since launching their unique baby skincare line in 2009, Exederm has received accolades, mindshare, and availability from two of the largest online retailers in the nation: Amazon and Drugstore.com. Now the nations leading dedicated juvenile products retailer, Babies R Us, offers the entire range of exederm products, including cleansing baby bath, hydrating baby lotion, intensive baby moisturizer, soothing baby oil and non-irritationg baby shampoo.
Exederm is speficially designed for babies/toddler who suffer with eczema, dermatitis and other sensitive skin problems. The creators sought to provide targeted, daily solutions of those looking to reduce their sensitive skin problems, exederm's simple approach to healthy skin means that common irritants such as parabens, fragrance, lanolins, colors and dyes are never in the formulas.
The National Eczema Association has awarded each of the brand's products a "Seal of Acceptance" as a well as the highest EASE ratings of a 5/5. Using this line for over a year now, I can attest that there is really no other brand which effectively deal with your children if they eczema problems.
We had the chance to review the Exederm Flare Control Cream which is used to heal irritated skin. It provides fast soothing relief from itching, redness, inflammation, and rash. It is an ultra sensitive formula for really sensitive skin. Their philosophy is every simple in that they avoid irritants and only use the mildest ingredients. I use this cream on him after every bath. It definitely helps him itch less and gives his skin a chance to heal from all the scratching that he does. We use it 3-4 times a day to control the itching.

We also use the Exederm Non-Irritation Baby Shampoo which is a gentle, non-irritating, and ultra hypoallergenic shampoo. I use it on Zane's hair, as well as his body to clean. I find when I use this, his skin feels very gentle and I love that fact that it helps with controlling his flare ups. I then follow with the Ultra Sensitive Skincare Hydrating Lotion. I moisturize his skin with this morning and night, on his hands, face, and body.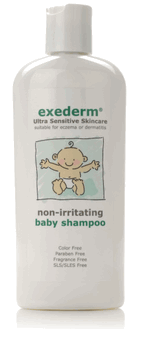 If your child suffers from eczema, there is a way to help them. Be sure to check out the Exederm complete line here!
*I was provided products for review purposes. As always all my opinions are my own and not swayed by outside sources.