Hayley is my little princess. She is addicted to anything that is bright, sparkly, or glittery! She is a true diva in that she would walk around with rhinestones all day, if she could. Her addiction to all the sparkles may or may not have come from her mother, who is also slightly addicted. Lucky for us, we found out about a product called Blingles that brings bling to life!
With the Blingles Gem Themed Packs, kids can now add sparkle and bling to their world. What Blingles is, is a kit that contains all the necessary materials to "blingify" any object your kids would like. With the Blingles, they can create and design their own jeweled stickers that adhere to any smooth surface. With the Blingles set, you can add bling to cell phones, laptops, pocketbooks,etc- you name it, and you could probably bling it!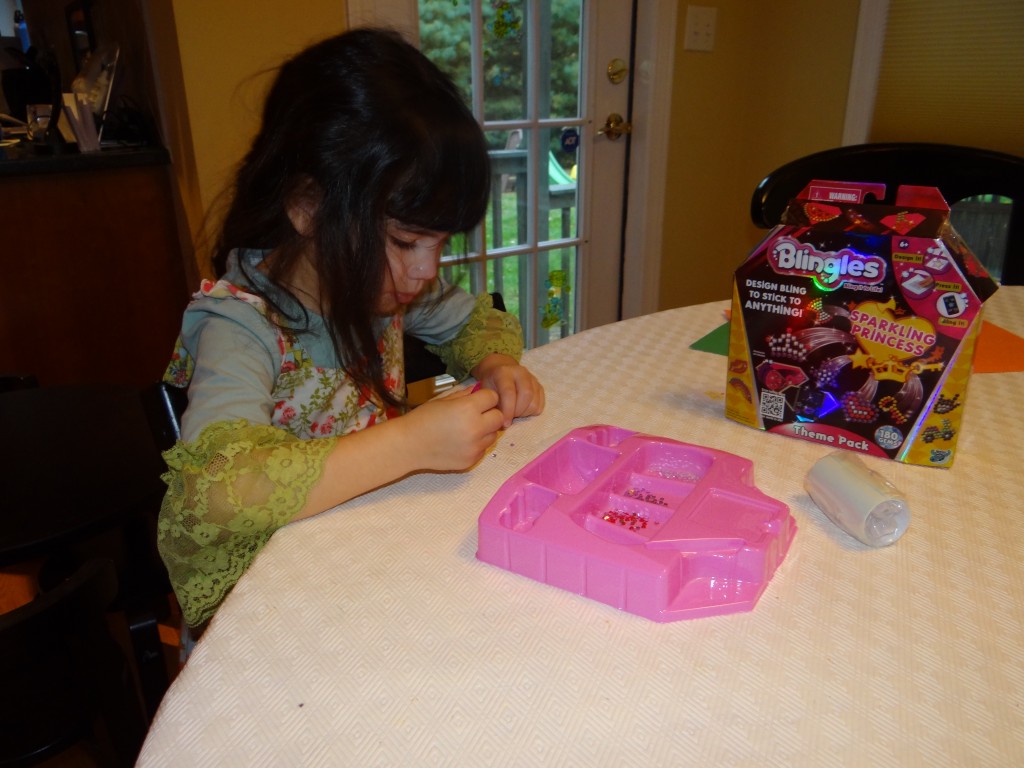 With the Blingles Gem Themed Pack, it contains bling (sparkles), a special pen, a mat to create the designs, transfer slides, glue rolls and design templates. Each theme pack contains materials to create up to six designs. Your kids can make their own designs or use the included patterns to bling to life accessories such as jewelry, mp3 player, cell phones, and more!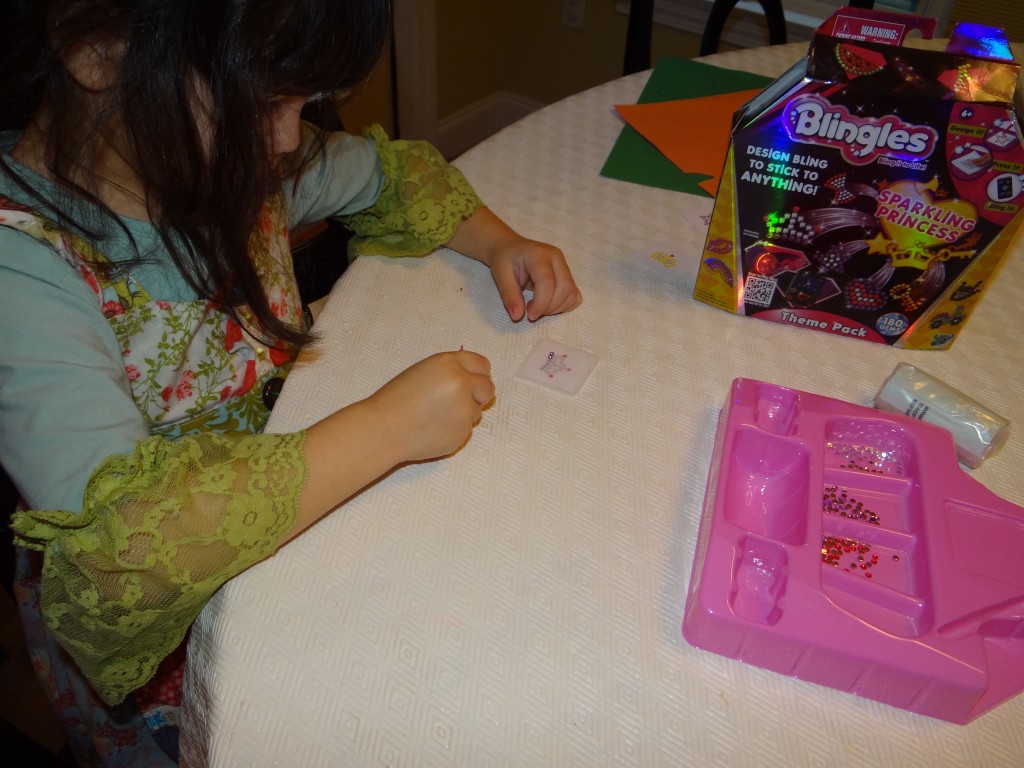 We received the Blingles Sparkling Princess Set. On the package, it says for ages 6+. I will tell you that while my daughter is 4, she did have some trouble doing it herself. I can understand why they put the age they did on the package. However, she had a blast learning how to do it and making some fun bling patterns with her babysitter. When I got home from work, the babysitter told me that they both really enjoyed "Blinging" things.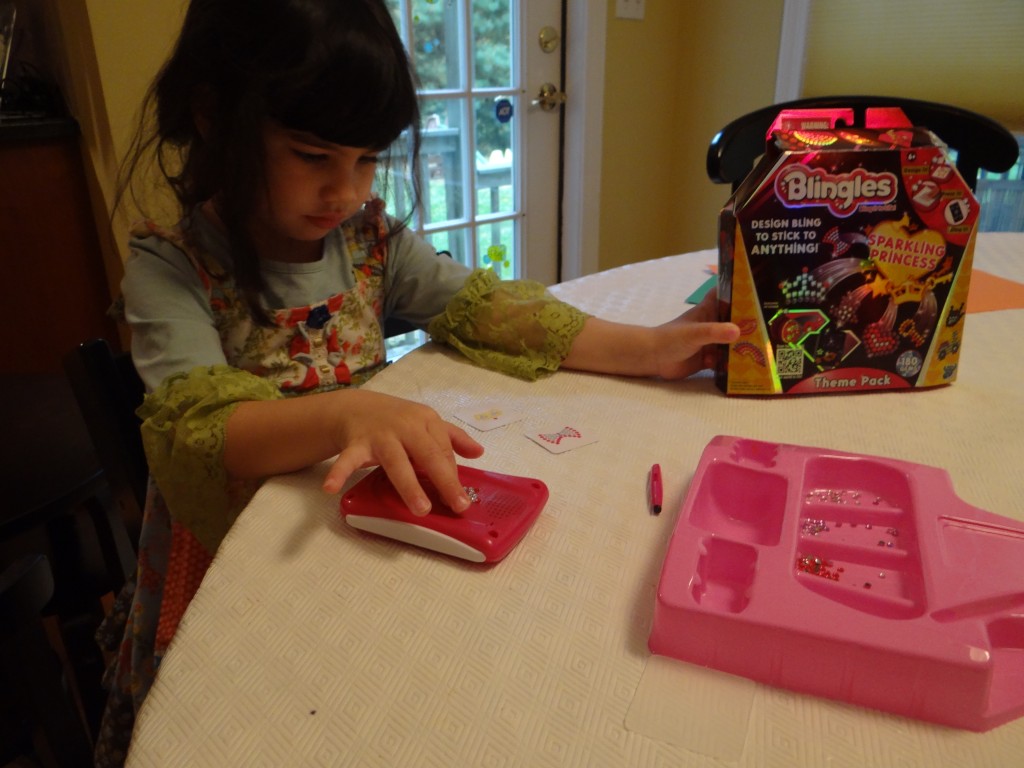 Hayley wanted to create her own Sparkling Princess design on her play cell phone. For her to do it, she and the babysitter placed the gem design that they gave them in the package (you can also create your own), pressed the gems onto the glue sheet, and used the pen to bling it. The gems are very small so it takes some dexterity to get the hang out of it.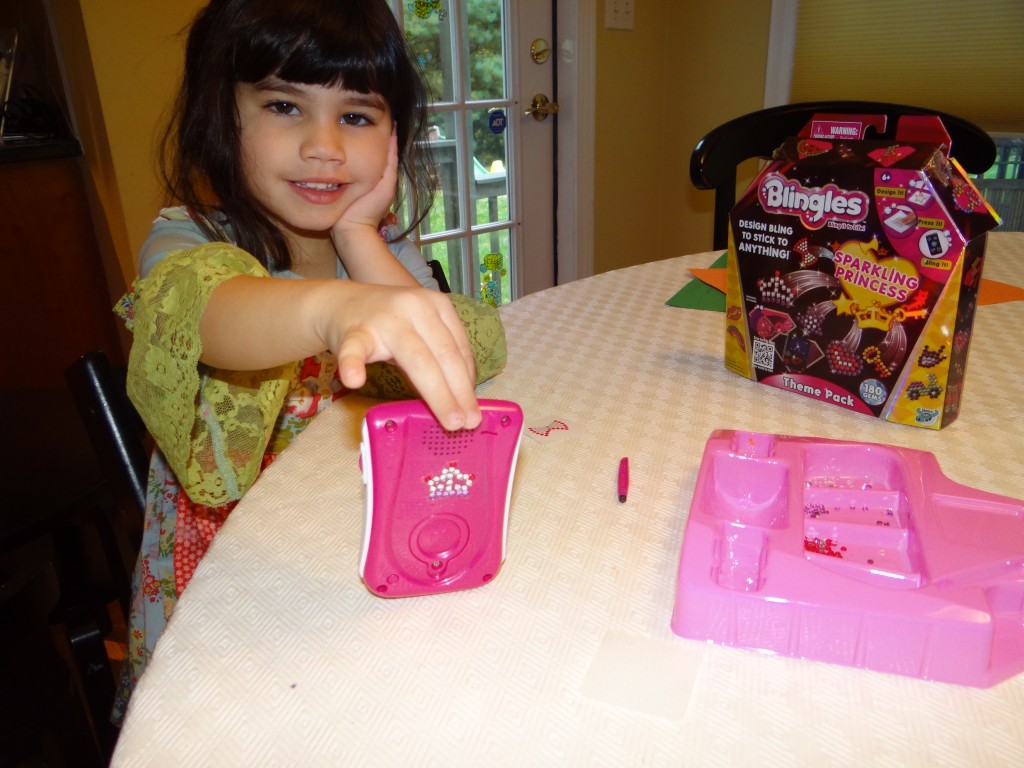 Hayley had so much fun "Blinging" it! She now wants to bling everything in site including my computer, which I may let her in a few months, when she gets better with her "Bling It' skills. It is certainly an adorable set and is brand new on the market for the fall 2012. It would make a perfect holiday present for those kids who love to live life sparkling! Check out Blingles on their website to learn more!
*I received product for review. As always, all my opinions are my own and not swayed by outside sources.