I have to tell you that one of my favorite movies of 2012 was Spider-Man.  I saw a screening prior to the release of Spider-Man at my local movie theatre and loved it so much, that we returned to the same theatre when it got released to the public, a few days later. I will also admit that I was slightly skeptical going into the movie, as Peter Parker's role was not being reprised by Toby Maguire but rather being played by Andrew Garfield. I was so wrong though, as Andrew Garfield really blew it out the water. He was amazing playing Peter and the whole movie was INCREDIBLE! I knew I was going to definitely buy it when it came out on DVD on November 12, so imagine by delight when I walked into my local Walmart and saw this: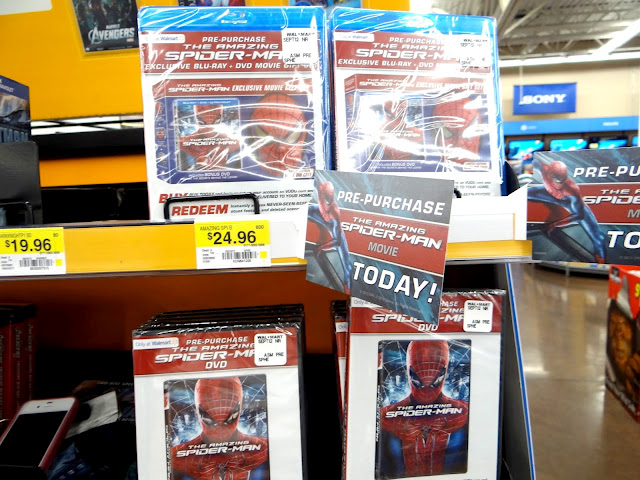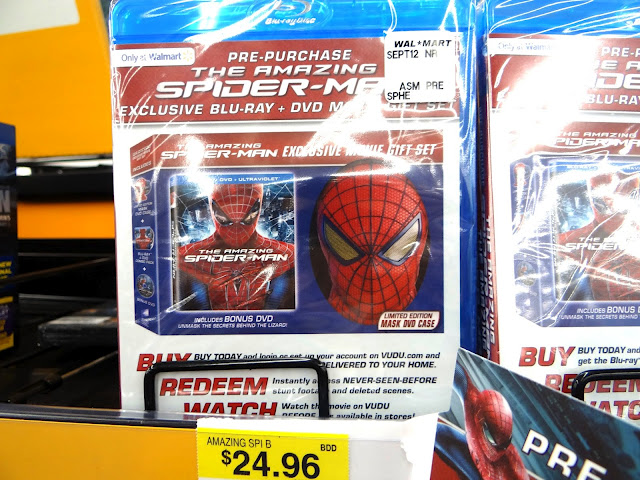 At Walmart, you can pre-purchase The Amazing Spider-Man Exclusive Blu-Ray +DVD Movie Gift Set. What does this mean exactly? Well, you basically buy the DVD case (looks like a regular DVD case minus the movie) and then you can enter your own specific digital redemption code (found on the inside of your case) on Vudu.com to see The Amazing Spider-Man before any else anyone else does on 10/30. You can totally brag to your friends that you are that cool that you already saw The Amazing Spider-Man before they do, by simply purchasing the Pre-Purchase The Amazing Spider-Man Blue-Ray and DVD Movie Set at Walmart now! The best part is while you have access to an advanced screening of the movie on Vudu.com, you will also receive a hard copy DVD of The Amazing Spider-Man shipped directly to your house before it is even released to the stores.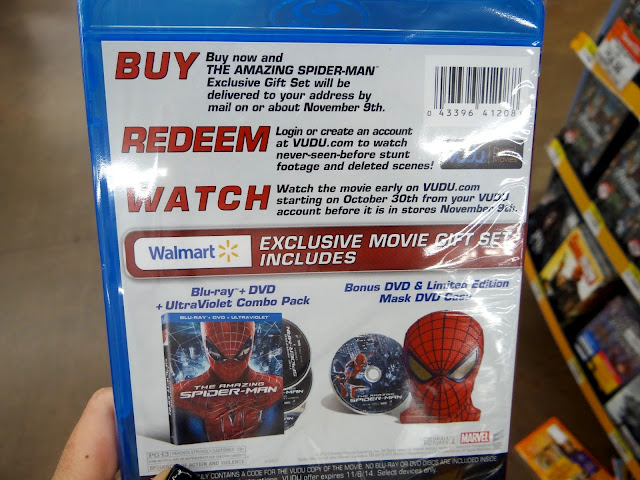 I have to say that I was totally amazed that being such an avid fan of Spider-Man, I can simply purchase the Pre-Purchase DVD Movie Set and not only get to see it on Vudu before anyone else, but also get a hard copy mailed to me. I don't have to fight the lines or all of the people who will be waiting on line on release DVD day for The Amazing Spider-Man. This is one of the coolest concepts I have heard of in a very long time!
I thought I would show and tell you how easy it is to purchase the Pre-Purchase The Amazing Spider-Man Exclusive Blu-Ray +DVD Movie Set. First stop is head to your local Walmart and pick up the advanced pre-purchase DVD. It is located in the electronic section of Walmart, most likely under new releases.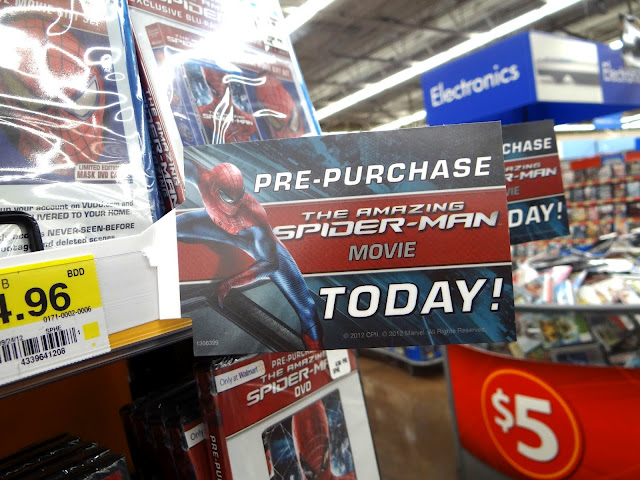 I was totally amazed at the price for the Pre-Purchase DVD set. For $24.96, not only will you get to screen the movie on Vudu.com, you will get a hard copy and also receive a limited edition Mask DVD case. How awesome is that! What a fantastic price!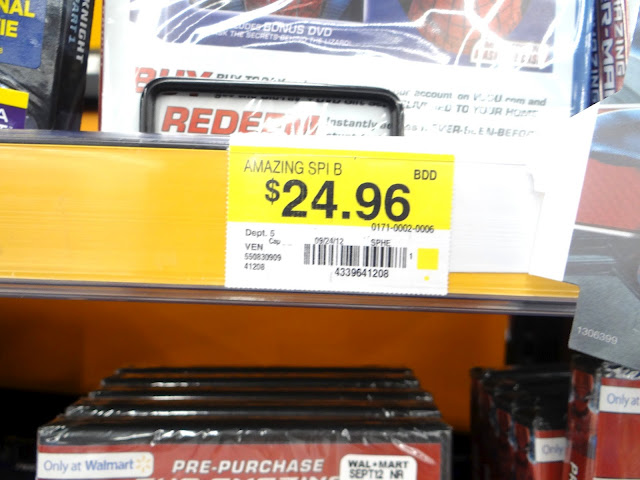 When you check out and head home, you will see a paper Disk sheet that looks like this: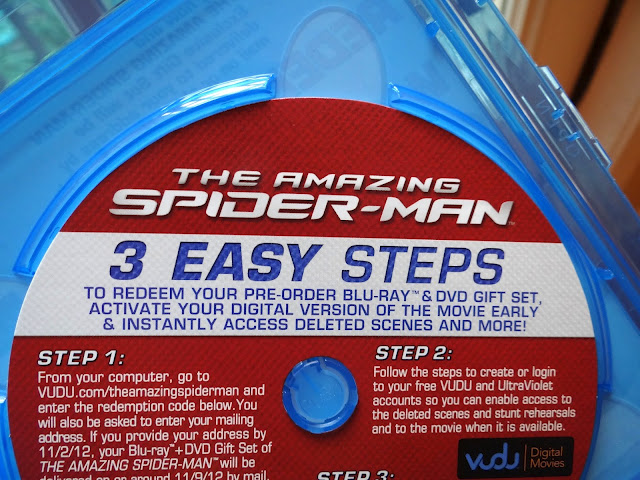 The directions are so easy to follow and I literally had everything set up to be able to view the movie on Vudu.com and receive a hard copy, in five minutes. The first step is registering for a Vudu.com account. If you are not familiar with Vudu.com, it is a place to rent, buy, and watch movies, along with TV shows on demand. I have to tell you that I have been a Vudu.com participant for a couple of months now, and I seriously love it! Since I already had an account, I didn't need to register but if you don't have an account, setting one up takes a minute and is completely free!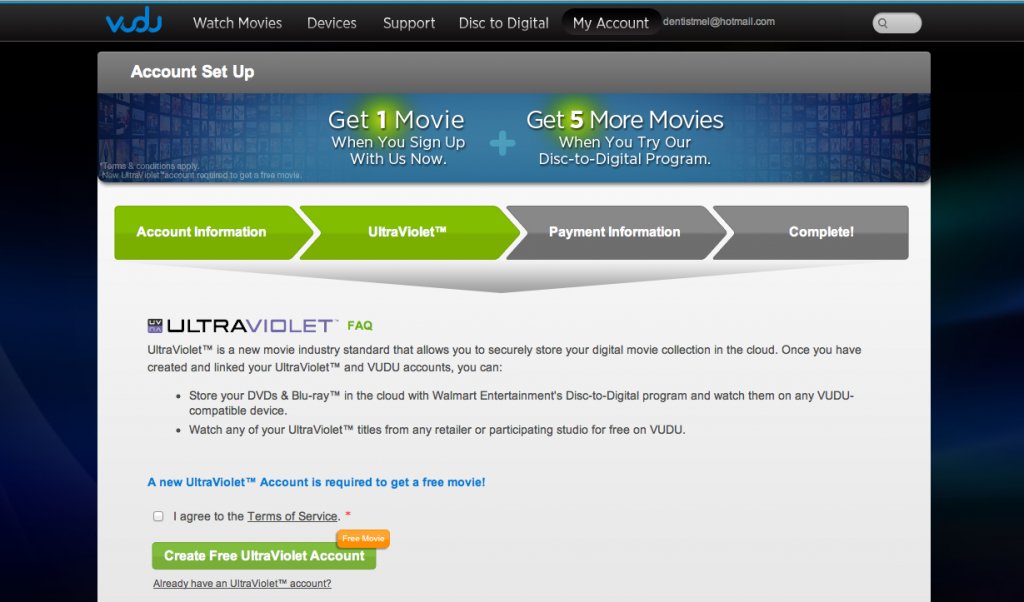 Once you created an account, you will be able to go to Vudu.com/theamazingspiderman and enter the redemption code that is given to you once you buy the Pre-Purchase Disk Set at Walmart.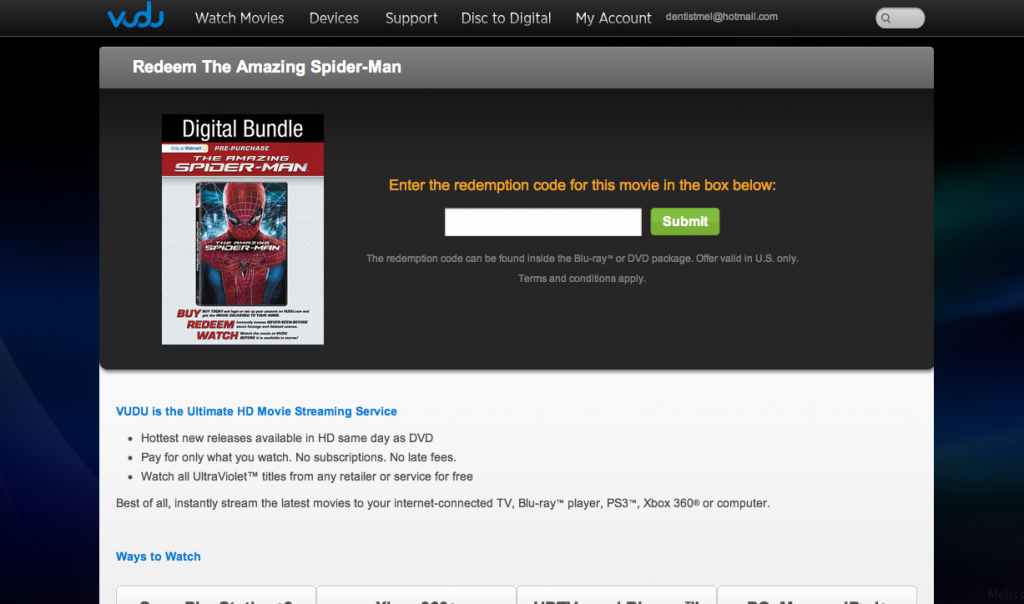 You will then be asked where a shipping address so they could send the hard copy of The Amazing Spider-Man to you! If you provide your address by 11/2/12, your Blu-ray and DVD Gift Set of The Amazing Spider-Man will be delivered on or around 11/9/12 by mail.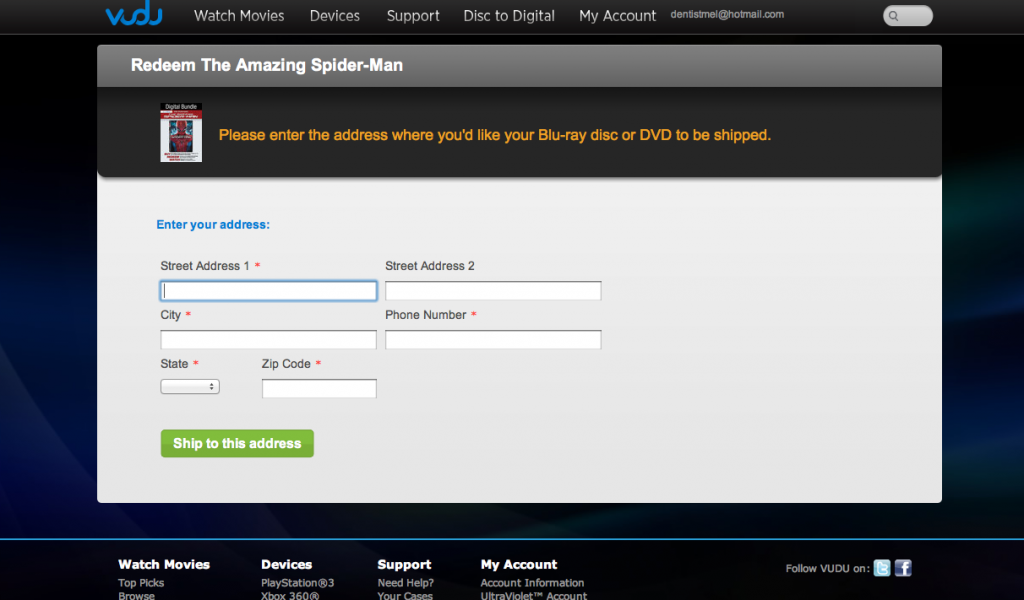 You will then be set up to view The Amazing Spider-Man (once all finish creating your Vudu account as seen above) and have access to the full movie, along with the deleted scenes and stunt rehearsals! Seriously as a Spider-Man fan, I truly can't wait to have access to all these extras!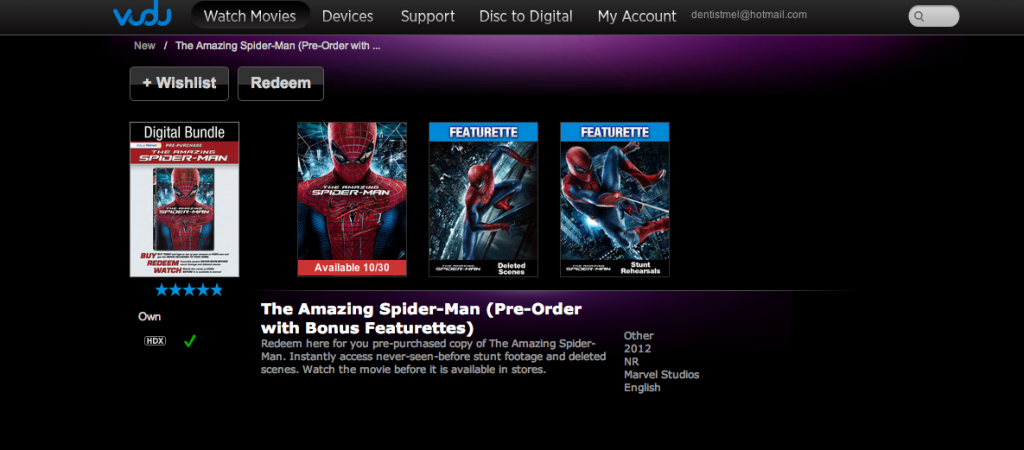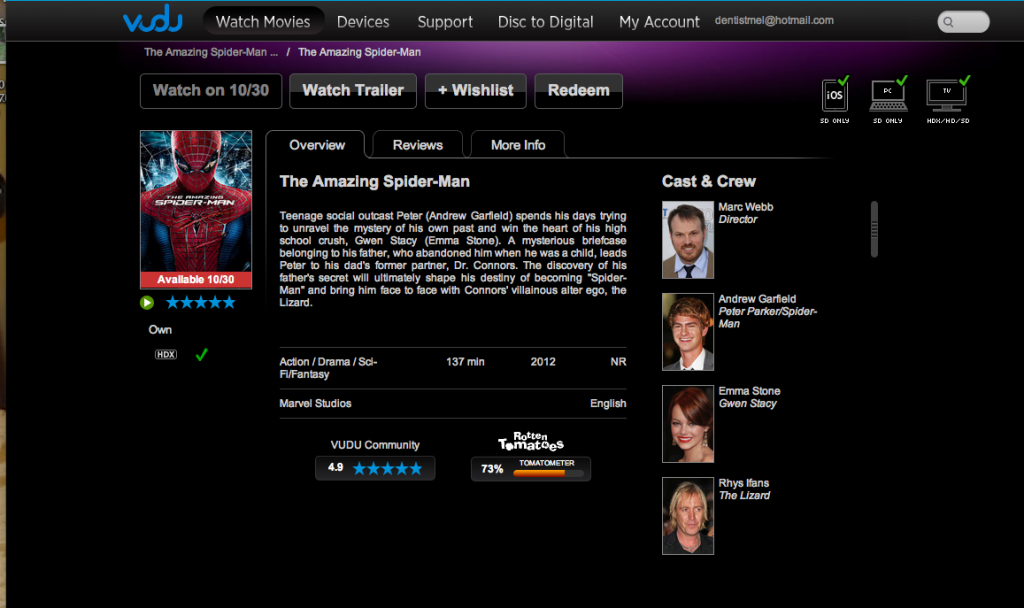 Okay, now that I told you how much fun buying The Amazing Spider-Man Pre-Purchase Exclusive Blu-Ray + UV DVD Movie Set is, I suggest you run to your Walmart and purchase it. In three easy steps, you will be on your way to a whole lot of The Amazing Spider-Man fun. BUY it today and set up your account on Vudu.com, get the Blu-Ray + UltraViolet DVD Gift Set delivered right to your house, REDEEM instant access and never before stunt footage, and WATCH the movie on Vudu before it is available in stores!
I will be back in a couple of weeks, because I am planning a huge #SpiderManWMT party and I will be gearing up for it this month. I am incredibly excited to have my Spider-Man party-I can't wait! In the meantime, make sure you check out the amazing trailer seen below for The Amazing Spider-Man and be sure to sure to follow The Amazing Spider-Man on Facebook and Twitter!
* I am a member of the Collective Bias™ Social Fabric® Community.  This shop has been compensated as part of a social shopper insights study for Collective Bias™ and Sony Pictures Home Entertainment #CBias #SocialFabric