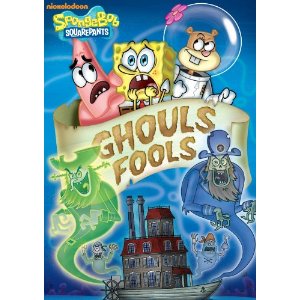 Take a haunting, hilarious dive into Bikini Bottom and enjoy some ghostly tunes in the all-new DVD Spongebob SquarePants: Ghoul Fools. In addition to the double episode, "Ghoul Fools", go on a treasure, learn to tie nifty knots and board the Flying Dutchman to haunt the Seven Seas. This is a collection of episodes so good, it's scary! Created by Nickelodeon and distributed by Paramount Home Media Distribution, SpongeBob SquarePants: Ghoul Fools is now available on DVD for the retail price of $15.99.
SpongeBob SquarePants: Ghoul Fools Episode List:
Ghoul Fools: SpongeBob and Patrick find a houseboat by a crew of ghost pirates and get caught in the feud between them and the Flying Dutchman.
The Curse of the Bikini Bottom: SpongeBob and Patrick sneak into Squidward's shed and find his new lawn mower. When Squidward discovers them, he pulls the cord and sends SpongeBob and Patrick riding out of control. SpongeBob and Patrick end up running over the Flying Dutchman's grave in the cementery while he is trying to pick out a shirt for his date. Angering the Flying Dutchman further, SpongeBob and Patrick manage to shave off his beard with the lawn mower. SpongeBob explains they don't know what it's like to be a ghost and the Dutchman turns them into ghosts.
Ghost Host: The Flying Dutchman takes up residence at SpongeBob's house where he proceeds to scare, startle, and surprise SpongeBob around the clock. Eventually, SpongeBob becomes no longer afraid and creates a panic for the old ghost. In the end, SpongeBob decides to lend a hand and help the Flying Dutchman learn to scare people again.
Born Again Krabs: When Mr. Krabs becomes cheap, the Flying Dutchman tells him to stop or else he visits Davy Jone's locker forever!
Arrgh!: SpongeBob and Patrick convince Mr. Krabs to join in a friendly board game of "Treausre Hunt." The pretend search for gold proves too alluring for Mr. Krabs and he convinces the two lads to join him on a real treasure hunt.
Your Shoe's Untied: Patrick gets a new pair of shoes, but doesn't know how to tie his laces. When SpongeBob offers to demonstrate lace tying to Patrick, he suffers various calamities. In the end, it's Gary who reminds SpongeBob how to tie his laces by teaching him a groovy song to help him remember.
Money talks: Mr. Krab's makes a wish that he could talk money. When his wish is magically granted, Krabs learns what all of his dollars, pennies, and quarters have been longing for-Krabs to spend them!
Hayley absolutely loves SpongeBob and this movie is no exception. She was not afraid at all and watched every episode and laughed. I am so glad that we added this DVD in our DVD repertoire just in time for Halloween. You can purchase SpongeBob SquarePants at Amazon today!
*We received the above DVD for review purposes. As always, all my opinions are my own and not swayed by outside sources.