I was so excited when Metamorphic toys contacted me to do a review because they inspire a line of eco-friendly green toys that inspire creativity and imagination. Trying to raise our kids with eco-friendly principles, I was so excited to see a toy line dedicated to allowing kids  have fun, while protecting the environment.When I first went to their site, I was excited to see the accolades and awards Metamorphic Toys was awarded including the Dr. Toy Green Product 2012 ,Dr. Toys's Alumni Seal of Excellence, Creative Child Magazine 2012 Top Toy of the Year Award, and the Tillywig Sterling Fun Award.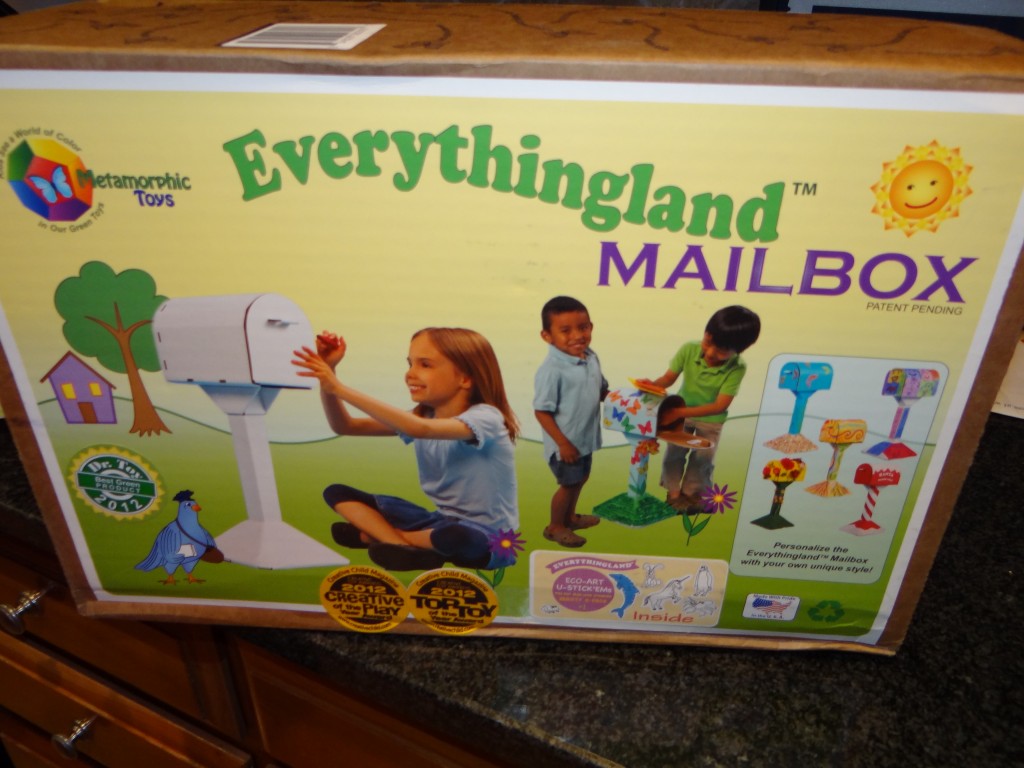 Metamorphic toys was founded by Dave Berglund who is an artist with over 20+ years in product design. Intrigued by his daughter and her friends, Dave realized that children have an affinity for the feel, warmth, and flexibility of cardboard made from natural fibers. The ideas that they can decorate it in so many ways given them a greater sense of independence and joy. Dave is currently putting his passion to work designing recycled and recyclable creativity based kids toys that kids and parents alike can feel good about!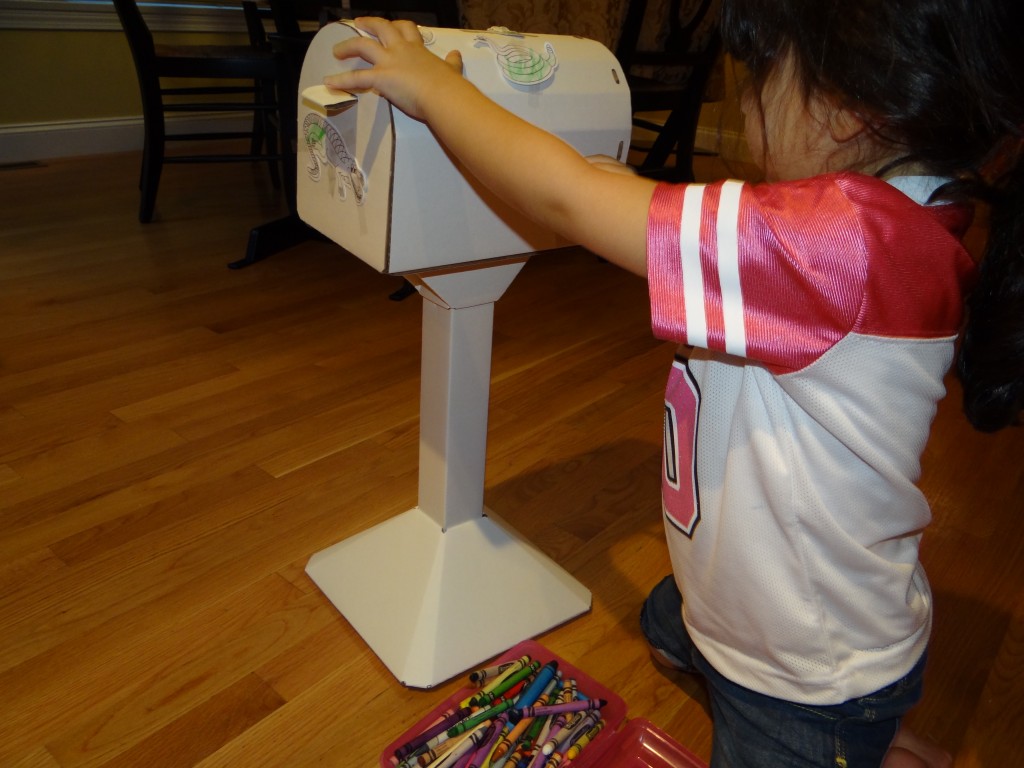 Hayley was so excited to receive her Metamorphic Toys EverythingLand Mailbox and Eco-Art U-Stick' Ems. Hayley has a sort of infatuation with mail. She must come with me everyday when I get home from work to get the mail, and she quickly looks through it to see if anything from the days mail has her name on it. She gets so excited when she sees an envelope addressed to Hayley. With her being in love with getting mail, it was a natural fit that she would enjoy a place to put all her mail.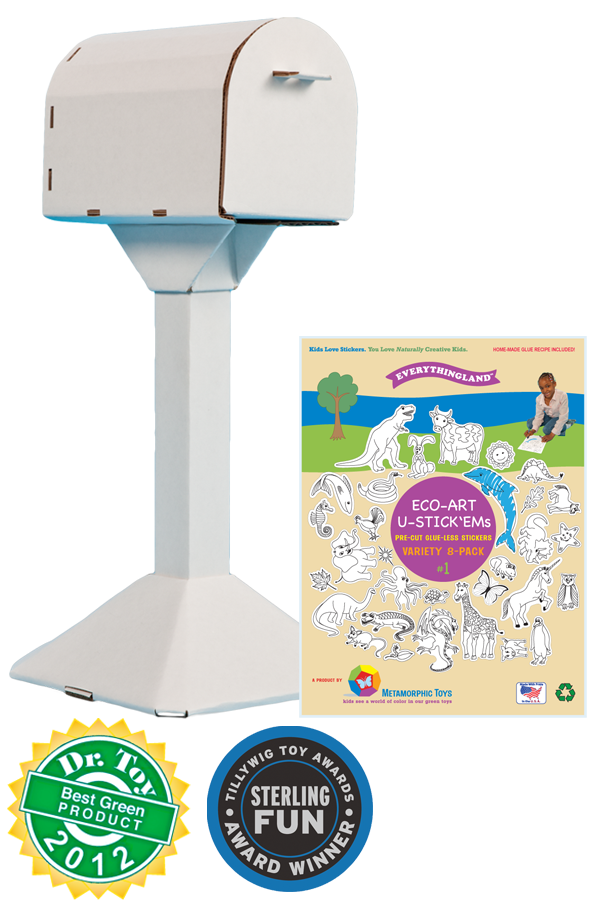 When we first opened the Metamorphic Toys Everythingland Mailbox, I quickly put it together for her in under 2 minutes. I was so impressed with the magnitude of the mailbox- it was HUGE! She automatically wanted to take the Eco-Art U-Stick' Ems and decorate her own mailbox. She was so excited to have her own mailbox with free range on how she wanted to decorate it. She put the Stick' Ems all over and then took to coloring the mailbox. She had so much fun doing it and it put the biggest smile on her face, which in turn put a huge smile on my face!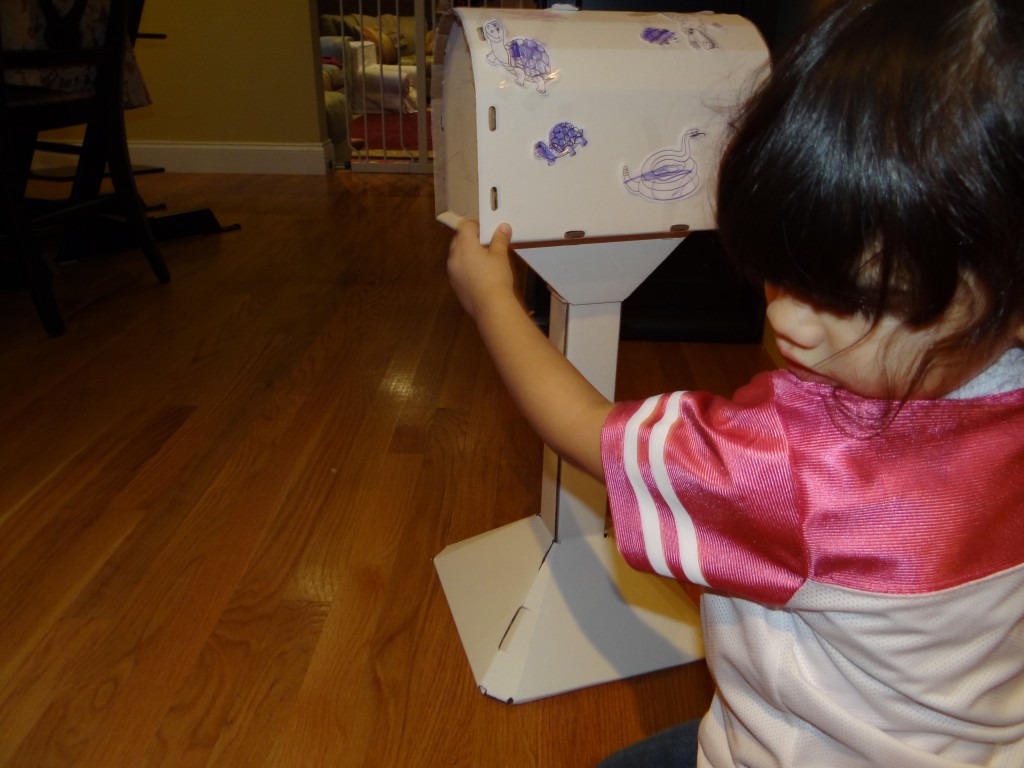 The Everythingland Mailbox & Eco-Art U-Stick'ems are an art project and toy in one. Children can personalize the mailbox using paints markers and crayons and create patterns or themes using the colorable U-Stick'ems. Kids may choose any eco-friendly glue available or make their own with mom or dad using the enclosed recipe. Gone is the silicone backing sheet common to most stickers, which is NOT recyclable or biodegradable.
Customizable art toy inspires kids imaginations & encourages creativity
May be colored and decorated with glued on Eco-Art U-Stick'ems
Eco-Art U-Stick'ems provide more play value & an eco-friendly choice over ordinary stickers.
Eliminates non-recyclable, non-biodegradable silicone backing sheet.
Made in the U. S. A. using recycled materials. product & packaging are recyclable & biodegradable.
Hayley now keeps the EverythingLand Mailbox in her room. When mail comes addressed to her, she quickly runs up to her room to put her mail in. When I tuck her in at night, I also like to leave little notes in there basically telling her that I love her, that she can open once I leave the room. I absolutely love the EverythingLand Mailbox and so does Hayley. You can purchase it on their Metamorphic toy site for $19.95 for the mailbox and $26.44 for the mailbox with Stick' Em Kit.
Win it: One winner will receive the Metamorphic mailbox with Stick' Em Kit. This giveaway is run via rafflecopter so click read more to see the actual giveaway. The only mandatory entry is to tell me how old your child is that you are looking to win this for in the comment section proceeding this post. While the other entries are optional, I highly suggest you fill them out to increase your chances of winning. US only. Good luck!
a Rafflecopter giveaway

*I received the above Metamorphic toys for review purposes. As always, all my opinions are my own and not swayed by outside sources.