Is it wrong that I get so totally excited talking my new Maytag Bravos XL High-Efficiency Top-Load washer and dryer?! Hey we all have those little things that get us really excited, and the Maytag Bravos has the performance and versatility to help me with even the most challenging tasks!  Running a family leaves little time to troubleshoot appliances that are not dependable, I am so thrilled to have a brand like Maytag that I know will provide that dependability for me so that I can focus on the hundred other things I need to take care of around the house.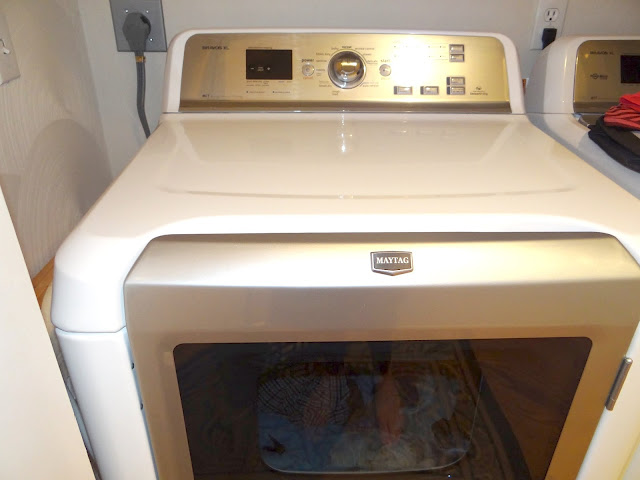 The timing of getting my new washer and dryer could not have been more perfect for me, since apparently I was wrong in thinking that I would have less laundry when my baby became a toddler! For one thing I did not take into account that the clothes get bigger as he does. Now that he is running around, he gets filthy all day long, and I have quickly come to realize that that is a losing battle! Then there is the new skill of feeding himself, which he demands to do, and by the way, really without much skill.  He ends up wearing half his meal by the time he is done.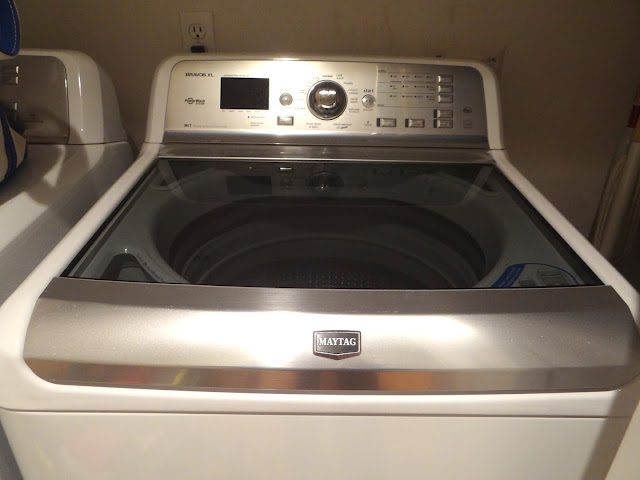 The good news is how much bigger of a load I can fit into my new washer and dryer. It saves me! Luckily for me at 4.6 cu. ft., Bravos XL HE washers are Maytag brand's largest capacity top load washers. They have the ability to clean 21 towels in a single load, or in my case, a million outfits a day (or so it seems)!  The latest Bravos XL washer also features 13 specialty cycles to make laundry day easier, including the Powerwash Cycle that delivers the best cleaning out there.  The other feature that totally saves me is that somehow they were able to engineer the Cold Wash Cycle on this machine to provide the cleaning performance of a warm water wash cycle. That provides a huge savings of energy. I love how Maytag continues to innovate in order to better support a families needs. The efficiency of this machine also takes the guess work out of how much detergent to use. Clothes can become stiff if you put in too much, and it gets expensive.  The PowerSpray Technology ensures even detergent distribution for enhanced cleaning performance. A mixture of water and detergent is sprayed directly onto clothes to instantly start cleaning soils and stains.
With family members with allergies (such as mine) the Allergen Cycle is so helpful in that it eliminates 95 percent of common household allergens, which makes a big difference. The energy saving advances carry over to the awesome dryer as well. Of course, I take good care of it by cleaning out the lint filter after each load, but other than that it practically does the laundry itself! The dryer's Advanced Moisture Sensing technology was designed to save you money, it evenly dry loads, and virtually eliminates overdrying and shrinking. It really lets you set aside the guesswork and power through your to-do list. I experienced the benefit of this first hand when my husband accidentally put a couple of gorgeous new dresses in the dryer that I had washed to wear for a special weekend. They were not supposed to be put in the dryer, but the dryers Advanced Moisture Sensing system in the Bravos XL High-Efficiency Electric/Gas Steam Dryer evenly dries large, heavy loads and reduces the risk of shrinking. The Auto Refresh cycle additionally helps relax wrinkles and uses steam to refresh clothes. They came out beautifully! I was so relieved!
The 7.3 cu. ft. high-efficiency dryer also reduces the number of loads significantly. According to Energy Star, the average household washers 400 loads of laundry per year! It is a good thing that The Maytag Bravos uses 76% less water and 78% less energy making it an Energy Star qualified model. This leading line achieves this eco-friendly position with the help of a low water EcoConserve wash that consumes less water and energy. That makes me feel less guilty about all of the laundry we do in our household!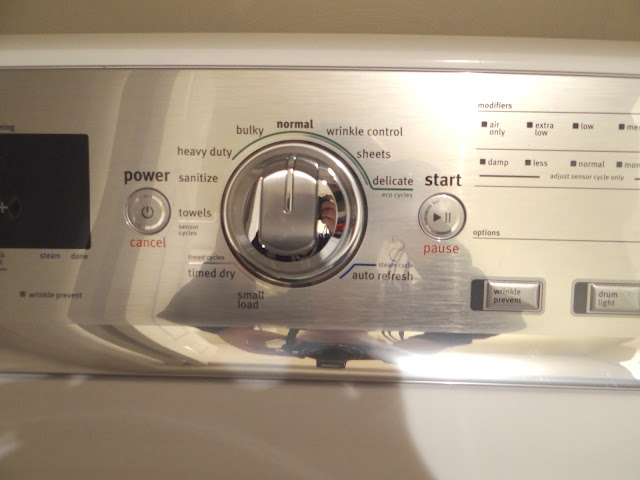 For over 100 years, Maytag has designed dependable appliances to accompany your everyday life. From making sure the stain gets out of the adorable outfit I picked out for my daughter, to leaving my son's favorite snuggie clean and soft after he has had a cold, Maytag washers and dryers continue to stand by your family adding a sense of reliability to life's unpredictable moments.  Do you understand now how a washer and dryer can get me so excited?
You can connect with Maytag and learn all about these amazing Bravos XL washer/dryers on their
Facebook
and
Twitter
page.
*I wrote this post participating in an Maytag Moms Dependable Laundry Ambassador program by Mom Central Consulting on behalf of Maytag. I was provided with the Maytag washer and dryer set to facilitate my post.