As most of you know, I love kids fashions especially shoes. I can buy shoes for my kids all day long if my funds allowed. I recently came across the cutest kids shoes and I have to share with my readers. They are called Zooligans Kids Shoes and it is a line founded in 2012, based in my old hometown of Massachusetts.
Zooligan founder, Cheryl Andonian, wanted to create a children's line of playful and fun characters on shoes. They not only wanted to make the shoes cute, they wanted them to be fun, functional, and most of all comfortable. I know when I choose shoes for my children,  I want them to be able to wear them for a long time, and not complain about them. I have bought too many shoes for Hayley where she says, "My feet hurt." This is not the case at all with Zooligans. Hayley actually never wants to take her shoes off! Both she and I love all the unique animals that the shoes have on them. The shoes are actually each a different animal that your children will love!
Some of the various designs on the shoes include Joey the Koala Mary Janes, Fuzz the Kitty, Bonnie the Bunny, Amanda the Panda, Bobo the Monkey, Sparky the Puppy, Jacques the Gator, and Ringo the Raccoon. To say these shoes are cute, is a huge exaggeration. They are spectacular.
I had the chance to review the Sparky the Puppy Boys Sport Sandal for Zane and Fuzz the Kitty Girls Mary Jane for Hayley. Just check out how cute these shoes are: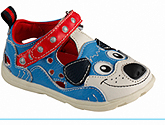 All of the Zooligans shoes provide soft leather uppers, roomy toe box, adjustable straps, and super flexible bottoms to the design detailing the tip of the nose to the end tail! These shoes are functional, made of exceptional quality, and most of all allows my children to have fun.
We get stopped all the time when the kids are wearing their Zooligan shoes. Hayley likes to point out that when she lefts her heel, there is the paw of the animal on the sole. Zane says "Ruff-Ruff" every time he wears his Sparky Puppy shoes! These shoes fit true to size and allows your children to just be children and have fun!  They are incredibly easy for Hayley to put on and take off. I always worry that Zane will rip off his shoes but with the way the shoe is created, there is not problems with this. Once I put the shoe on, it stays on!
Zooligans shoes all come in a magical shoebox that transforms into a pet carrier. I love the concept that Hayley can put her shoes in her recyclable carrier when she is done! She has a blast with it! I highly suggest you check out Zooligans shoes for back to school shopping. You will be happy you did-trust me!
Win it: One winner will win their own pair of Zooligans shoes in their choice of animal and size. This giveaway is run via rafflecopter so click read more to see the actual giveaway. The only mandatory entry is to tell me what is your favorite shoe in the comment section proceeding this post. While the other entries are optional, I highly suggest you fill them out to increase your chances of winning. US only. Good luck!

a Rafflecopter giveaway

*Thanks to Zooligans for providing shoes to review. As always, all my opinions are my own and not swayed by outside sources.