I know I have a "Mom" blog and talk a lot about my children, but sometimes, I like to relax with a nice glass of wine in the evening after I put my kids to bed. I first started drinking wine when I got married and originally  hated the taste of many wines. However, soon after I became introduced to my favorite, Chateau Ste Michelle wines.
My favorite type of Chateau Ste Michelle wines are definitely the Rieslings but Chateau Ste Michelle has so many different varieties, it is truly amazing!  You can purchase fabulous Cabarnet Sauvignon, Merlot, Syrah, Chardonnay, Dry Riesling, Riesling, Late Harvest Riesling, Harvest Select Sweet Riesling, Gewurztraminer, Pinot Gris, and Sauvignon Blanc.
All of the Chateau Ste Michelle wines come from a complex blend of Washington state fruit intensity with an Old World style.  I have actually tried all of the Chateau Ste Michelle wines and each are fantastic in their own right. Most of the times, I do end up buying the Riesling as I love this particular type of wine.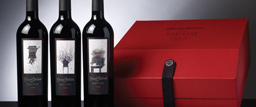 The Chateau Ste Michelle Riesling has wonderful scents of apple, pineapple, apricots, and oranges. It has the perfect acidity to match a delectable dinner. It truly is a delicious wine that I have fully stocked in my fridge at all times. The Chateau Ste Michelle 2011 Cold Creek Vineyard Riesling Columbia Valley is my absolute favorite Riesling. It has similar fresh scents and tastes of apples and peaches, but offers the perfect sweetness to my palate. I prefer drinking this wine with seafood or a light fish. I buy this Riesling by the case to enjoy outside for a wonderful summer drink.
The Chateau Ste. Michelle 2008 Ethos Late Harvest White Riesling  is the oldest wine in Washington State, as well as the largest. This is the perfect desert wine that is sweet and delicious. I love to have this wine as a nice drink before I head to bed while I am watching television. It goes down smoothly and is nice to enjoy as an after dinner drink.
Be sure to check out Chateau Ste Michelle Riesling at their site. Their wines are affordable and incredibly delicious.
*I received wines to facilitate my review. As always all my opinions are my own and not swayed by outside sources.