I talk a lot about my kids and the toys they love on my blog. As Zane is approaching 17 months, he is getting more excited about playing with "his" toys. Unfortunately, Hayley thinks all his toys are hers, but that is a whole nother story. Anyway, I recently found out about a great toy company called, Wonderworld toys. Wonderworld toys has been creating unique and exciting wooden toys for the past 25 years.
While their toys are fantastic (more to come on that), what I truly love about this company is how unbelievably eco-friendly they are. First off all of their toys use Rubberwood, which is a replenishable and environmentally friendly material. Secondly and I think this aspect of Wonderworld toys is amazing, is how they participate in the "Trees Plus Program." Wonderworld will calculate the wooden material used in production of each toy, and then plant one addition tree used in the toy apart from the one rubber tree replanted by the farmer. How amazing is that! Lastly, they use only water-based paint (that is non-toxic for children) and recycle paper of all their packaging.
I know you are thinking that Wonderworld toys are already fantastic but I can assure you this is only the beginning of how incredible their product line. When you take a look at their full wooden product line, they have toys from everyone from newborn all the way up to 48 months. I had to search out their toys and I could not stop looking. Every toy was cuter than the next! I can seriously spend all day on their site toy shopping.
Zane was recently given some Wonderworld toys including the Waggy Garden Sorter, the Wonderworld Spacy, and the Stacking Rings.
Wonderworld Waggy Garden:
The Wonderworld Waggy Garden Sorter is the cutest shape sorter that demonstrates the concept of geometric learning. It is a nature themed shape discovery and play set that encourages your kids to learn the dynamics of geometric shapes. While I love the shaper sorter, what I love equally is the ability for the Waggy Garden to hold the pieces in once they are done playing with it. So many shape sorters, we have lost the pieces after we use the toy. With the Waggy Garden, this will not happen because it holds them in after your kids are done playing with them.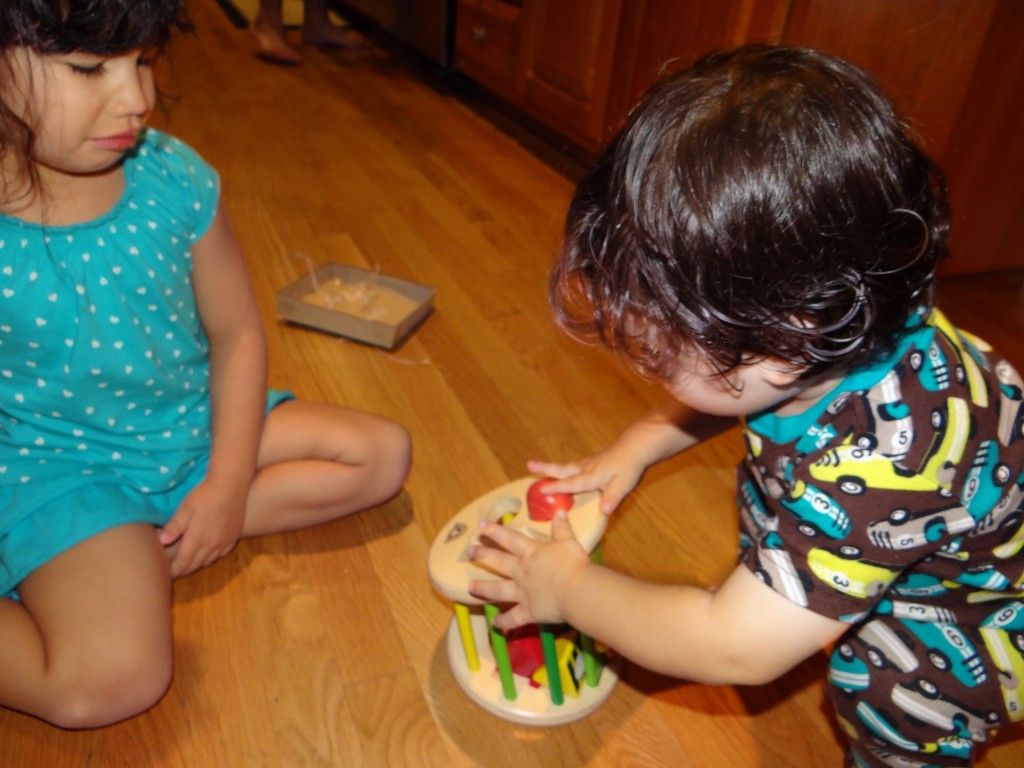 The Wonderworld Waggy Garden Sorter is a slanted cylinder shaped container that help ease your child's sorting motion.  The adjustable top of the container opens and closes and has different shaped slots to fit the colored garden creature blocks. Zane also likes when I roll it on its side as it makes a rattling type source.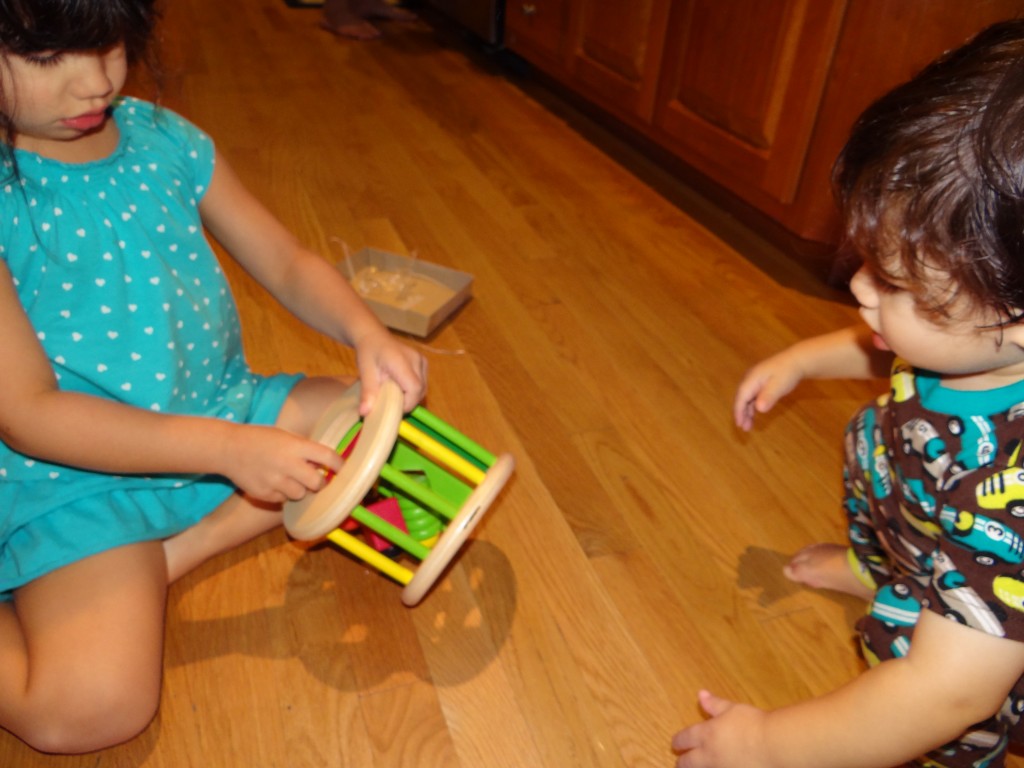 I have to admit, that right now, Hayley is having more fun with it than Zane, as he is slightly young. It is intended for kids 18+ months, so in another few months, I am sure he will be doing it independently. It is really cute for Hayley to show Zane how to sort the shapes into the right positions. It retails for $27.99 and is here: Waggy Garden.
Wonderworld Spacy: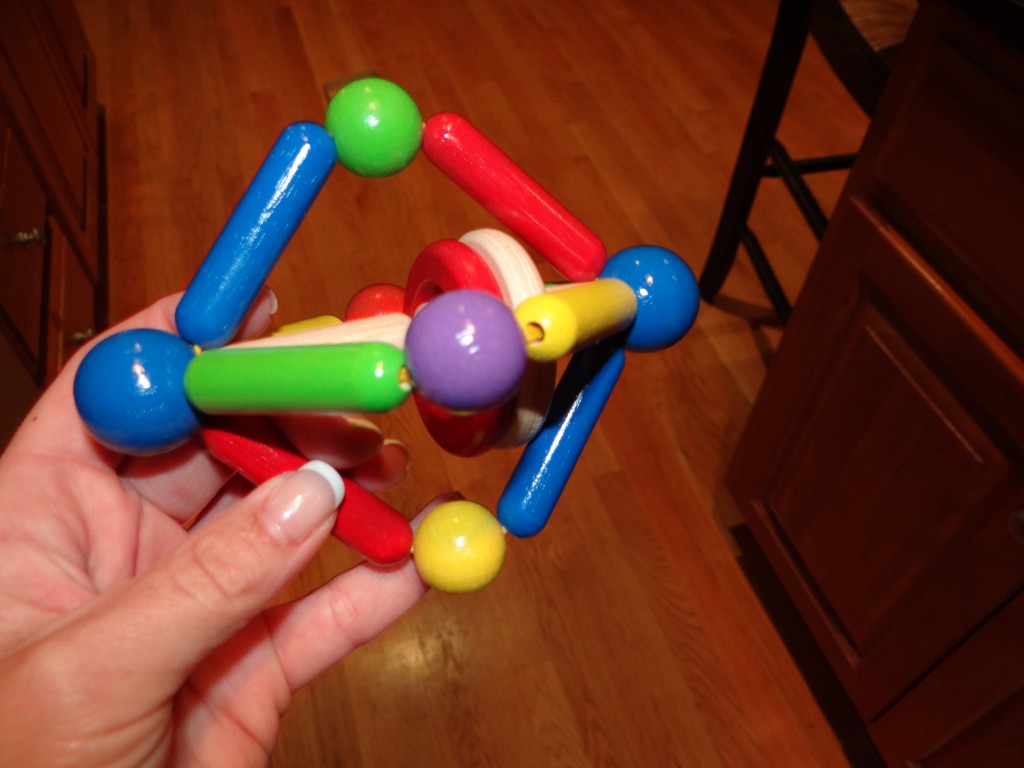 This is one toy that Zane absolutely loves as it is right in his age range. It is an adorable, multi-colored toy that is perfect for children starting at 6 months. I love the fact that it encourages reaching and grasping, which are two beginning developmental abilities which are necessary for young babies. The Spacy is perfectly shaped for tiny hands and Zane absolutely loves to shake the toy and watch the rings move, and listen to the sounds. It truly is a great beginning toy and well worth the $9.99 that it retails for. You can buy the  Spacy here: Wonderworld Spacy
Wonderworld Stacking Rings: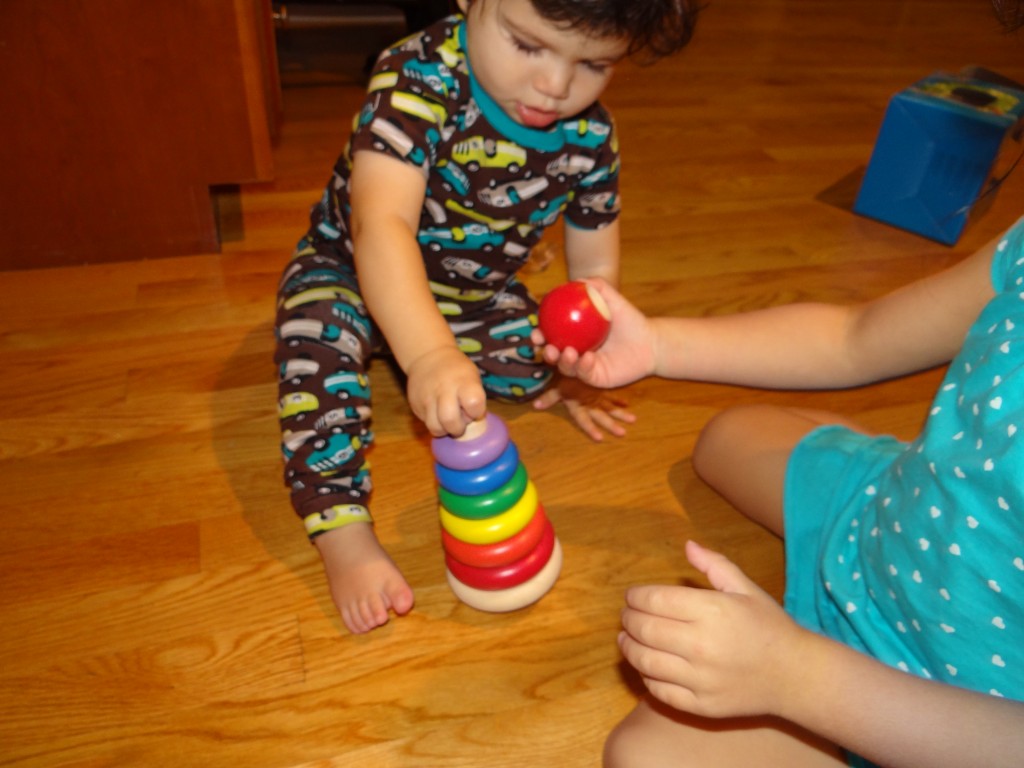 I absolutely love these stacking rings. Although this toy is intended for 12 + months, I think it is a little hard for kids to get the hang of truly stacking the rings till around 18 months-2 years. Again though, Hayley loved showing Zane how to stack the rings properly and it is a great way for Hayley and I, to introduce Zane to different colors.
These rings are great also for identifying shapes and numbers through functions that will help with their stacking and matching skills. The colorful rings will trigger children's coordination and encourage kids to learn volume and sequencing. The Stacking Rings feature rings and colors as well as a collapsible pole that topples over. The kids absolutely love the Stacking Rings and I love how bright,vivid the rings are. The Wonderworld Stacking Rings retail for $14.99 and is available here: Wonderworld Stacking Rings.
I highly suggest you try Wonderworld toys for the next time you need to buy your kids or their friends a gift. They are made of fantastic quality and will allow your kids to have so much fun, at the same time as educating them.
Win it: One winner will receive the Wonderworld Waggy Garden Sorter. This giveaway is run via rafflecopter so click continue reading to see the actual rafflecopter. The only mandatory entry is to tell me which other toy looks interesting here: Wonderworld toys in the comment section proceeding the post. While the other entries are optional, I highly suggest you fill them out to increase your chances of winning. US only. Good luck!
a Rafflecopter giveaway

*Thanks to Wonderworld for supplying me toys to review. As always, all my opinions are my own and not swayed by outside sources.