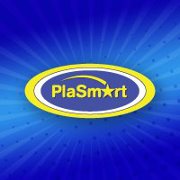 We live in a wonderful neighborhood filled with kids.  One of our children's' favorite pastimes is to watch all the "big" kids whiz by on their skateboards, scooters and bikes.  They love it.  Of course this has my daughter Hayley thinking that she is old enough to ride a bike like the "big" kids now too.   I was saved when PlaSmart  sent me a PlasmaBike to review just in the nick of time.  We were rescued from purchasing an ultra tiny bike she's really not ready for, and then screwing training wheels onto it.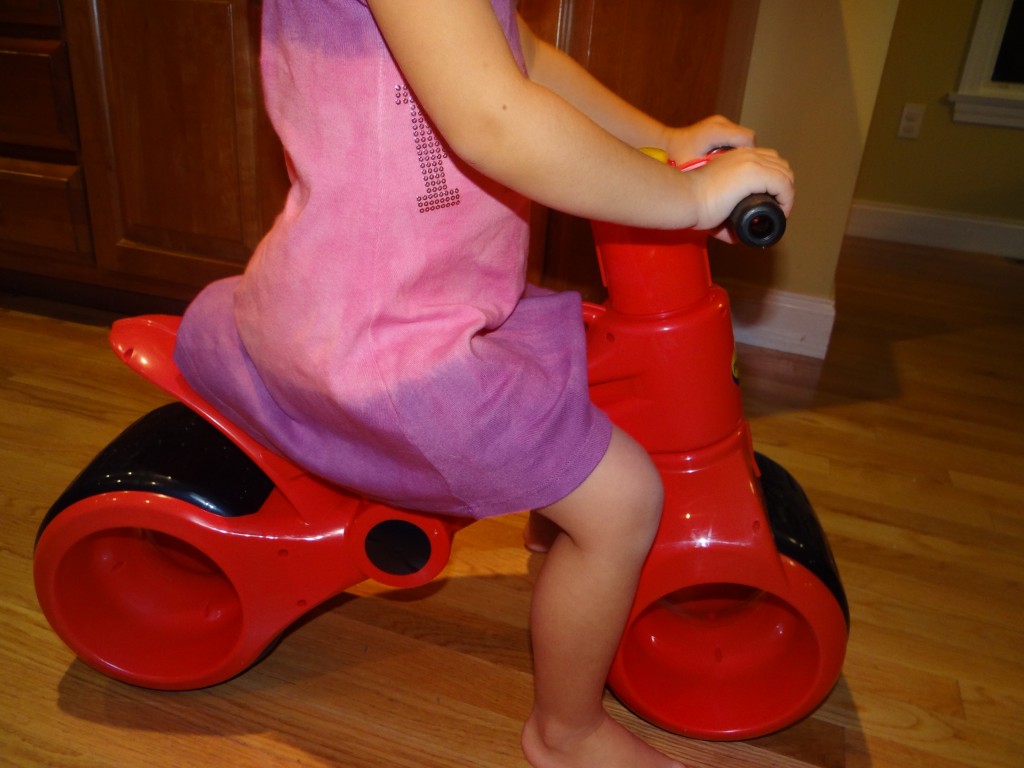 Learning to ride a bike is an exciting milestone for kids, but it can also be a frustrating and painful one if they are not quite ready.   The PlasmaBike is the perfect way for kids to be introduced to riding their own bike!  It comes ready to go right out of the box, and its attractive design has a brightly colored sleek scooter look to it.  To be honest it reminds me of a European Vespa scooter for toddlers.  There are no batteries, gears or pedals to worry about; all the kids need are the ir own two little legs to gleefully propel them along.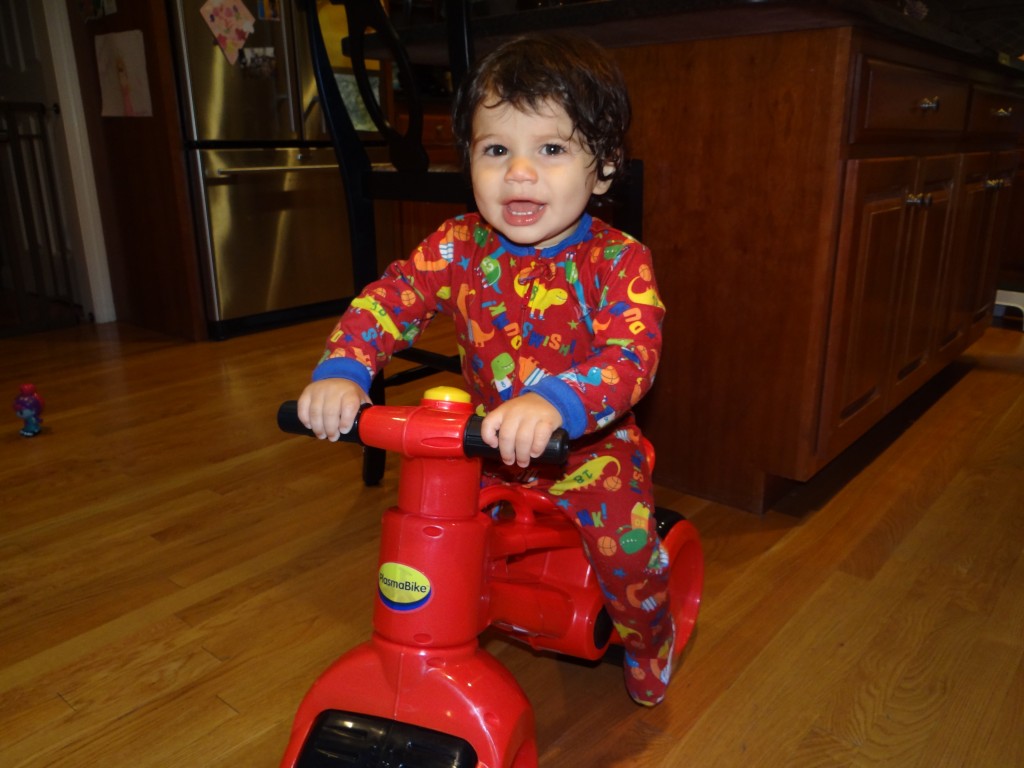 The wheels are wide enough to help kids balance the bike when they are not in motion, and the body of the bike is low enough to the ground for maneuvering on and off easily.    The PlasmaBike is designed to improve balance, coordination and motor skills to help kids prepare for getting on a real bike when they are ready.  Kids can get started on the PlasmaBike as early as 18 months old so it wont be too long before Hayley and Zane are fighting to ride on it.  In the meantime Hayley is having so much fun with it!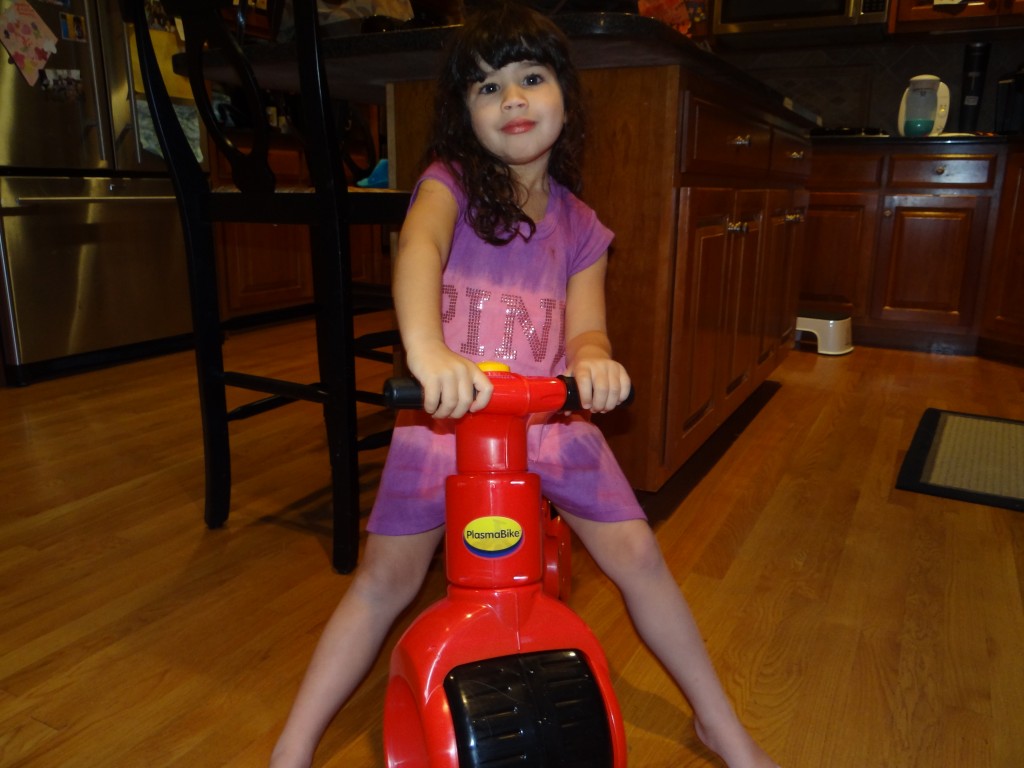 It weighs in at less than eight pounds so is super easy to throw in the back of the car to transport to the playground or friends houses for play dates, which of course she insists we do most of the time.   I love that the plastic that it is made out of is really sturdy and seems like high quality material that will last through lots of enthusiastic playtime, and is made to hold kids up to 55lbs.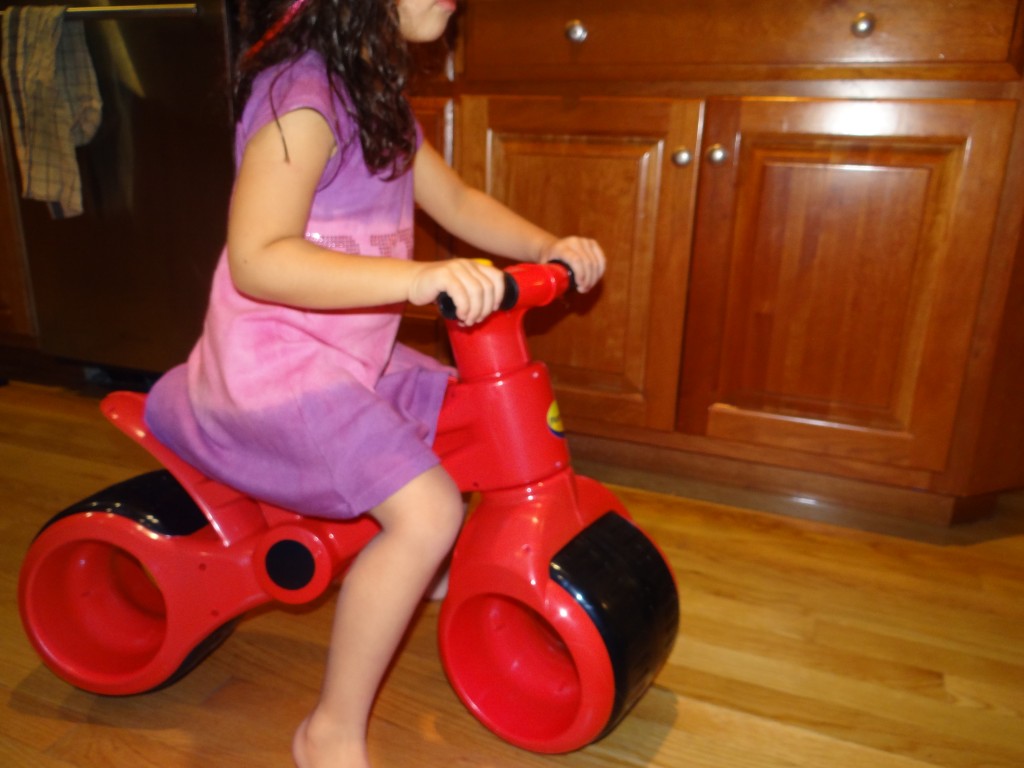 I would highly recommend this as a safe and fun way to build your child's confidence while they learn the skills necessary to ride a bike.  We are loving our PlaSmart PlasmaBike and Hayley loves feeling like one of the "big" kids riding her bike around with the rest of them.
Buy it: You can purchase the PlaSmart PlasmaBike for $58.00 on Amazon, Target, and other fine retailers.
Win it: One Mommyhood Chronicles reader will win their very own PlasmaBike in the comment section proceeding the post. This giveaway is run via rafflecopter so click continue reading to see the actual giveaway. The two mandatory entries is to tell me what you love about the PlasmaBike from this page in the comment section proceeding this post and to follow them on Twitter( see rafflecopter). While other entries are optional, I highly suggest you fill them out to increase your chances of winning. US and Canda only (excluding Hawaii and Alaska). Good luck! Please note that Entrants must be 18 years and older.
Other review/giveaway bloggers are not eligible to win.
Spammers are not eligible to win. Color is choosen by the company.
*Thanks to PlaSmart for sending me the above product to review. As always, all my opinions are my own and not swayed by outside sources.