Some of my most favorite family times are sitting down and watching movies together. While Zane is on the young side to watch a movie, he seems to be mesmerized at his his big sister, Hayley, who watches all movies intensely. Recently, her favorite movies are from the Diary of The Wimpy Kid series. Since she was young, she loved when I read her the Diary of The Wimpy Kids books. She is definitely on the younger side for these books, but she absolutely loves seeing all the figures and pictures in the books, and enjoys immensely the words that come out of the story.
One day when it was raining out, we decided to take a trip to our local Walmart to stock up on some snacks for our future movie nights. When we were there we ran into this display: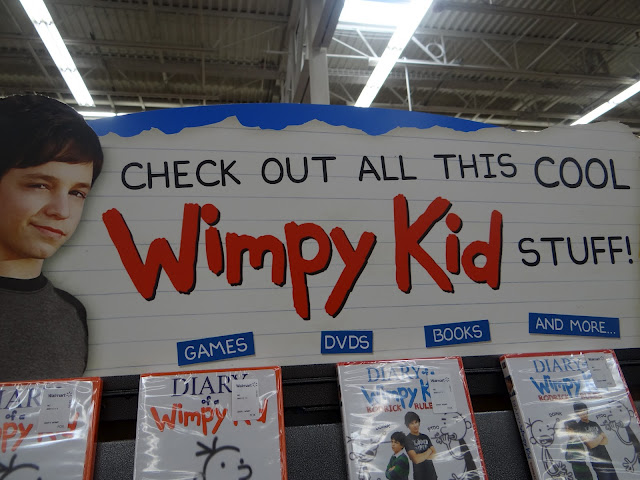 Okay now imagine my near four year old having a conniption that she needed me to buy the movie. We rented the movie many times from friends, but we never officially owned it. Being the "good" mommy I am, we ended up buying both titles of the Diary of The Wimpy Kid.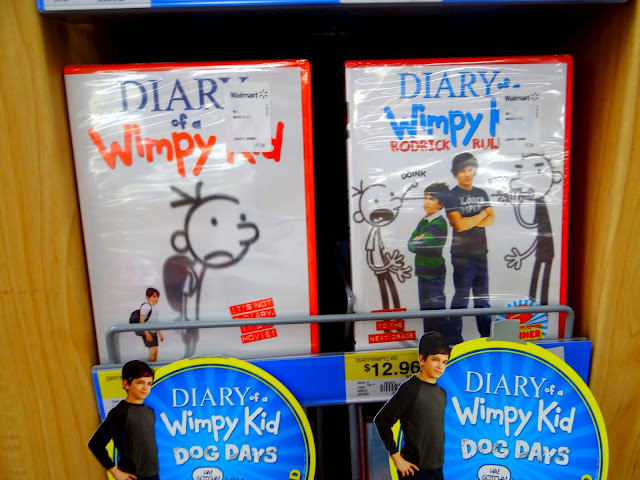 After we made our transient stop here, we definitely needed to get snacks. I knew exactly what I wanted to get- Del Monte Fruit Cups. We LOVE Del Monte Fruit Cups not only because they are so delicious and healthy (yes, I eat them all the time too), but even my food-allergy stricken child can eat them. We go through many containers a week. Everyday Hayley and Zane eat at least one Del Monte fruit cup. I love that Del Monte has so many varieties including Mandarin Orange, Peaches, Diced Pears, Mixed Fruit, and many more. They even have low sugar options available! I much rather them eat healthy Del Monte fruit snacks than some of the options of food snacks out there!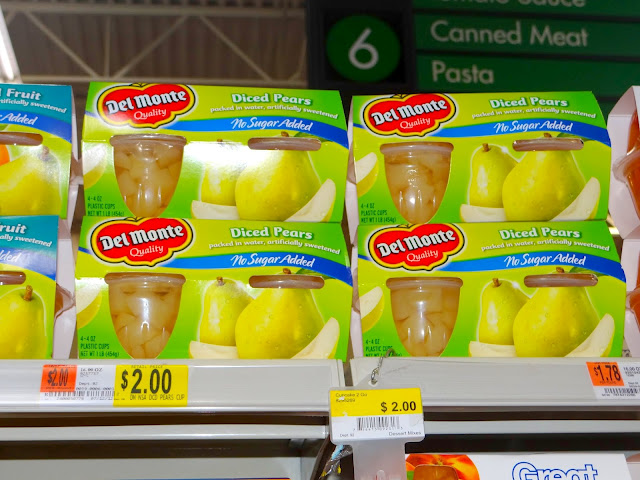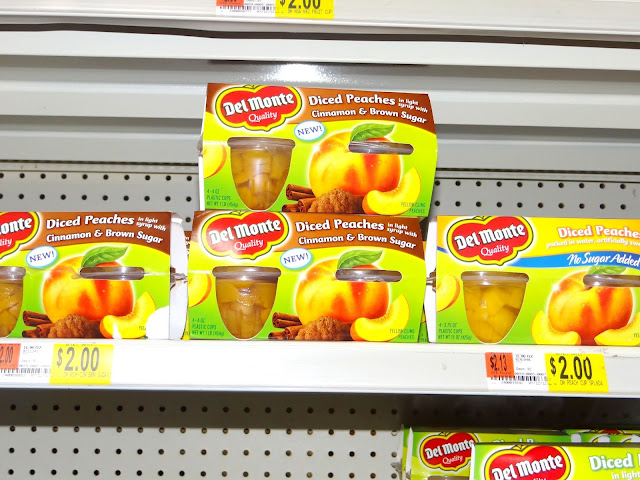 In my usual fashion, I stocked up on many varieties of the Del Monte fruit cups and headed home, movie in hand. When we got home, it was only around 3 pm and I usually have Hayley watch movies before bed. I decided it would be fun to have Hayley draw a picture of her family in DOAWK (Diary of a Wimpy Kid) style. They use a lot of stick figures in the books, so I thought why not let Hayley have a chance to do it. She came up with the following: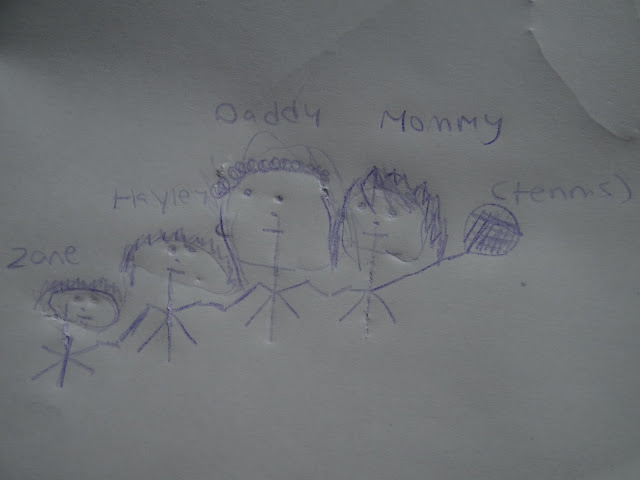 Now, remind you that she is only 3, so considering her age, I think she did a great job! I did not help her at all with it. After we finished,  I got the kids bathed and we were ready to start letting them have a pre-movie snack. I let them pick which Del Monte fruit cup they wanted, and both wanted to try the Cherry flavor mixed fruit, since that was a new flavor to them. While they eat Del Monte fruit cups all the time, I thought it would be fun to spice up the Del Monte fruit snack with an incredibly easy recipe:
Recipe: Take 1 snack cup of any Del Monte fruit cups and then add a dollop of whipped topping with fresh fruit of your choice on top.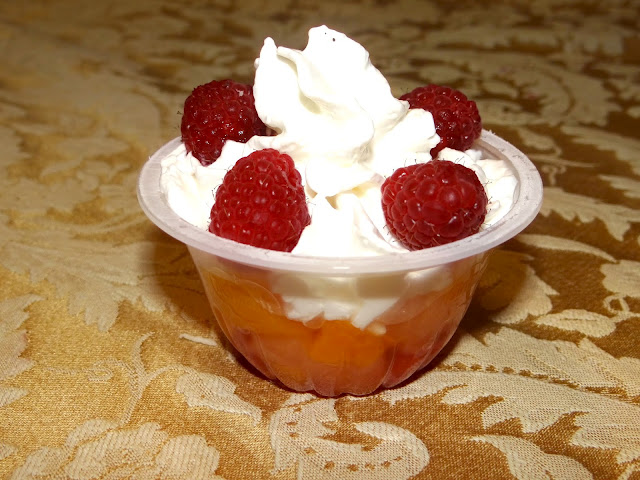 Both  kids loved the very easy Del Monte fruit cup creation (#Snacks4WimpyKid)  and wanted seconds. I had to give in because it was too yummy not to!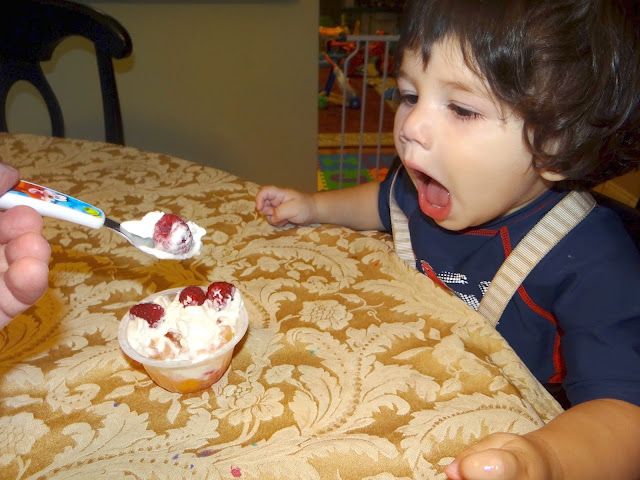 Then it was off to watch The Diary of a Wimpy Kid. It got rave reviews from Hayley and  I. We are going to see the new one in the theatre this weekend and both of us are counting down the days!
If you love Diary of a Wimpy Kid as much as we do, check out their awesome Del Monte Facebook Page  contest to enter to win fantastic prizes.  Del Monte can be found on Facebook and Twitter so be sure to like/follow them. Good luck!
*This shop has been compensated as part of a social shopper insights study for Collective Bias. #CBias. As always, all my opinions are my own and not swayed by outside sources.