Upcoming new artist Shara Strand—MY SISTER!!!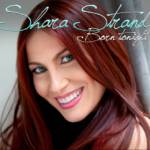 My sister has just released her debut CD on Itunes and Amazon! I am so unbelievably proud of her!  The reviews are in and they are pretty fabulous!!  Anyone appreciates great music after a long day with the kids.  Why not be the first to own an advanced, autographed copy of what her producers, PR, and label have already deemed her as "the new Adele"!
Click on this link to read what the first blogger wrote about her:  http://www.mentalswag.com/2012/06/20/shara-strands-born-tonight-delivers-better-music-for-tomorrow/
Her star is definitely on the rise and you can be the first to own an autographed copy of her debut CD "Born Tonight"!  Each time you buy the CD off Amazon or Itunes (its $5.99 for 10 tracks on Itunes), and link your review to my blog: your name will be entered in a drawing 5 times.  If you comment directly on this blog, after listening to the samples on Itunes and Amazon, your name will be entered once.  There will be a random drawing and 5 lucky winners will win her first ever autographed copies.  Contest ends Sunday at midnight.  Gift your autographed copy to your kids and they will cherish it forever!
See the links of her music here:
Itunes:  http://itunes.apple.com/us/album/born-tonight/id532721538
Amazon: http://www.amazon.com/Born-Tonight-Shara-Strand/dp/B008B9AF3E/ref=sr_1_1?ie=UTF8&qid=1340219089&sr=8-1&keywords=shara+strand+born+tonight
GIVEAWAY: To enter, you can see above to buy the CD off Amazon- I promise you it is worth every cent. You can also comment here (proceeding this post) with your favorite song on her new CD. You can view her album on iTunes and Amazon. All the links are above. For an alternative entry, tweet out that you entered to win this giveaway- just include @SharaStrand- Example: I entered to win @SharaStrand new CD at @dentistmel https://www.the-mommyhood-chronicles.com. Ends Sunday at midnight so hurry! US only!