As most of you know, Zane has terrible eczema. We are told that he needs to have a bath twice a day and then I need to douse him in a good lotion for his skin. Some nights, his itching gets so bad (even with an anti-histamine) that he breaks open some skin from scratching so badly. Because of this, I am always on the hunt for some good products to use on his skin. Luckily, I start using Aquaphor and been having great results. Two of the Aquaphor products are specifically targeted towards the baby audience and we have been having great results using them: Aquaphor Gentle Wash & Shampoo and Aquaphor Healing Ointment.
Aquaphor Gentle Wash & Shampoo: This mild fragrance-free cleanser is geared for baby's sensitive skin and scalp. It is tear free and pediatrician recommended. A lot of time after Zane bathes his skin becomes very dry and his hair becomes flaky. I also find with some shampoos and bath washes, the minute I put them on, it irritates his skin. This is not the case with Aquaphor Gentle Wash & Shampoo as it is formulated to prevent drying and irritation of the skin. It is a mild 2 in 1 wash that gently cleanses skin and hair without drying. It is enriched with soothing chamomile essence and provitamin B5. The best part of this Gentle Wash & Shampoo is it is tear-free and free of fragrances and dyes. It also cleanses with a light lather that rinses off quite readily. I love using the Aquaphor Gentle Wash & Shampoo on Zane's and Hayley's hair and body. It is superb!
Aquaphor Healing Ointment: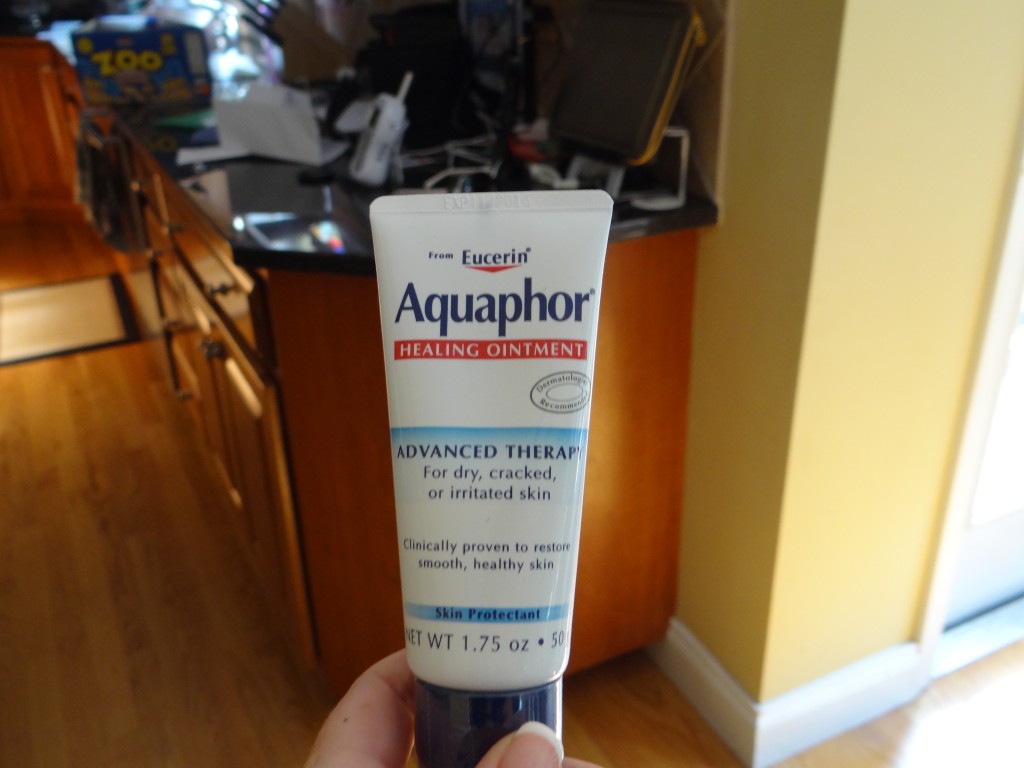 As I said before, Zane gets a lot of dry, cracked, and irritated skin from scratching. A lot of times, I am at a loss what to use. Thankfully, I found out about the new Aquaphor Healing Ointment designed specifically for babies. It is used to restores smooth and healthy skin. It also temporarily protects minor cuts, scrapes, and burns and temporarily protects and helps relieve chapped or cracked skin and lips. You can use it to help protect the drying effects of wind and cold weather and helps prevent against diaper rash. I have used this before for Zane's diaper rash and it works wonders!
If you are wondering if they make the Aquaphor Healing Ointment for adults, they do! I have used it just yesterday when I got a burn touching  the oven (ouch..)! It instantly provided me with soothing relief!
Buy it: You can purchase any of the above products at Aquaphorhealing.com. These would make great summer products!
Win it: One winner will receive all the above products plus a $50 Visa Gift Card.
Please follow the directions below and for each entry, make sure it is a separate comment to receive credit. For example if it says +2, make sure you put two comment entries. The giveaway ends July 9, 2012 at midnight so enter now. Winner will be picked through random.org and will have 48 hours to verify their winner acceptance. US only
Mandatory entry: (+1)- Tell me if you ever tried Aquaphor products and if so, which one.
Optional entries: (+2)- Follow Aquaphor on Facebook
(+1)- Follow Mommyhood Chronicles on Facebook
(+2)- Follow Aquaphor on Twitter
(+1)- Follow Mommyhood Chronicles on Twitter
(+2)- Follow Mommy Chronicles on Pinterest
(+2)-Email subscriber- sign up for my emails- just click subscribe to emails in any post
(+3)- Tweet about the giveaway- make sure you mention @AquaphorUS and @dentistmel along with the giveaway in your tweet- Can be done daily but please put your links below for verification
*Thanks to the PR firm and Aquaphor for allowing my readers a chance to win their own prize pack. While I did receive the same prize pack, all my opinions are my own and not swayed by outside sources.