Happy weekend! I hope you all have a fantastic weekend. We have two 40th birthday parties and a 4 year old birthday party too- very busy weekend for us! Whatever you do, enjoy!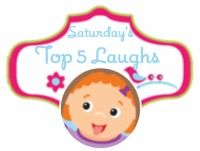 Now, onto the laughs. You know the drill- link up any funny, cute, or top 5 laugh post. Some people emailed me and asked if it needs to be about kids. Definitely not- just something that will make us smile! There are no rules but if you feel like taking my button or helping me share via social media sites, feel free too!
Top 5 laughs:
5. The weather here has been crazy lately. This week I dressed Hayley in shorts without checking the weather and it was only 50 degrees. We go outside and she asks, "Mommy,  why am I wearing shorts today-  It is cold."-MOMMY fail!
4. Zane is obsessed with blueberries. He can eat an entire package if I let him. However, check a dirty diaper after and you will never want to give a kid blueberries again,lol.
3. On my way to work, I completely was listening to the music in my own world. Work is exactly 25 minutes from my home. Well, I cranked up the music and next thing I know, I crossed the border into Massachusetts and spent 1.5 hours going to work. Did this ever happen to anyone?
2. I had an event this week with some of my RI blog friends who I am very grateful to have met. They all rock! Anyway, I was getting ready and Hayley says, "Mommy, you look gorgeous tonight." It melted my heart.
1. I was at work this week and my husband called me. Hayley gets on the phone and asked what I was doing. I said, I was working. She responds, " Mommy, are you making money so you can buy me toys." That girl!!! Yes, honey, I am making money only so I can afford your barbies, lol.
Now your turn: