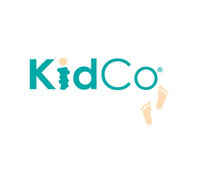 I absolutely love working with Kidco as I find they are truly a great company for moms/dads out there. I previously  worked with them on the Go-Pod (which I have to admit was one of my most favorite reviews) and today, I am working with them to tell you all about their new Kidco Safety Gates!
If you have young children, you know that baby-proofing must be done! I have two kids now but even when I had one, the number one thing I did once Hayley started crawling, was baby-proofing the heck out of the house. However, the most important baby-proofing items, was putting in good safety gates. I do recall one experience where I put in Brand "X" Safety Gate, only for it to break three days later, and I had an escape' trying to climb the stairs. You all know how important  good safety gates are if you have kids. If you don't have safety gates, you will be  constantly worrying about your little one getting out and possibly getting injured. Trust me- it is just a fact of life!
Today, I have to tell all my readers about the truly wonderful Kidco Safety Gates that are on the market. Whether you are looking for an area for your child to stay confined to or whether you want your child away from the fireplace, KidCo has it all. Some of their fantastic KidCo Safety Gates include pressure mounted gates, hardware mounted gates, extra wide and irregular shaped areas, fireplaces and wood-burning stoves, play areas, extensions, and installation aids for the gates.
While we had a gate in practically every area of the house, I needed to put a gate in my daughter's bedroom. Call me mean but that child would escape fifty million times a night if I had not put the gate on. I told Hayley that while we were putting the gate up, she still can call out for us at any time and we would come right in. Since we put this gate up, we has zero problems with her escaping and she sleeps a blissful 12 hours. We decided to review the Pinnacle Gateway G180, which falls under the pressure mounted gates.
The Pinnacle Gateway G180 fits the dimensions of my daughters room perfectly. Installation was a cinch and we were soon on our way to having a sturdy gate at her doorway. The Pinnacle Gateway is the only hands free, auto close, pressure mounted gate on the market! That is right, once you leave the room, the gate closes by itself! I love this feature as I sometimes end up closing gates and have to rush right back in. With the Pinnacle Gateway, I let the gate do the work.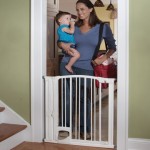 Architecturally inspired to fit any home decor, the Pinnacle has all the popular attributes of the Gateway series including easy installation with no tools involved, non-toxic, white finished tubular steel, and a U-shaped frame with two-way door. Best of all, you simply open this gate with the push of your foot enabling easy doorway use. I love this because I can carry Zane at the same time, as opening the door to welcome Hayley to the new day!
On the gate, there is a locking indicator with green meaning the gate is open and ready for use, and red meaning the gate is locked and secure.  There is also a unique handle design that uses the Magnet-Lock Technology that automatically draws the door closes and locks it every time!
The simple way it works is I step on the foot pedal. I then hear a click and the locking indicator turns to green. The door will remain in position, unlocked and waits to be opened from either direction. I then push open with my knees and walk through. Then the magnets closes the door instantly beyond you and you will hear a click. At this point, the locking indicator will turn red, showing that the door is locked and secure.
As I mentioned above, this gate is truly fantastic for my needs. With Zane all over me and constantly wanting to be picked up, I can use this gate to get Hayley without ever using my hands. How cool is that! Conversely, I can leave both kids in there while I run downstairs, knowing that there is no way that they could possibly escape. This gate also is truly indestructible and even with Zane constantly trying to pound on the gate, it does not budge. The Pinnacle Gateway G180, is perfect for both of my kids!
Buy it: You can buy any Kidco Safety Gates at KidCo.com
Win it: One winner will receive their choice of any Kidco Safety Gate, up to a $100 value. This giveaway is run via rafflecopter so click continue reading to see the actual giveaway. The only mandatory entry is to tell me which safety gate you would like from the KidCo site here: Kidco safety gates in the comment section proceeding this post. While the other entries are optional, I highly suggest you filling them out to increase your chances of winning. Good Luck! Us and Canada!
*Thanks to KidCo for supplying me a safety gate to review. As always, all my opinions are my own and not swayed by outside sources.