I was very excited to be one of the first to try the new Good Call Bluetooth Handset for the iPhone. When I first received it, my cousin happened to be over.  She is also an obsessed iPhone user and she was so intrigued. She was telling me that she heard of this product coming on the market and how truly awesome it will be to us iPhone users to be able to talk on the iPhone without ever actually picking up the iPhone. Being a tech-savy and iPhone addict, I needed to know more.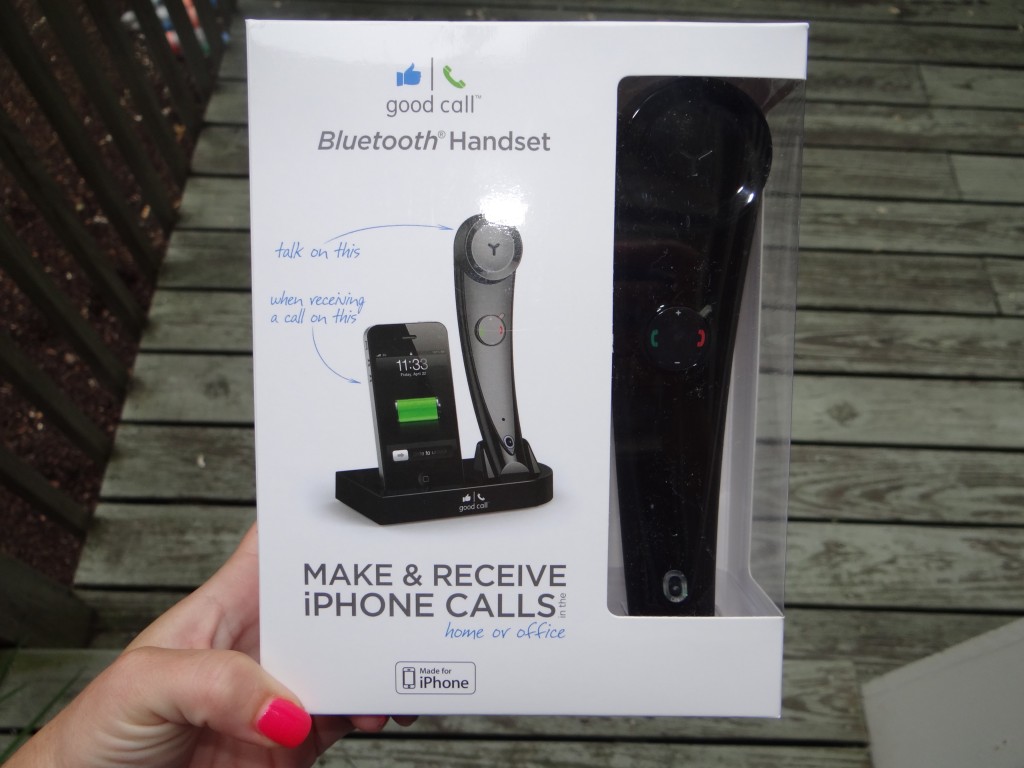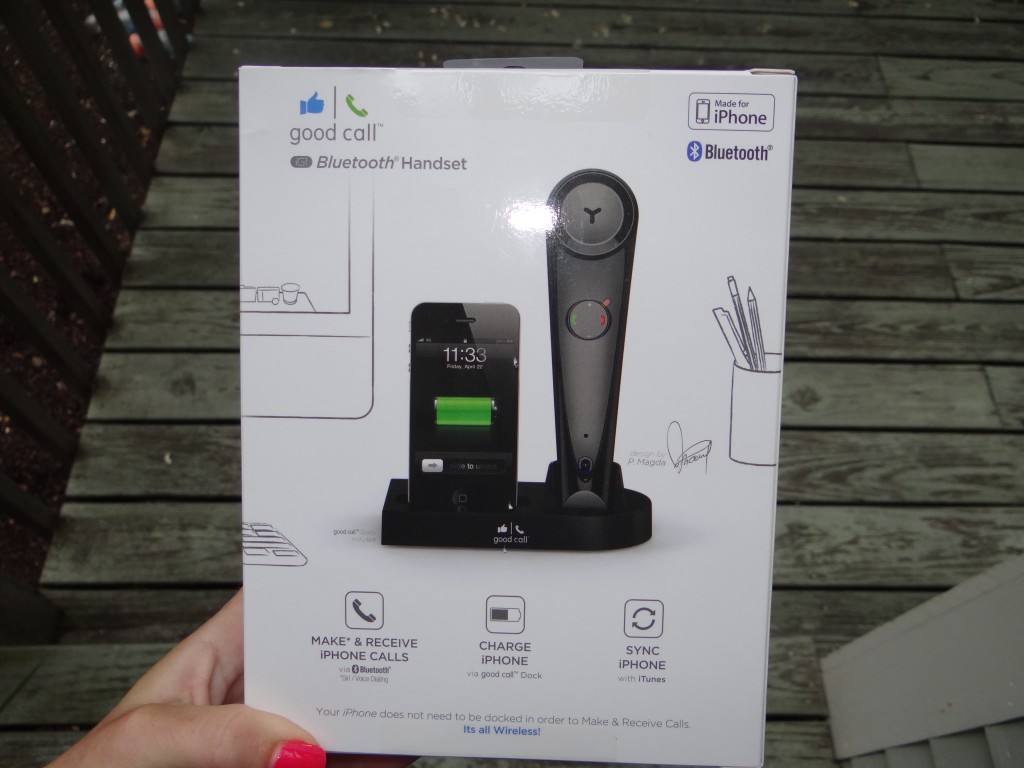 The Good Call iG1 is a bluetooth handset for your iPhone that makes it resemble a landline. How many times have you said to the other person on the line, call me back on my landline? It is very difficult to hold the iPhone and talk for long periods of time. While I love my iPhone, it is very cumbersome to hold when I am having a long conversation.  I also hate wearing those funny looking headsets or those annoying buds in my ear that end up ultimately falling out anyway. I  just give up and resort to my landline. Then, I  get upset that I am not using my precious minutes that I have with my cell phone plan.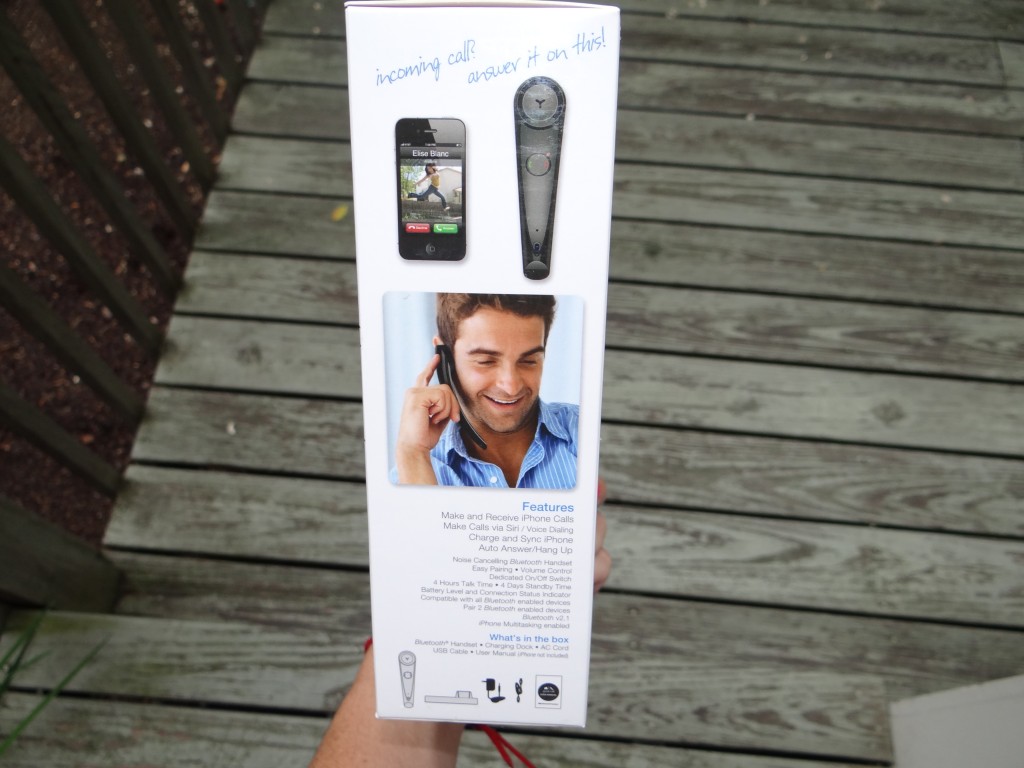 You might ask just how the Good Call iG1 works. Very simply, there are three parts that are included in the package: the good call docking station, the actual handset  phone, and the USB cord to connect the docking station to an outlet or your computer. You also receive a very easy Good Call user manual.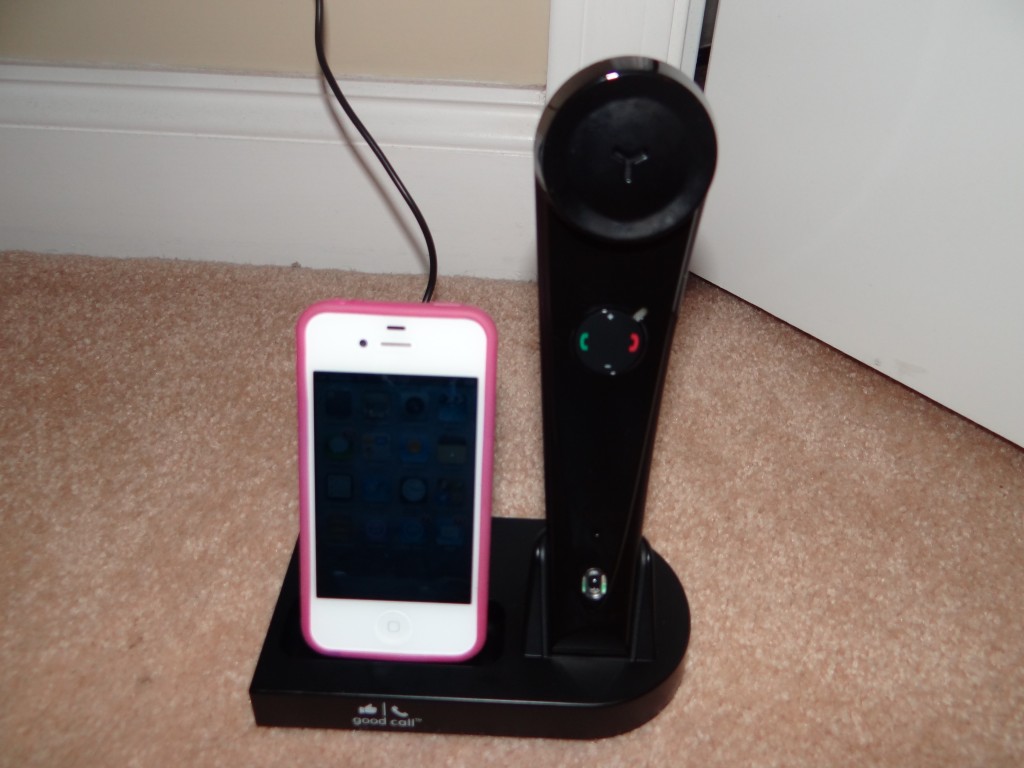 Once we took out the parts, we plugged the USB cable into the AC power adapter. I then made sure my dock was powered up and then I docked the handset and iPhone into their respective positions in the docking station.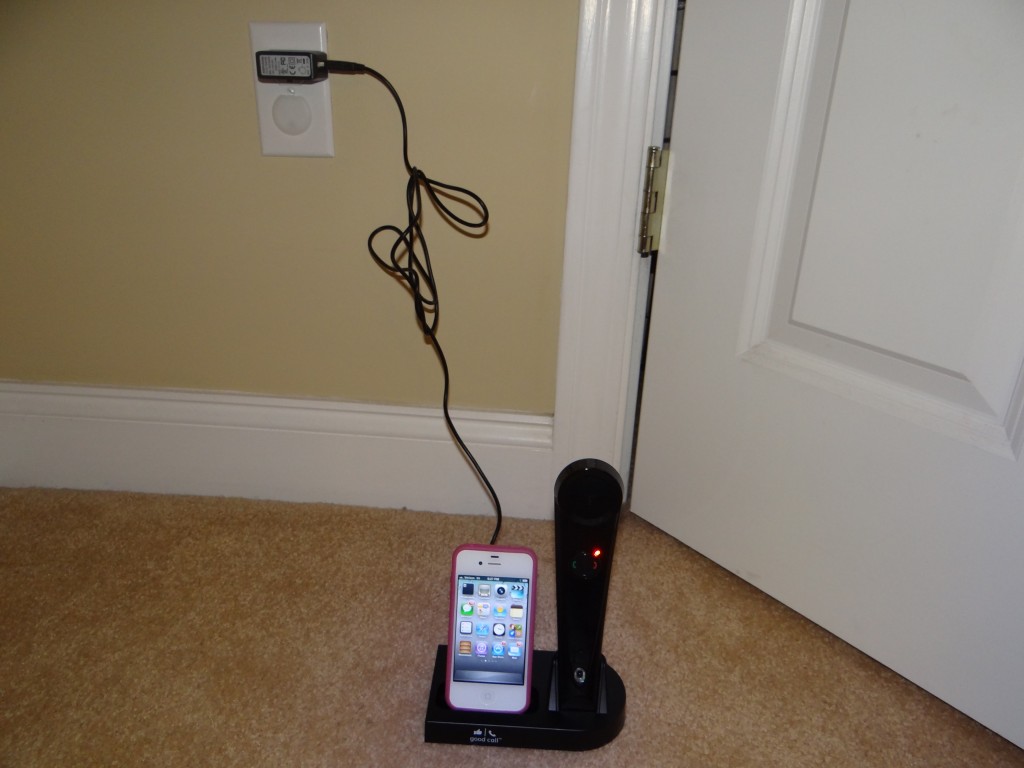 After this was completed, we slid the on/off switch  (which can be seen as the lower up and down switch on the phone) to "on" and pressed/held the call button for three seconds until I heard a startup sound.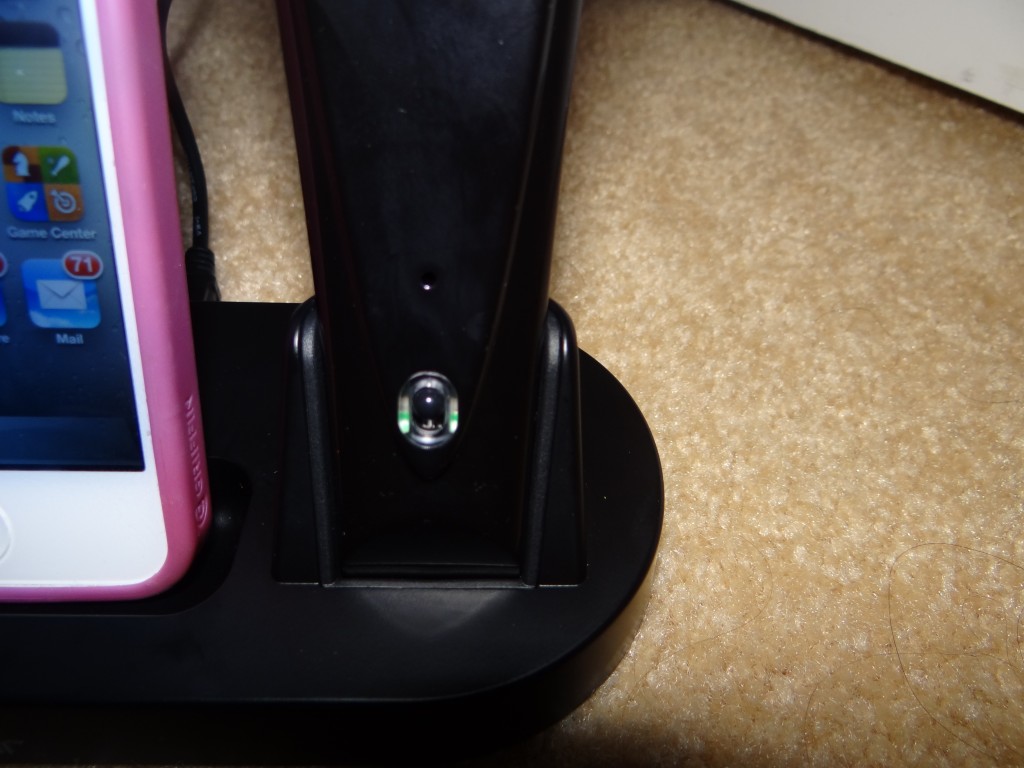 I then went to my iPhone and went to my settings. I simply turned on bluetooth and then the "Good Call" appeared. I selected it and I was all set up with my bluetooth connection working.
After this, I was all ready to go. I absolutely love this handset and I no longer use my iPhone to answer calls. Once someone calls my iPhone, my Good Call handset rings (it is the same ring as the iPhone so set it to something  you like) and I answer just like a regular phone. The calls are crystal clear and the connection is superb!  You might wonder about making a call.  Well, you can also do that quite readily with the Good Call iG1. Simply hold the call button (the green button) for one second and once you hear a beep, then you say a command. That's right- it works with my favorite iPhone feature, Siri. You know you all love Siri!  Say your command, such as "dial home", and it will put you right in connection with the number you are trying to reach. Once finished, press the end button (the red button) and your call is terminated. Every single call, received or made, can be done by way of the handset.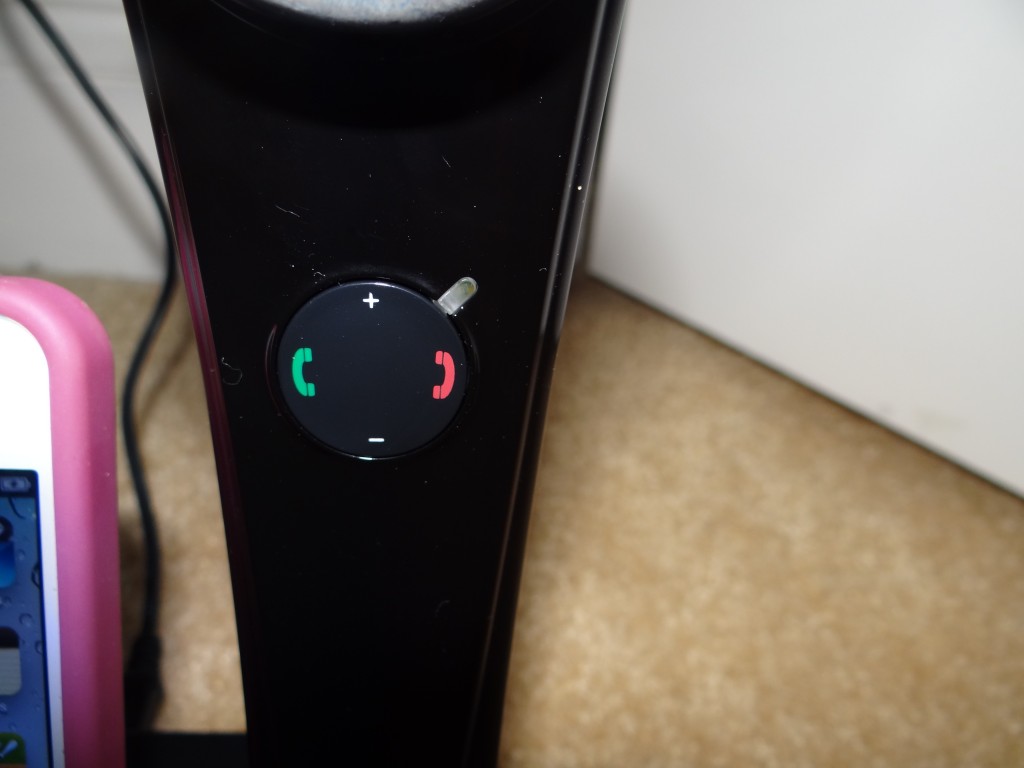 There are several awesome features that make the Good Call Bluetooth Handset magnificent. One is your iPhone does not need to docked in order  to make and receive calls. I love this because a lot of times I go into bed early to read at night, or to work on my blog. I used to end up hearing my phone and having to lug downstairs to answer it. Now, I just bring up the headset and I can answer with my iPhone being on another floor of my house.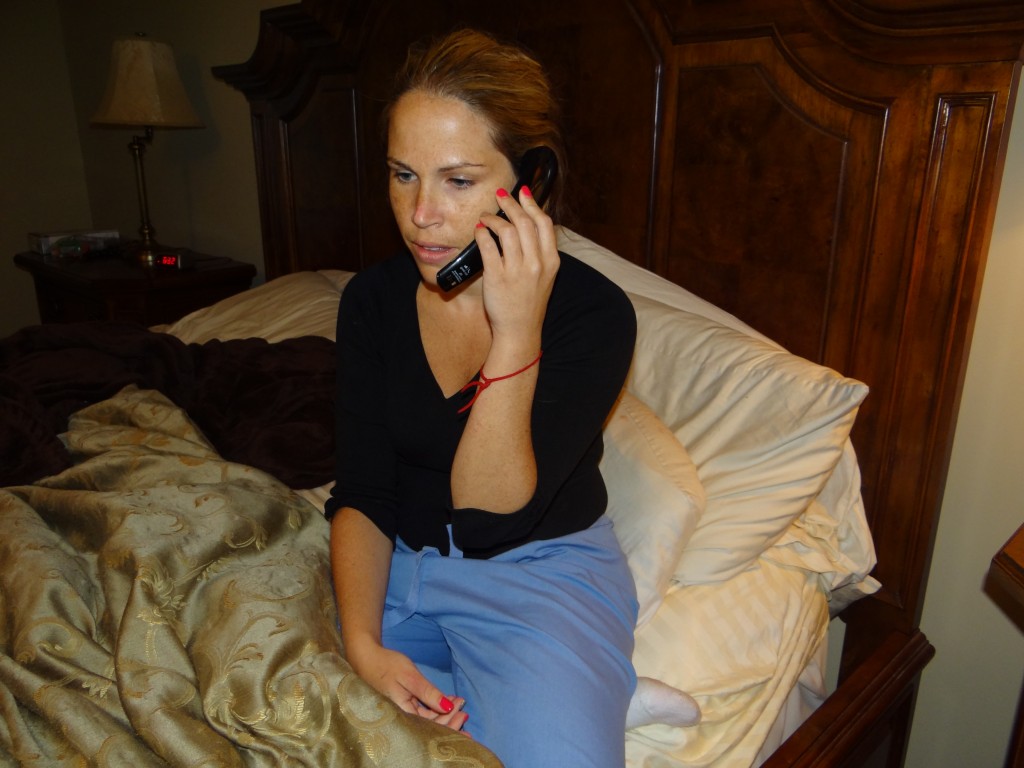 The Good Call Bluetooth Handset will also charge your iPhone and sync iPhone with iTunes. This was such a selling feature for me, as I did not previously have my music on my iPhone. Now, I synced the iPhone with iTunes and can listen to my music easily. Rocking out with my iPhone- nothing makes me happier!
While everything I talked about makes the Good Call Bluetooth Handset truly fantastic, the number one selling feature for me was I no longer feared for the prolonged cell phone radiation. You hear so many  awful stories about what cells phones can do with long term effects of radiation in the future. I know for one, I don't want to take these risks and avoid  cell phone radiation at all costs.  When I use the Good Call Bluetooth Handset, I don't have to worry about this! How cool is that!
I give this product an A++++++.  The Good Call Bluetooth headset will soon be launched on June 19th on Kickstarter.com. Be sure to buy this for anyone who owns an iPhone- currently compatible with the iPhone 4S, iPhone 4, iPhone 3GS, and iPhone 3G.
I am a member of the Collective Bias™ Social Fabric® Community. This content has been compensated as part of a social shopper insights study for Collective Bias™. #CBias #SocialFabric