Hayley is obsessed with dolls and if they can swim in the bath with her, even better! That is why we were so excited to receive the Lalaloopsy Sew Magical Mermaid. Take a look how cute she is: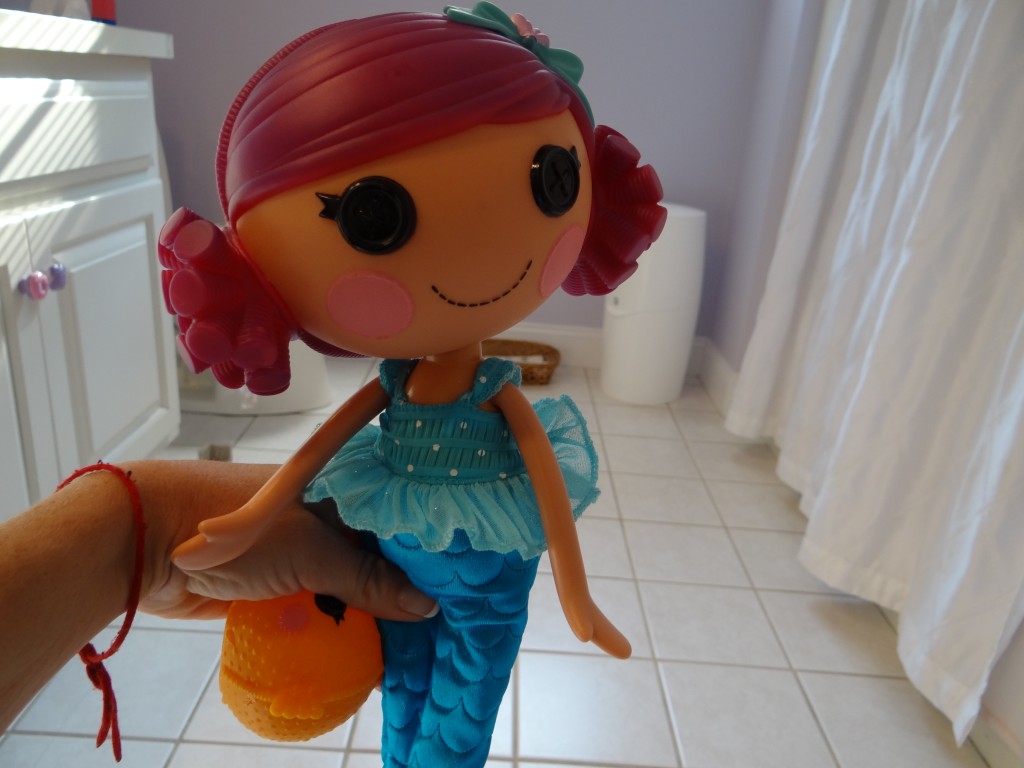 The Lalaloopsy Sew Magical Mermaid is the first ever Mermaid doll to the market. The Lalaloopsy Sew Magical Mermaid is sewn with a swimsuit on and when she swims in the water, she changes from her bathing suit into a magical mermaid. Her hair also changes colors from pink to purple  under the water.
Lalaloopsy Coral Sea Shells was once a rag doll who magically came to life when her very last stitch was sew. Coral Sea Shells was made from pieces of a swimmers bathing suit. She is super cute and love to pretend she is a real life mermaid. She come with an adorable bathing suit and a pet blowfish that loves to squirt water.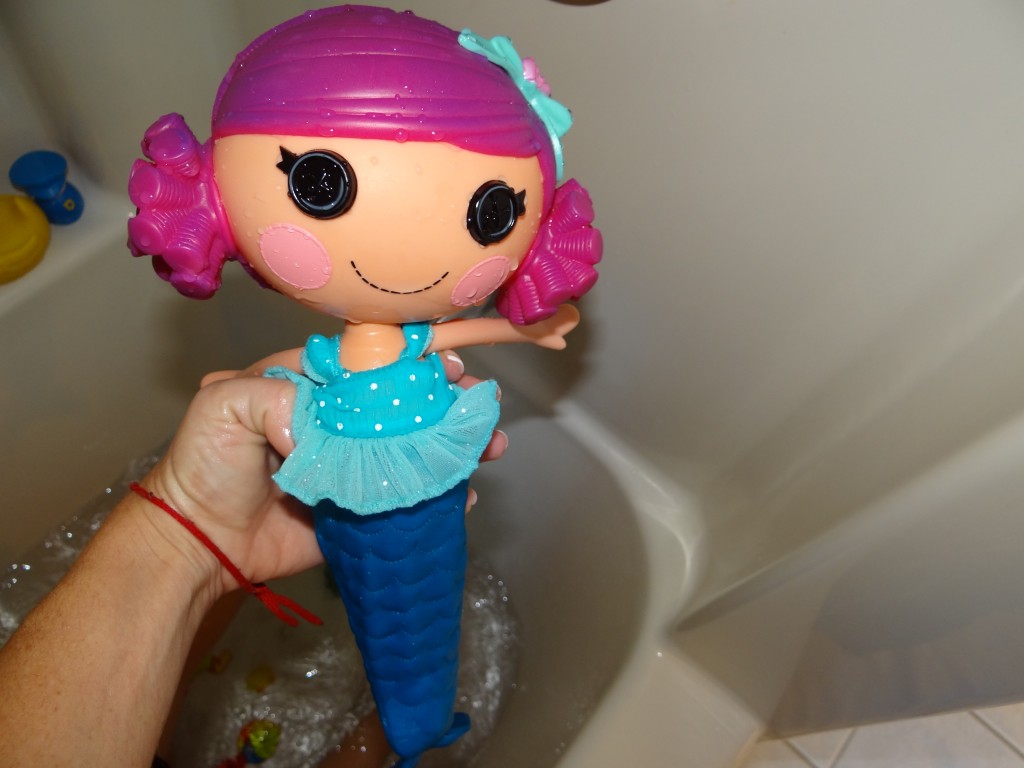 When we first received the Lalaloopsy Sew Magical Mermaid, Hayley could not contain herself. She needed to take it in the bath with her. She quickly found out that she was a great "swimmer "and was a good friend for Hayley in the bath. She even begun to take her to the pool with her so she can show her friends how great her new doll is. Her friends are fascinated that the hair changes color too. To get the darkest color of purple, you can soak the doll in ice water and magic will happen!  In four year old minds, this is magic! Although the pet blowfish was intended for Hayley, Zane has quickly taken over the fish for his bathing pleasures. Once they are done playing, simply lay out Coral Sea Shell separately from her clothing to dry quicker. Also make sure to turn Coral Sea Shell upside down to ensure water is properly removed.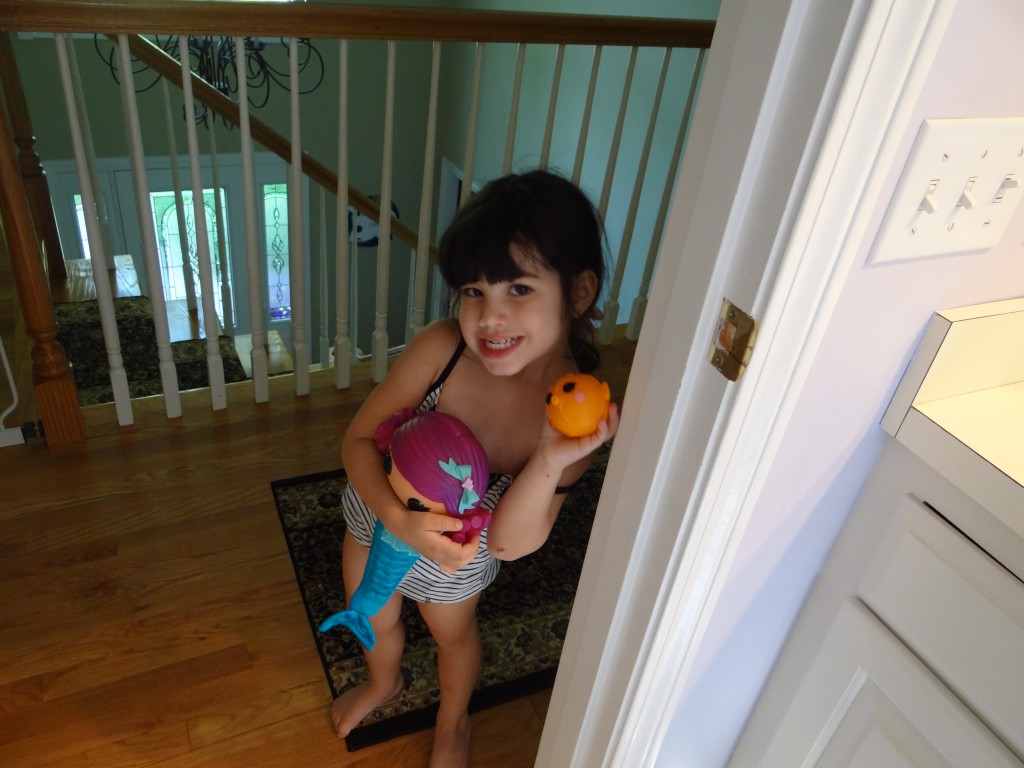 We love the Lalaloopsy Sew Magical Mermaid. It is so much more than your typical bath toy. Your kids will have hours of fun playing with the mermaid! If you have a little girl who loves playing with dolls, this is the product for you!  Hayley LOVES her Lalaloopsy Sew Magical Mermaid.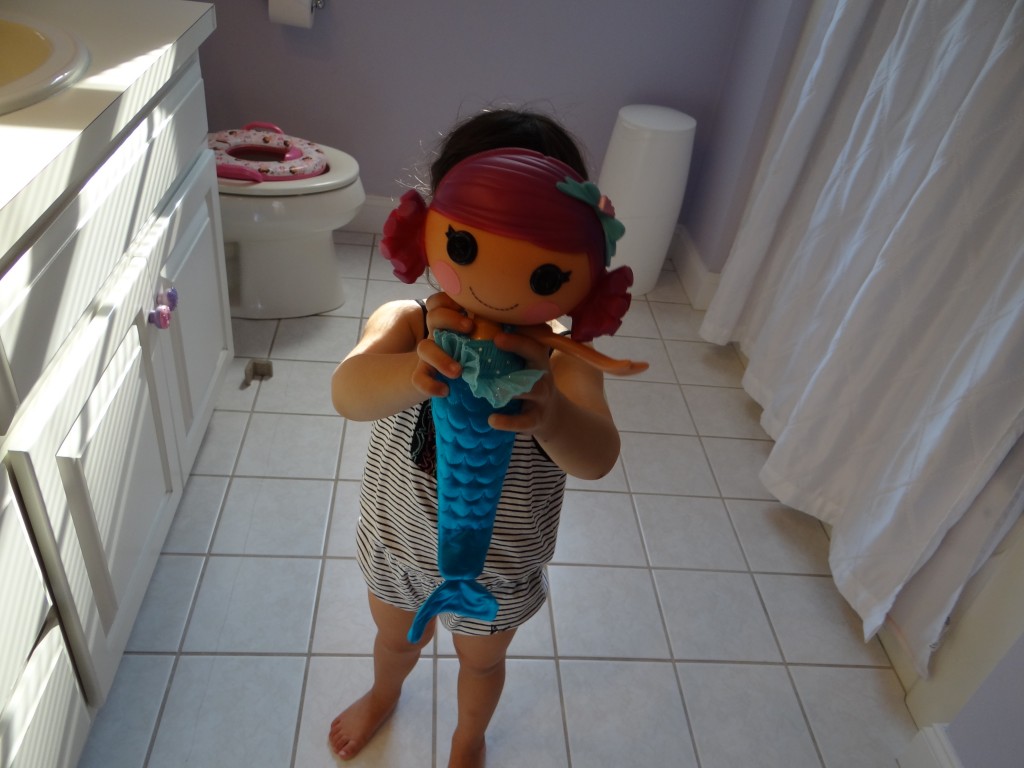 Buy it: You can buy the Lalaloopsy Sew Magical Mermaid Doll for $29.99 from Little Tikes. You can also purchase the Lalaloopsy Sew Magical Mermaid on Amazon, at Toys R' Us, and other toy retailers.
Win it: One winner will receive their own Lalaoopsy Sew Magical Mermaid Doll. This Giveaway is run via rafflecopter so click continue reading to see the actual giveaway. The only mandatory entry is to tell me what doll is your favorite in the comment section proceeding this post. While the other entries are optional, I highly suggest you fill them out to increase your  chances of winning. US only. Good luck!
*Thanks to the PR firm for supplying me with a Lalaloopsy doll for review. As always, all my opinions are my own and not swayed by outside sources.