How can it be the weekend already? This week flew by! The weather here is gorgeous so I hope it continues to stay like this for the rest of the summer. I hope everyone enjoys the weekend.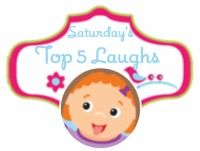 As usual, please link up any funny, cute, or top five laughs. If you would like to help me spread the word on social media sites, I would appreciate it but not required at all. Same with taking my button. Enjoy and lets laugh together!
My top five laughs:
5. When we were at the Aulani, Hayley asked Mickey Mouse where his girlfriend Minnie was. Of course, the characters can't answer but she kept insisting to be told where Minnie was. She was getting mad, lol.
4. There was a small baby slide on the cruise ship. It really is for kids 2 and under but Hayley could not stop playing in it. Everyday, we spent hours on that same water slide!
3. Hayley picked up a new word on the cruise- disgusting. I commented, by mistake, that my meal was disgusting and ever since then my little parakeet won't stop saying the word. HELP!
2. On vacation Hayley looked at me and said, "Mommy, I miss Zane so much- I hope he is Okay." Melted my heart!
1. At the completion of our trip, Hayley turned to me and said "Mommy, This was the best vacation ever. Thank you!" I will admit I teared up!