Fathers Day is right around the corner. I really have no clue where to start when it come to Fathers Day. I always try to include some practical gifts, as well as some homemade gifts that my kids do. This year we did hand-print designs of both kids and framed them in a beautiful piece of wall art. I know he will be so happy! Now, for the practical part… What do you usually end up getting? I know he has a ton of shirts, pants, shoes,etc. However, he truly needs new underwear. Lucky for me, I did a quick search and found out Figleaves sells Figleaves mens underwear. When I went to look at their styles, I knew that this would be my practical gift. They have name brand boxers and briefs including Tommy Hilfiger, Ted Baker, and Calvin Klein. All the prices for the underwear are extremely reasonable and I love the variety of designs. I am definitely picking up some underwear for part of my husbands gift. I think he is going to be so excited for the kids handmade art, and just as excited for some new pair of underwear. Think about it- underwear never goes out of style!
While I was doing some online shopping, I decided why not check out the of Nightwear from Figleaves. I know, I hardly ever get to purchase some cute nightgowns or for that matter anything for myself. It is always my kids and my husband who I end up buying for. So, I checked out the nightwear selections since wearing a nice nightgown for me, has always made me feel happy and confident. Can you relate? They have a vast array of lovely summer nightwear pj styles form some fabulous brands. I fell in love with the Calvin Klein woven ¾ Sleeve Sleepshirt. I can see my self melting away in my dreams wearing this beautiful and comfortable pajama nightgown. They also have some adorable two piece pajama pant/top sets as well as camisoles available for purchase. You can do a quick search for the size, color, brand, and style you want, and you will have your new nightgown in no time. You will be truly amazed how many wonderful products they have at Figleaves. Happy Shopping!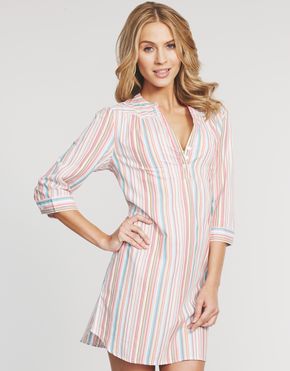 *This is a guest  post.