There are so many happy occasions coming up in my family. I am sure this time of year, most people have reasons to celebrate. Just recently we just finished up Mother's Day honoring those Moms who do so much in this world to make families thrive. Did you buy your mom a gift this Mother's Day? I have to admit that I had a hard time trying to figure out what gifts to get for my mom. I wanted new and fresh ideas to honor a mother who truly deserves the recognition not only one, but everyday of the year. Gift for her from Interflora gave me some much needed ideas and wonderful gifts for my mom this year. While I truly loved all their gifts including vibrant hand-tied flowers, personalized love balloons, personalized love heart biscuits, heavenly scents gift boxes,  I was completely drawn to the hamper gift for her. In this set, they offered a delicious selection of edible treats including chocolate peanuts, fruit, and my favorite- a half bottle of Sauvignon Blanc. I knew this package would delight my Mom. Nothing like giving my mom the gift of food and wine to make her happy!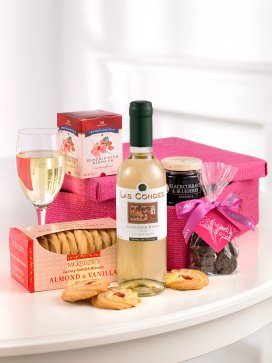 As much as I loved the selection of gifts for my mom at Interflora, I also needed to browse the Interflora thank you gifts.  I wanted to send my in-laws a thank you gift for helping us plan an awesome vacation two weeks back. They have a vast array of thank you gifts including the pink perfect gift, heavenly scents gift box, pink perfect gift with chocolates, and pink radiance flowers hand-tied flowers with chocolates. My favorite out of their selections was the Champagne and Chocolate Gift Set. In this gift set, you will receive a bottle of Lionel Derens Champagne with delicious chocolates. My in-laws love champagne and chocolates so it would make sense to get this set for them. Everyone deserves special thank you gifts, so make sure you check out Interflora for all your gift needs. You will not be sorry you did!
*This is a guest post.