Let me tell you all about my favorite part of the day! It is around 7 am when both of my kids are still sleeping and I have peace and quiet before the hustle of the day starts. This is the only time, aside from when they are sleeping at night, that I can have one on one me time. Most days, how I enjoy this time, is by sitting with my favorite cup of coffee and enjoying one of the varieties of Nonni Biscotti Bites. While I love my coffee, I dream about these Nonni Biscotti Bites- they are really that good!
Some of you might have not heard of Nonni Biscotti Bites so let me give you some information on them. Nonni's, the original biscotti maker, introduces the brand new line of the most delicious treats in miniature form: Nonni's Biscotti Bites. These are made so it is easy to grab and not have to have a whole biscotti if you so choose. They are the perfect size for snacking, sharing, or on- the- go treat. The snack bag packaging makes it easier to share and wrap up for another biscotti break. It is the ideal companion and excellent with your favorite coffee beverage, wine, with cold milk, or just by itself. Personally, I have eaten these biscotti bites with all of the above!
As I am writing this post, I am currently snacking on the Nonni's Biscotti Bites- shhh, don't tell! Usually when I am eating these I have to share with Hayley, but now I have the whole bag to myself. I better hurry up and finish this post or the whole bag will be gone!  It is really hard to pick my favorite flavor but if I have to, I will tell you in just a bit. Talking about flavors, the biscotti bites are available in Almond Dark Chocolate, Caramel Milk Chocolate, and Classic Almond.  When I taste tested all of them, my favorite was the caramel milk chocolate. To say it is divine, is quite an understatement. It was crunchy, flavorful, and fantastic. Even though this was my favorite flavor, I really truly enjoy all of them. If you are an almond lover, you must try the other two flavors- Trust me!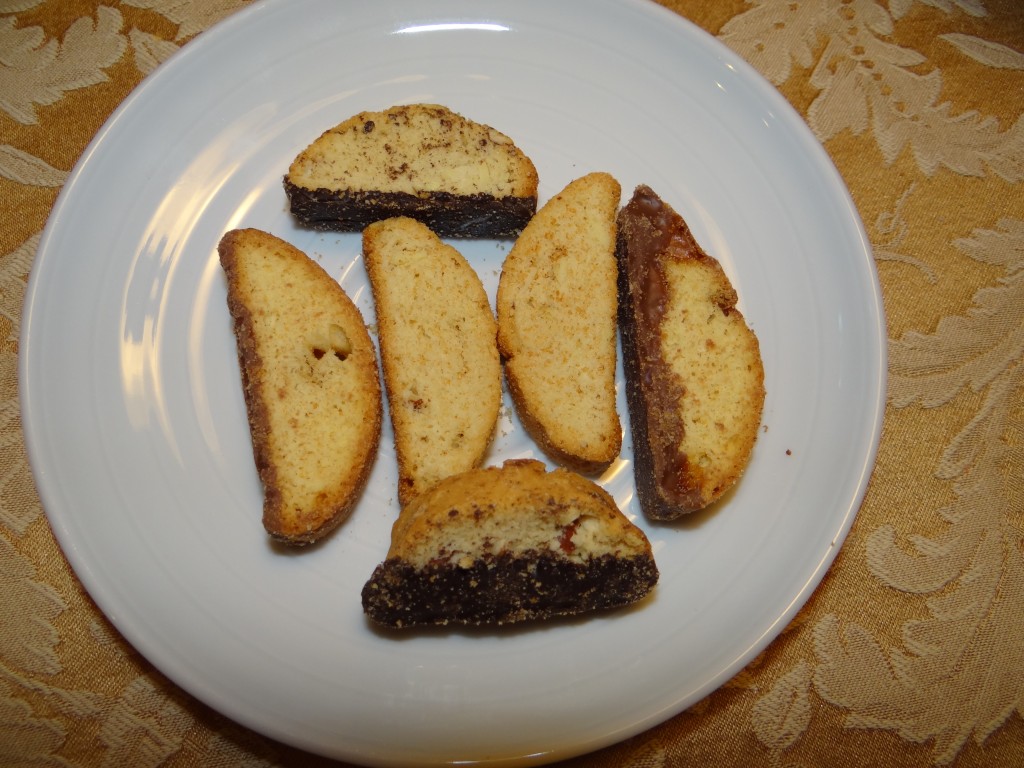 While my Biscotti moment is the first thing in the morning, I know everyone will have different Biscotti moments. So why not enter the Biscotti Moment sweepstake and enter to the chance to win a lifetime trip for two to Hollywood. You simply like Nonni's Biscotti Facebook page and you can find out all the additional information there. It is really so easy to enter- simply upload your best Biscotti moment and you are entered to win the grand prize as well as additional weekly prizes of Nonni's gift baskets. So easy and a great chance to win, to go to Hollywood- what could be better!  Here is my entry photo:
Good luck to me and everyone else who enters!
*"I wrote this review while participating in a campaign by Mom Central Consulting on behalf of Nonni's Biscotti and received a product sample to facilitate my review and a promotional item to thank me for taking the time to participate."