Hi everybody! I am back and ready to start my Saturday Top Five Laugh Blog Hop again! I am excited to go through and see what funny posts link up this week. I missed reading them the last two weeks.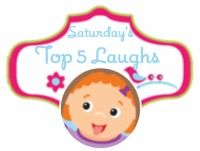 As usual, please link up only funny posts, cute posts, or top five laugh posts. If you would like to help me promote this giveaway via social media sites, please do but this is not mandatory. Same for taking my button! If you do take my button and/or help me promote the hop, I appreciate it!
So for my laughs this week, I am going to start them with what happened on the 12 hour airplane ride to Hawaii. We got so many laughs from this trip that I will separate them for the next few weeks. These laughs solely revolve around flying with Hayley.
5. I am deathly afraid of flying. I used to have to take valium to fly but recently have been flying successfully without it. I HATE take off. So, I was sitting next to Hayley when we were taking off and she kept telling me, "Mommy, look at us go up in the sky". "Mommy, why aren't you looking?" "Mommy, we are going high." I tried to put on a brave face for my daughter but my hands were sweating profusely.
4. We took an overnight flight back from Oahu to Newark- A LONG FLIGHT! Hayley slept the whole way but she has some gas when she sleeps. I was slightly embarrassed when she tooted in her sleep. Of course, most people were sleeping but still:)
3. When we were landing, Hayley screamed, "Mommy, we are going down", "Mommy, the plane is going down". Lovely sentiment for her mother who hates to fly!
2. Hayley really has no sense of time yet. So, when we boarded the plane in Rhode Island to go to our first layover Chicago, Hayley says, "Mommy, we are in Hawaii now." No, Hayley, we are only gearing up to take our first flight. Then when we landed in Chicago, she said, "Mommy, now we are officially in Hawaii."- NO, Hayley:)
1. This is an old laugh from her flying about a year ago. We hit an extremely turbulent flight and Hayley loved it. She screams, "Mommy, this is the best ride ever." Everyone was cracking up!
Now your turn. Let me know your laughs!