Entertainment Tonight is hosting the "ET's Hanging with the Star's Sweepstakes." You are invited to join your chance to win an invitation to the ET's Exclusive Gala Party! How cool is that!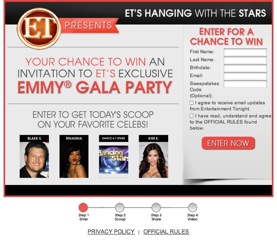 So, what do you get?? The GRAND PRIZE includes a trip to LA to meet the stars, 2 night hotel stay, 2 tickets to the EMMY GALA PARTY on September 23rd, a chance to walk the red carpet, and seats in the VIP section during the party's musical performance!
I know I just entered and now you should too! The entry form takes literally no longer than 5 seconds to fill out. Tell your friends, tell your family- just make sure you enter!
The contest ends May 24 so you want to hurry up and enter. To win you must be 18 and older and for the grand prize winner, you must be 21 years and older.
THIS IS HOW YOU ENTER- CLICK THE LINK BELOW and FILL OUT THE EXTREMELY SMALL ENTRY FORM!! GOOD LUCK!
*This is a sponsored post by CBS television.