Okay, I know you must all be thinking- what is a dentist doing promoting a gumball manufacturer. Truth be told, when I first got contacted by the wonderful people at gumball, com, I was hesitant. If they only sold regular gumballs,  I would have not been able to accept the review. However, when I found out that they sell, regular, as well as sugar-free gumballs, I was ecstatic! I actually called my husband at work and told him we were getting a grand gumball machine. I think he was equally as happy to receive the King Carousel Gumball Machine with a nice vintage stand.  While Hayls and Zane are too young for gumballs, I know one day this could be a good bribery tool if we must resort to that- as long as it is obviously, sugar-free.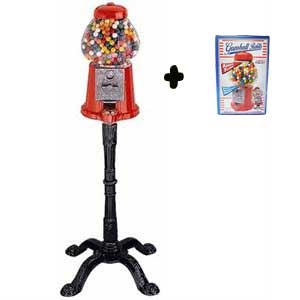 When you go to the site, gumball.com, there are so many beautiful gumball machines you can purchase. These are not your rinky-dinky gumball machines. The gumball machines are the ones that you would find in a store where you put the quarter in, and receive the gumball. The globe encasing is made of actual glass, so if you have kids, make sure it is put in a safe place.
When people enter my house, my gumball machine is in my husband's office. It really is a standing piece and I have friends who are completely jealous that I have a life-size gumball machine. It is so pretty and adds in the multitude of colors of the sugar free gumballs;  it really brings attention to my husbands office.
We had the chance to review the King Carousel Combo Gift Set which came with the gumball machine, attached stand, and 930 sugar free gumballs. It truly is a great gift for a family member or yourself, for that special occasion. Some of the features of this gumball machine are:
Glass globe
All metal base, lid, and coin mechanism
Accepts all types of coins or set it to "free spin"
Dispenses small gumballs, candy or nuts (gumballs must be 0.62″ or smaller)
30-day money back guarantee
Machine Specifications
Height: 37″
Width: 12″
Gumball capacity: 5 lbs (2 X 3.5 lb Gumball Refills)
Weight: 13 lbs.
Color: RED
Gumball Specifications
Flavor: assorted fruit
Size: 0.62″ diameter
Weight: 62 oz.
Quantity: approximately 930 gumballs
Does NOT contain milk, nuts or other allergens
Certified Kosher by the Orthodox Jewish Council
This gumball machine is the real deal- no cheap plastic machines! This will be a timeless gumball machine that will stay with you through many, many years. The one of many features I love is the fact that I can set it to accept a quarter, dime, or even a penny for a gumball to come out or I can set it, so you don't need to put in money to receive a gumball. Currently, we have it set so we don't need to put in money, but I see that changing very quickly once the kids get older and get wind of this machine.
At gumball.com, they have a vast array of machines including gumball, soda, candy, and toy machines to name a few. They are on the top vending machines in the country. You must check out their selections if you are looking for that perfect gift for your kids or for a friend.
Buy it: You can buy any of the vending machines, large or small, on their website, Gumball.com.
Win it: One winner will receive the King Carousel Gumball Machine with Stand and gumballs (sugar-free or regular). This retails of $82.00. This giveaway runs via rafflecopter so click continue reading to see the actual giveaway. The only mandatory entry is to tell me if you would like the sugar- free or sugar gumball in the comment section proceeding this post. While the other entries are optional, I highly suggest you fill them out to increase your chances of winning US only. Good luck.
*Thanks to Gumball.Com for supplying me my own gumball machine. As always, all my opinions are my own and not swayed by outside sources.