I have to tell you that I have the hardest time finding delicious, as well as nutritious, breakfast foods for myself and my kids on the go. With running to my dental job in the morning, to finding the time to get themselves, as well as me, dressed – breakfast usually takes the back burner. I know- this is terrible, which is why I was excited when one of my favorite brands, Tyson, came out with their new Tyson Breakfast Bread Bowls. When I first heard about the new Tyson Bread Bowls coming on the market, I immediately took Hayley to Sams Club so we can be one of the first to try them.
We ended up browsing the frozen food aisle to find the Tyson Breakfast Bowls and of course, being Hayley's first time in Sams Club, she was completely excited with all the sampling that she was offered.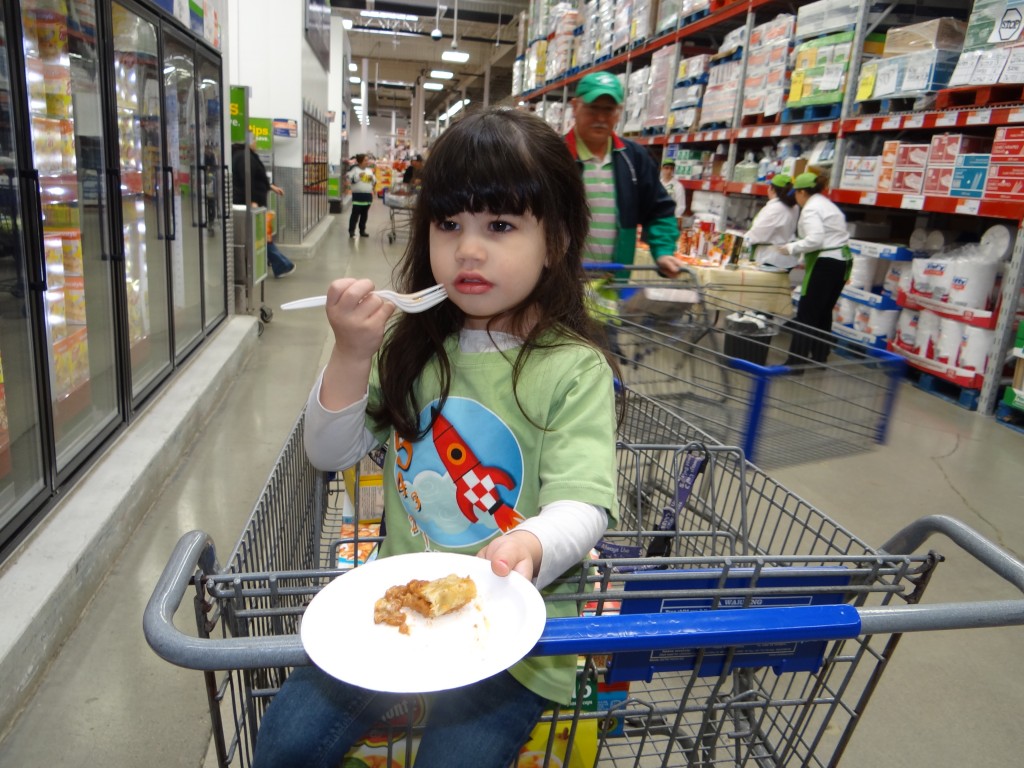 When we arrived to check out all the frozen items on the shelves, she wanted to try them all. I told her that we were looking for the big Tyson package of the Bread Bowls. She kept asking me to try it now because eggs are one of the only foods she will willingly eat. I have had the hardest time, since she was a baby, getting her to eat and thankfully, there a few staple foods that she will not be resistant to, eggs being the number one item. This was another reason I had to get my hands on the Tyson Bread Bowls. Finally when we scanned the shelves, we found what we were looking for. We found the Tyson Breakfast Bread Bowls with sausage and we couldn't wait to rush home and try it. A bread bowl that is filled with sausage, egg, and cheese- what more could we ask for!

Off we went to go home and to try out our new Tyson Sausage Breakfast Bowls. One of the greatest things about these breakfast bowls is they come in packages of two so you can easily cook both of your children a bowl or yourself  at the same time. Simply, remove the a plastic wrapper around the bread bowl and place one or both of Breakfast Bread Bowls in the microwave for 50 seconds.
After letting cool for 1-2 minutes, take it out of the microwave:

Now for the real test- Did Hayley like it?

Well, she not only liked it- she LOVED it! For a little 30 pound girl, she ate almost the whole thing herself. I was so impressed. I then went to give it a try to see for myself how it was. It was delicious and very filling. It has become a regular staple in our house for breakfast. Even my super picky husband loved it. What a win-win for the whole family!  I am sure if you buy this for your family, you will be so happy and come back to thank me. It saves time in making a breakfast that is wholesome, delicious, and wonderful. No need to thank me now- just go to Sams and pick up your Tyson Bread Bowls. If you are interested, I have my whole google plus album highlighting my exciting Sams Club trip!
As most of you know by know, I am very into supporting charities as well as causes that help out people around this nation. One of the main reasons I was so excited to try these Tyson Bread Bowls, is because Tyson is the initiator of the Tyson Know Hunger: Hunger Relief.  What Tyson is doing is helping to raise awareness of hunger in the United States.  Did you happen to know that one out of four Americans are worried about having enough money to put food on the table this year? That number is extremely worrisome. Tyson is adamant about their resolve to raise hunger awareness and unite those already engaged in hunger.
I am in awe of Tyson's efforts, and decided to take a stand with them and try to help out their important cause. On my end, I brought 6 boxes of the Tyson Sausage Breakfast Bowls and donated them to the local food pantry in my city. While I wish I could have brought enough food to feed the thousands of people who are in need in my city, at least I am trying to the best of my abilities. When I brought over the food, the people at the center were so grateful. Do you think you can help Tyson spread the word about their Tyson Know Hunger mission? It take only a few minutes of your time to help out or at least, help spread the word.  Thank you to Tyson for starting such an important cause to help end hunger in this country. To learn more about Tyson products and their initiatives check out their Facebook page as well as their Twitter page.
*This shop has been compensated as part of a social shopper insights study for Collective Bias. #CBias #socialfabric. All my opinions are my own and not swayed by outside sources.