We had a fantastic first birthday for Zane. It was everything I could ask for and more. While I do take some credit for putting together a good party, the real and true credit should be given to Absolute Fun Party Rentals. When I was first searching out entertainment for Zane's first birthday party, I really did not know who to contact. I also didn't know what I wanted. I did do the whole first birthday party with Hayley but wanted something a little different this time. My friend recommended Absolute Fun Party Rentals and I instantly picked up the phone and gave them a call.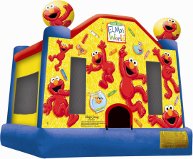 When I spoke to them, I told them I had a Sesame Street themed birthday party in mind. They suggested that I get an Elmo character (happens to be Zane's favorite) who would come to the party and do an hour show dedicated to Sesame Street. She also suggested since there were older children, I hire a face painter who would decorate the children's faces, while the younger kids celebrated with Elmo! After speaking to them, I was very confident that they would put on one rocking party.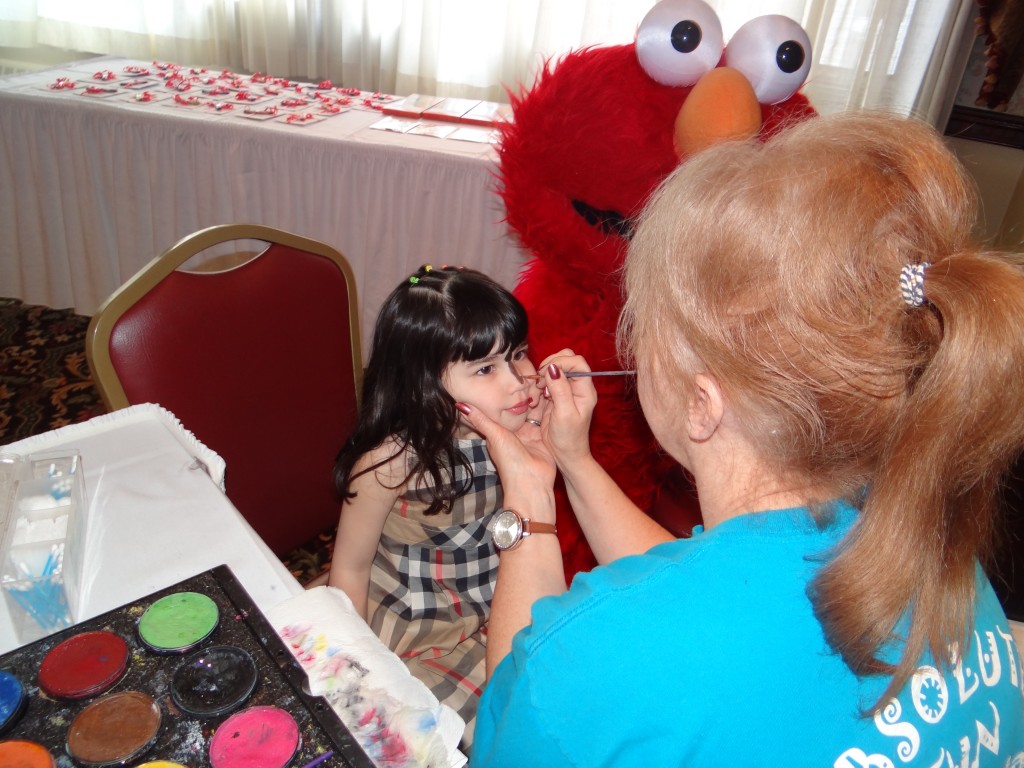 The day of the party came and I was told that they would arrive by 1:15 pm. By 1 pm, they were there and ready to kick off Zane's first birthday. I have to say, it was INCREDIBLE ENTERTAINMENT!! Elmo came in and all the kids were instantly attracted to him. They started dancing and singing with their idol, Elmo, and they would not let him go. Elmo made sure to spend quality time with each child that was at the party. I had over 60 kids, so this was a daunting task. Elmo not only completed the job, he far surpassed my expectations. It was as if we were on Sesame Street! TERRIFIC! While Elmo was performing, they had a face painter who did not stop the whole time she was at the party. She did the most elaborate paintings and the children were mesmerized with her. There was a line the whole time to get their faces painted. Whatever the kids asked for, she completed! She had Sesame Street music playing in the background as well, which added a nice touch to the party.
Absolute Fun Party Rentals did a SUPERB job at Zane's first birthday party. While we only used two of their services offered, they basically can do anything for any type of party. Some of the services/products they offer include full face painting, airbrushed tattoos, costume character entertainment, balloon animal making, party portraits- amazing lifelike drawings, and much more. If you are looking for that special character, whether it be a princess, spiderman, elmo, or any others, they will do it for. You can also request the character to sit and read to your child.  In addition, they can also supply a disc jockey, magician, live music, tents, tables/chairs, popcorn machines, cotton candy machines, snow-cone machines, water slides, inflatables, dunk tanks, and much more.
While they do anything for your child's birthday party, they can also make any special day unique including weddings, christenings, holiday functions, and baptisms. Their new white and beautiful tents with metal posts are in pristine condition and will add to your events' beautiful dynamic. Be covered in case it rains (and you have an outside party) with these beautiful tents. Add in some classic tables/chairs from Absolute Fun Party Rental, and you will be all set!
Absolute Fun Party Rentals will make your party absolutely wonderful! You will receive the best costumer service and attention to every detail, to assure your party goes off without a hitch. They did such a superb job at Zane's party that people are still calling me to ask who did it. If you are looking for a complete set up for your party or just one or two accessory items, be sure to check out Absolute Fun Party Rentals. They are all on Facebook at Absolute Fun Party Rentals.
Here is some additional contact information:
*Thanks to Absolute Party Rentals for making Zane's party truly awesome. You all rock! All my opinions are my own and not swayed by outside sources.