It is almost summer! Can you feel it in the air? For my family, we had a truly spectacular weekend because we were finally able to play outside! Whenever, I think of outdoor play for my kids- one word come into mind-BUBBLES!! Can you relate? Do your kids love bubbles? Hayley and even little Zane love to play with bubbles! It is an activity that could keep them busy for hours!
While we play with a lot of outdoor bubbles, we recently got to try the new Crayola Outdoor Bubble Launcher with Outdoor Colored Bubbles! You might ask why they might be different than the regular bubbles- the reason is they are vibrant and colorful! That is right- bubbles that have colors. While Crayola had this concept a few years back and came out with colored bubbles, parents were unhappy because they could not get the colors off of their child's skin as well as their clothes. The wonderful makers of Crayola took the parents suggestions and invented the even better Outdoor Colored Bubbles that makes clean up a cinch! After you play with the outdoor bubble launcher and the colored bubbles simply rub off the color from your child's skin by a simple washcloth or towel, hose off any outdoor surfaces, and put your child's clothes in the washing machine- everything is clean and ready for the next time they play!
Some simple tips when you play with your Crayola Outdoor Colored Bubbles:
-Dress for Mess. Wear washable play clothes and shoes. It's best to not wear suede, leather or any other material that can't be washed.
-Play Outside. An open grassy area is best away from new concrete, decks and porous surfaces like marble. Don't use at formal events like weddings.
Rub skin to remove color.
-Launder clothes promptly with water and detergent. Repeat washing may be needed.
-Hose off outdoor surfaces like sidewalks and driveways to wash away color.
So how did we like it? We loved it! I will tell you that it does make a mess but so is anything with outside play with young children. The only problem we have is the launcher is a manual bubble launcher so it was somewhat hard for Hayley to get the hang out of it. I had to help her out with making the bubble launcher work but I love doing outside activities with my daughter- so I was perfectly happy to do it! She is only three but I am sure in another year or two, she will be able to do it all by herself.   She loved blowing the colored bubbles by way of the wand and just having a great time. My only true suggestion is to make sure you have some wipes available so you can easily clean your kids before they come in the house. It does wash off very easily off your children's clothes as well as skin. No problem at all with any of that but I didn't want to even take Hayley inside without using the wipes.  We had a great time with the  Crayola colored bubbles and bubble launcher! Hayley plans to play with her colored bubbles all summer long! What a summer fun activity that the great company Crayola came up with again.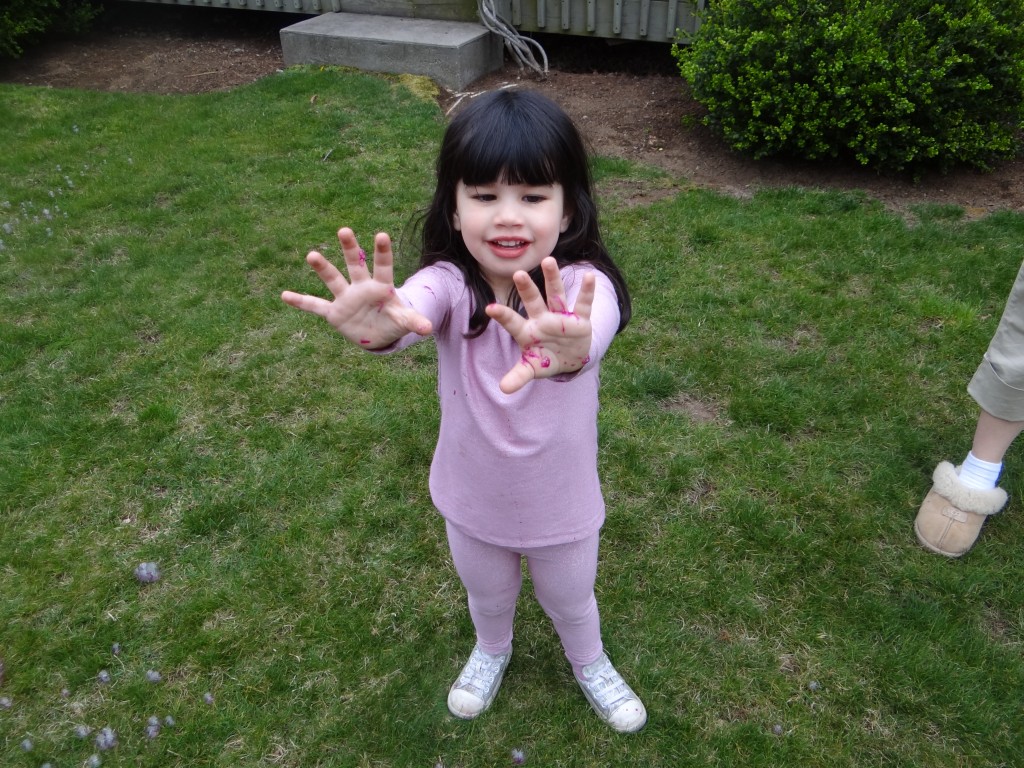 Buy it: You can buy any of these products at many retailers throughout this country.
Crayola Outdoor Colored Bubbles 3-pack: Watch in awe as the air becomes filled with bunches of brightly colored "purple pizzazz," "fuschia" and "unmellow yellow" bubbles, bringing wonder and adventure to a day of outdoor active play.
Crayola Bubble Launcher: For an instant bubble bash, just connect a bottle of colored bubbles, attach the crank handle to the launcher, and create tons of colorful bubbles with each turn! Turn the crank slowly to create bubbles
Win it:  One lucky winner will receive the Crayola Bubble Launcher plus 3 pack of the Colored Bubbles. This giveaway is run via rafflecopter so click continue reading to see the actual giveaway. The only mandatory entry is to tell me what is your favorite Crayola product in the comment section proceeding this post. While the other entries are optional, I highly suggest you fill them out to increase your chances of winning. US only! Good Luck!
*The Crayola Outdoor Colored Bubbles product information and gift packs have been provided by Crayola through MyBlogSpark. As always, all my opinions are my own and not swayed by outside sources.